If traveling by train in Myanmar makes you feel troublesome because of the high fees and delays, Myanmar buses will help you with this. Much cheaper and much faster is what buses give you.
Buses in Myanmar are classified into 3 types which are luxury bus with air-conditioner (Express bus), high-class bus without air-conditioner, local bus and 32-seater bus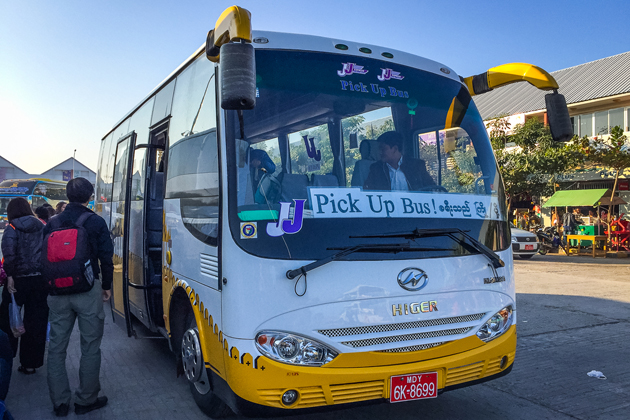 Almost long-distance buses are modern ones with good air-conditioner but some which are not touristy is in the second type of buses without air-conditioners. However, these buses give their customers comfortable services such as a free bottle of water, blanket and so on.
Local bus and 32-seater bus are much smaller and uncomfortable for long road-trip. One of the attractive benefits is a low-cost ticket.
Myanmar Overnight Bus Schedule
Time to depart usually between 4 p.m and 10 p.m and arrive in the early morning. Here is some information about routes and fees.
| | | |
| --- | --- | --- |
| Route | Fare (K) | Duration (hr) |
| Bagan–Taunggyi | 11,000 | 10 |
| Mandalay–Bagan | 8000-11,000 | 6 |
| Mandalay–Hsipaw | 5000 | 8 |
| Mandalay–Taunggyi | 10,000-13,000 | 7-8 |
| Pyay–Bagan | 14,000 | 12 |
| Yangon–Bagan | 14,200-15,500 | 9-10 |
| Yangon–Bago | 4000 | 2 |
| Yangon–Chaung Tha Beach | 8000-10,000 | 6-7 |
| Yangon–Kyaiktiyo | 8000 | 5 |
| Yangon–Mandalay | 11,000 | 9-10 |
| Yangon–Pyay | 5500 | 6 |
| Yangon–Taunggyi (for Inle Lake) | 15,000 | 11-12 |
| Yangon–Thandwe (for Ngapali) | 15,000 | 14 |
(Source: lonlyplanet.com. This information may be changed as the policy of Myanmar in 2017)
Tips for Traveling by Overnight Bus in Myanmar
If you choose a bus is your partner in your Myanmar tour, you should prepare yourself with the following tips
1. Pre-planning is never unnecessary. To draw a line to go helps you save time and money a lot
2. Prepare snacks and water to overcome a long time on the bus if you cannot sleep and feel hungry. Because not any bus provides a free snack and water.
3. Bring a thin blanket or thin coat to keep yourself warm, earplug and an eye mask are necessary
4. Get out of the bus and move your body when the bus reaches the stop station. Stay along in a position can make you feel weak and it also time for you to go to the toilet.
5. Always bring tissue with you and anti-bacteria hand gel
6. If you plan to go out of the city, you may prepare a copy of passport and visa
7. To amuse yourself, charge fully your phone, download music or movies or game, you should bring a traveling adaptor
8. Exchange money into local currency and ask your hotel receptionist to help book bus ticket