For all tourists, Myanmar food is always one of the most wonderful things to taste and experience. Myanmar is now an opening country to the outside world, thus, tourists can possibly discover a cuisine that is largely hidden from the world for the last 50 years. By focusing mostly on rich salty/savory flavors, Myanmar food is said to be influenced in Southern and Southeast Asia countries.
With a list of ingredients that are not found in any other cuisine, there is much to discover. Like most of Southeast Asia countries, restaurants and booths in Myanmar tend to specialize in a dish or style of food. Here are completely the best food in Myanmar for visitors and travelers to try on Myanmar tours:
Tea Salad – Lephet thoke – The most Popular Food in 
Myanmar
Lephet – fermented tea leaf salad is considered as the most famous food in Myanmar.
Tart leaves are kinds of Myanmar food that eaten by their own way, usually as dessert, but they also served as Lephet Thoke – a salad of pickled tea leaves.
To make the Tea leaf salad, slightly bitter leaves are mixed by hand with shredded – small cabbage, cherry tomatoes, crispily fried beans, nuts and peas, oil and garlic, sliced filets, spicy pepper, and garlic. This Myanmar food is versatile. It can be a snack, an appetizer or paired with a plate of rice, a meal. However, this famous dish in Myanmar is also known as a stimulant, because it can cause sleepiness. Therefore, you'd better not eat too much lephet thoke.
Myanmar Traditional Food and Featured Foods of the Shan People 
Shan Rice – Nga Htamin or Rice with Fish
Shan rice is like a rice dish, one of the most popular food in Myanmar made with rice cooked with saffron and served with crispy fried fish, roasted peanuts and some seasonal vegetables. This kind of Myanmar food is quite oily and very tasty when served with sides of leek roots, cloves of raw garlic and fried pork rinds, it becomes an excellent snack that covers the entire range of hot to spicy.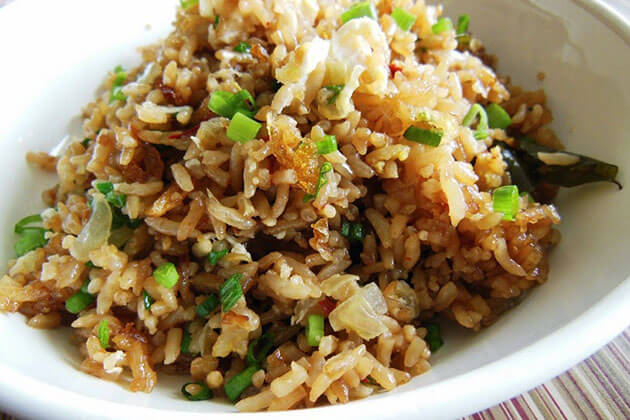 Burmese Curry – Ngapi
If you visit a traditional restaurant or booths in Myanmar you will get more than a meal, it should be a cooking experience.
As you can see its name – curry is the most important elements in Burmese cuisine, but once you've chosen one – usually a meaty curry, a little oil on pork, fish, shrimp, beef or lamb, it is clear that endless extra dishes will follow.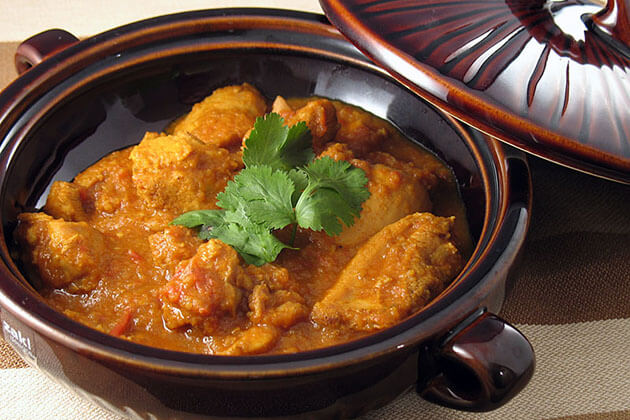 This kind of Myanmar food includes rice, bread salad, some fried vegetables, a bowl of soup and a big plate of fresh vegetables and cooked to be eaten with sauce and various herbs. And Ngapi's dipping sauce is a liquid sauce and a mixture of dried chili pepper, garlic and dried shrimps fried all in oil.
In a soup curry shops term, Islam may be a combination of lentils and vegetables, while the portions may include some flavor papadums.
When everything happened, you will face a variety of dishes that seem to cover all the ingredients, textures and flavors of Myanmar traditional food.
When you finish, you will also have a Burmese traditional dessert – a lacquer tray containing tea leaves and pickled walnuts, or a piece of jaggery pot.
Popular Street Foods and Snacks in Myanmar
Burmese Tea Shop Meal
Myanmar Tea Shops are not just places to enjoy small cups of sweet tea or milk, it also delivers you with some tasty Myanmar food. They serve as a quick-cooking course in learning different cuisines Myanmar – is served often reflect the outstanding culture of the owner of the store.
Tea shop run by ethnic Myanmar people is good places to dive into the world of noodles or rice as Myanmar traditional food: htamin thoke, a type of rice salad.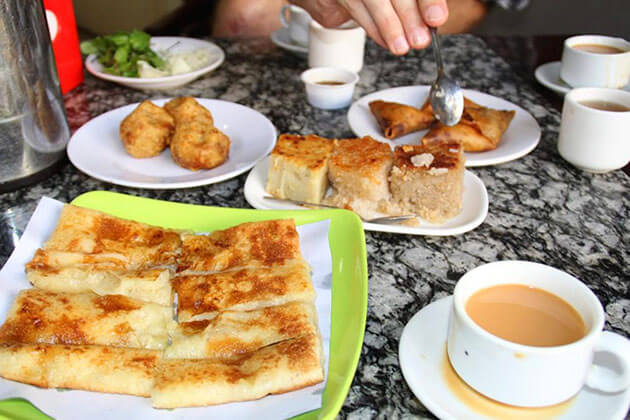 Indian or Muslim tea shops tend to serve fried-salty snacks of Southeast Asia influenced as Samosas or Pani Puri (fried bread served with potato curry) or those Nanbya bread (Naan). The latter also often serve desserts Southeast Asian style. Chinese tea shops often offer candy and baked buns and meat products sum so dark.
Burmese Sweet Snacks – "Muon"
In contrast, generally known as "muon", sweet West Burma dish is not eaten as a dessert but as appetizers, it is one of the best food in Myanmar supposed to be taken with tea in the morning or afternoon. And unlike candy in Southeast Asia elsewhere, Muon is a kind of unique Myanmar food which is not usually full of sugar, instead of getting its sweet ingredients like coconut, coconut milk, rice flour taste cooked glutinous rice, tapioca, and fruit.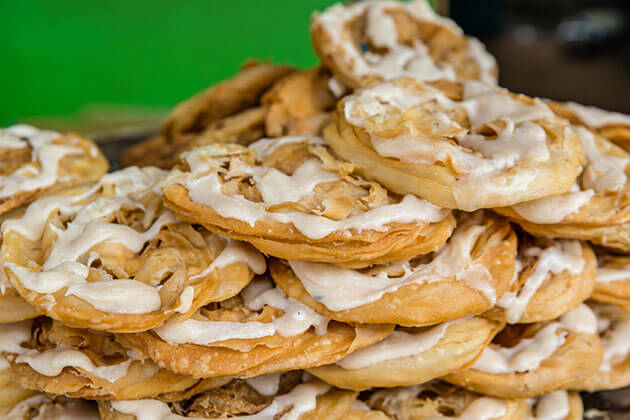 Burmese sweets that include hsa nwin, crispy-semolina flour biscuits with coconut milk, butter and raisins; and moun bein and moun pyit thalet, Burmese-style crepes, served sweet or savory, with a consistency hole and not unlike a wet crepe English
Deep-fried Stuff
Myanmar food offers many choices with fried food in oil – in Myanmar, it is virtually impossible to avoid fried foods.
Most snacks that are on the street or in tea shops – samosas, spring rolls, pretzels, candy, bread – fried, and many noodle dishes are topped Akyaw, crispy fried ingredients.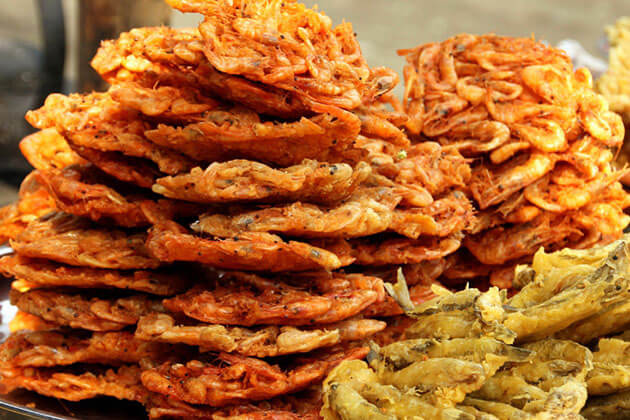 Particularly this kind of Myanmar food is so worth to take a try is fried Buthi Kyaw, battered and fried pieces of pumpkin. When warm crust inside offers pumpkin donuts are usually served with a sweet bitter / tamarind-based dipping sauce can be made with the addition of tasty bean powder.
Noodles – Delicious & Authentic Myanmar Food
Shan-style 'tofu' Noodles
One of the most famous food in Myanmar is hto-hpu-nwe, it is also known as "warm tofu". It is one of the popular dishes of the Shan ethnic group in Myanmar. The dish does not really include tofu, but rather a thick porridge made from chickpea flour.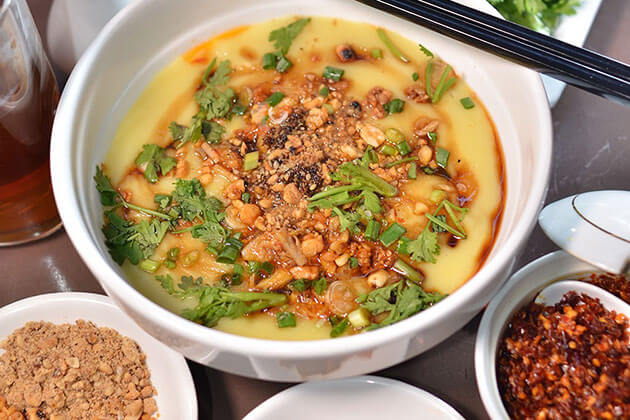 The sticky yellow material is served in thin rice noodles, chunks of marinated pork or chicken. It is covered with a layer of chili oil and includes parts of pickled vegetables and broth. It's a strange combination and visually stunning, but if you are a fan of savory flavors, one that will grow on you.
Nangyi Thoke
One of the most delicious and tastiest food in Myanmar is "dry" noodles dishes which combine broth and salad served on the side with noodles and most popular is nangyi thoke. This kind of Myanmar food takes the form of thick round rice noodles with chicken, thin slices of fish cake, boiled bean sprouts and slices of hard-boiled eggs. The ingredients are seasoned with a mixture of roasted chickpeas flour and turmeric and chili oil, thrown by hand and served with sides of garnish and a bowl of broth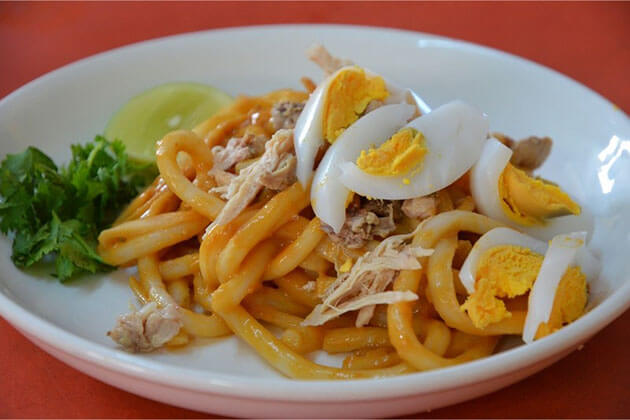 Mohinga
Mohinga is an unofficial national Myanmar food. It is fine rice noodles served in herbal fishing and hearty shallot-based broth, often supplemented by a crunchy pitch of banana.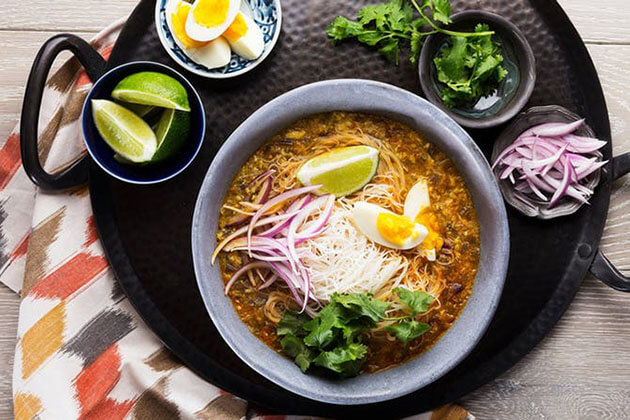 It is loved as a breakfast dish but sold by street vendors, it is a popular snack at any time of day or night.
Optional toppings include sliced hard-boiled egg and akyaw, crispy fried vegetables and or hard-paste lenses. The dish is seasoned to taste with lemon juice and or dried chili flakes.
Shan-style noodles
It will be a big mistake when talking about Myanmar food without mentioning to Shan noodle. The dish most commonly associated with the Shan State is this combination of thin rice noodles in a clear peppery broth with marinated chicken or pork, garnished with toasted sesame and garlic oil. It is served with a side of pickled vegetables. Compared with most of the Burmese noodle dishes, it is relatively simple, but it is reassuring comforting and always delicious. A "dry" version with the broth served on the side, is also common.