Choosing where to eat can be somehow a pain, especially when you travel to the country for the first time. Like many other countries in Asia, Yangon is a paradise of street food. It is abundant, healthy and cheap. Here is the top 10 best street food in Yangon that you should try in your Yangon tour
1. Lahpet thoke
Lahpet thoke means tea leaf salad, is one of the best street food of Yangon that you should never miss when you are in the city. It consists of fermented or pickled tea, butterfly peas, chickpeas, peanuts, toasted sesame, and baby dried prawns and oil put together. Lahpet thoke is served as a snack with green tea. It plays an important part in the daily meals of the Burmese people. Therefore, if you don't want to miss Myanmar core food, try it!
2. Pork fried vermicelli
Pork fried vermicelli is one of the all-time top street food in Yangon that you can easily find in many street food stalls. The tasty vermicelli, vegetables, and pork sticks will definitely satisfy anyone.
37th Street, Middle Block, Kyauktada Township, Yangon
3. Grilled fish
Together with scrumptious local dishes, grilled fish is another Yangon street food that worth you a try. It is a fine combination of Burmese with an influence from the Chinese. Enjoy it with the fresh and sweet flavors of the sauce, it cannot be better!
Around Hledan Junction, Yangon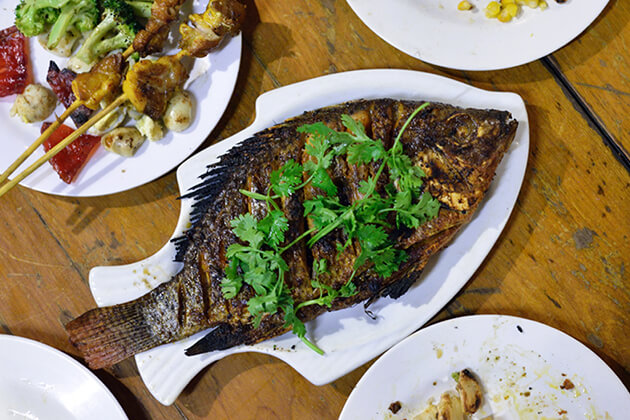 4. Yay mont
Literally means water snack, but it's more than just a watery mouthful. Yay mont made from flour and beans, which is mixed with the eggs and soaked in rice powder and thrown into a frying pan where it's made crispy and delicious. Yay mont is popular during festivals. In normal days, you can find it at the top of Seikkanthar Street.
Corner of Seikkanthar & Anawrahta Roads, Kyauktada Township, Yangon
5. Kyei-hin khat thee kyaw (Fried bitter gourd)
This is exotic street food in Yangon that will bring you different feelings. The bitter gourd can be served with lettuce and handmade sauces, and it is also delicious in soup.
Corner of Thein Phyu Raod and Anawrahta Road, Botahtaung Township, Yangon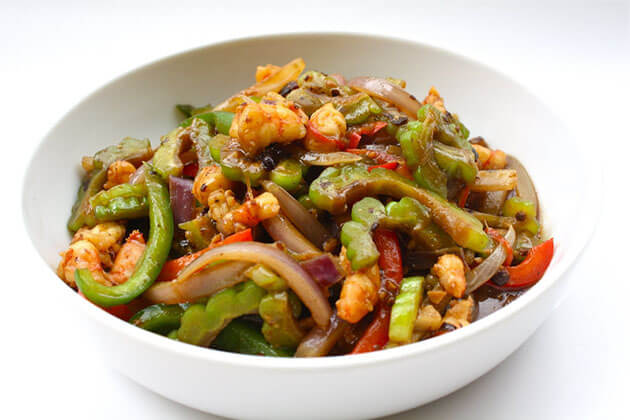 6. Bean salad
Along with lahpet thoke salad, bean salad is one of the best street food in Yangon that you don't want to miss in Yangon tours. The salad comes with a variety of ingredients such as tofu, noodles, onions, ginger, and chilies. You can find it on Merchant Road from evening to late at night.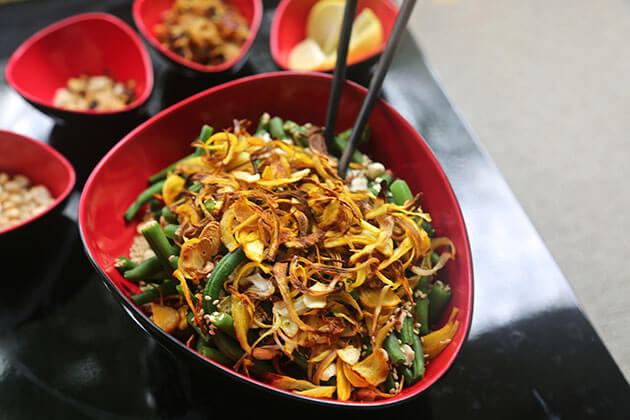 7. San byoke
San byoke means congee (boiled rice soup) is probably the easiest dish to make, but its taste is wonderful. It can be eaten with anything. From fish, duck, etc.
20th Street, China Town, Yangon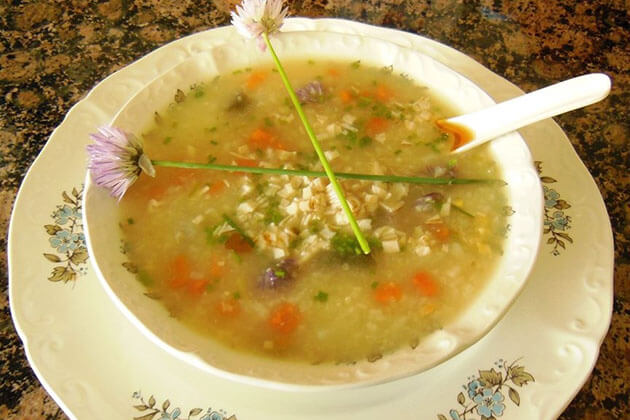 8. Filled fishcakes
Traveling nearby the entrance of Yuzana Palaza, you will find the best fishcake vendors. The cake is stuffed with sliced cabbage, fish paste, garlic, and green chilies and enjoyed with a side of dipping sauce. Enjoy it and feel the sweet, sour, and spicy which rolled into one.
9. Yay kyau bain mont
Bain Mont is the traditional pancake of Myanmar made with sticky rice flour and cooked with shredded coconuts, peanuts, butter. It is delicious food for a morning or afternoon tea. Additionally, this is a dish for Burmese children in the morning or on their way back from school.
Junction of Yay Kyauw and Bogyoke Roads, Pazuntaung Township, Yangon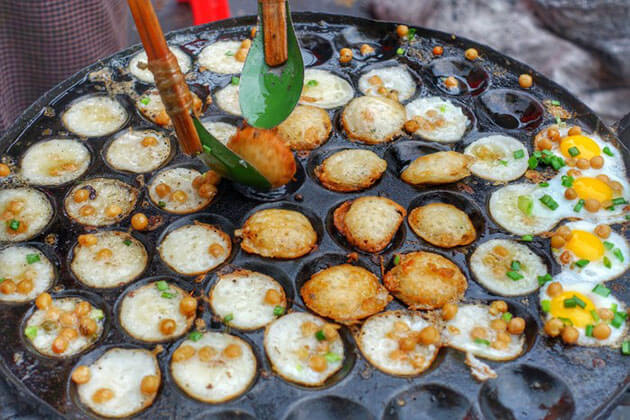 10. Pork stick
Last but not least, if you are not a vegetarian or those who don't eat pork, why can you miss pork stick in your list of best Yangon street food to try? the sticky-rice balls filled with pork will truly amaze you.
Nearby Spirit Shopping Center & Myaynigon Junction, Yangon