General Information
Duration: 6 days/5 nights
Start/End: Yangon/Yangon
Tour Date: not fixed, up to your schedule
Tour Route: Yangon – YCDC Golf Club  – Mandalay – Yay Ta Gun Taung Golf Resort – Yangon
Tour Type: Landscape, Culture, History, Golfing
Experience this Highlight of Mandalay & Yangon Golf Tour With:

Guides: hand-picked best tour guides with deep knowledge, humor, profession (English speaking guides, other languages upon request)
Drivers: polite,  friendly, responsible, reliable with many years of driving experience
Vehicles: comfortable, spacious, air-conditioned & clean
Meals: meals are arranged at local restaurants so you can taste authentic Burmese cuisine
Accommodation: listed below or various types of equivalent accommodation are available, from 5-star hotels, 4-star hotels in the best location, good value 3-star hotels, to boutique hotels reflect the style of the region
Brief Itinerary
Day 1: Yangon arrival + half day city tour (-)
Day 2: YCDC Golf Club (B)
Day 3: Yangon – Mandalay – Shwe Man Taung Golf Club (B)
Day 4: Yay Ta Gun Taung Golf Resort (B)
Day 5: Mandalay – Yangon (Pun Hlaing Golf Resort) (B)
Day 6: Yangon – Departure (B)
Please note that every element of the tour below can be tailored. Tell us your specific interest and we will be happy to make adjustments for you. This inquiry is totally free and you are under no obligation!  
Full itinerary
Day 1: Yangon Arrival – Half Day City Tour (-)
Mingalabar! Welcome to majestic Yangon! As soon as you arrive in Yangon, meet our guide who has been waiting for you at the airport and then transfer to the hotel for check-in.
After taking a short break at the hotel, ready to join in a half day Yangon city tour. Start at Yangon, your driver will take you through the charming streets which are filled with historical buildings. Many of which have faded colonial charm that can be found nowhere in Asia. Passing by Strand Hotel, Mahabandoola Garden and Independence Monument, you will stop for a visit at Chauk Htat Gyi Pagoda, home to the marvelous reclining Buddha image with 66 meters long and 16 meters high. Spend your time to observe the daily homage in the pagoda.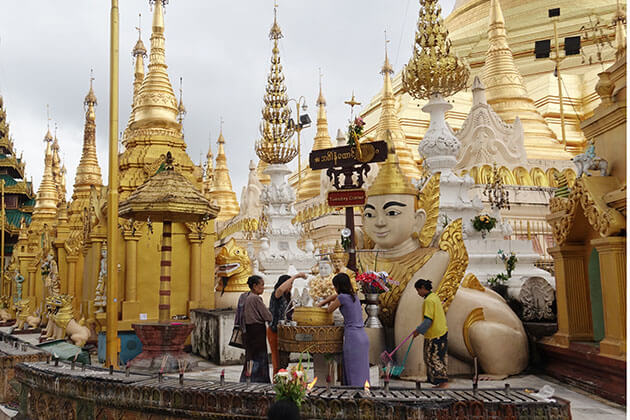 Your guide then will escort you to the magnificent landmark of Karaweik Hall. Situated on the serene Kandawgyi Lake, it's huge, look like two golden birds floating on the beautiful lake. Take your time to save your best photo before moving to the next destination.Your trip to Yangon cannot be completed without visiting the legend Shwedagon Pagoda. For a long time, it has drawn tourists' attraction by the fabulous architecture and the story of housing the Buddha's relics. Visiting the pagoda in the late afternoon, you will have a chance to marvel at the twinkling golden stupa glimmering in the majestic sunset. Return to the hotel in the evening.
Day 2: YCDC Golf Tour (B)
Begin your interesting day 3 with a drive to YCDC Golf Tour, one of the earliest established golf courses in Yangon. Spend your time to play golf 18 holes. After that, spend the rest of the day to discover the majestic religious sites with a visit to St Mary's Cathedral. Be amazed by the fantastic architecture of the largest church in Yangon before leaving to Rangoon Synagogue. It's where you will have a chance to meet with Trustee and learn more about the Jewish Life in the Pagoda Land.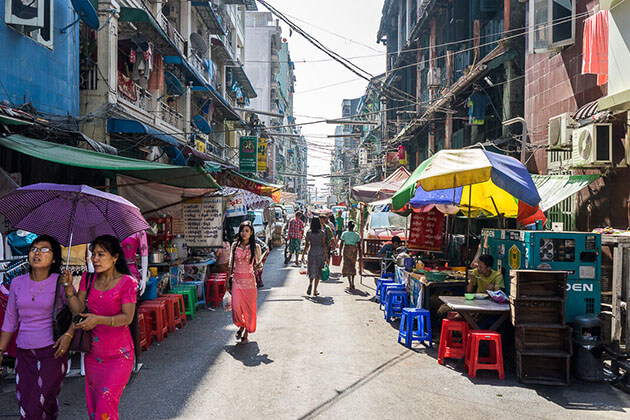 Highlight your trip with a drive to Little India where you might visit the colorful Hindu Temple. Then your guide will take you to Chinatown, one of the most vibrant streets in Yangon. Stroll along with the street vendors and if you love, stop at some and interact will the locals to know more about their wares.
Day 3: Yangon – Mandalay – Shwe Man Taung Golf Club (B)
Leave Yangon this morning to take a flight to Mandalay, a great cultural center of Myanmar. Upon arrival in Mandalay, your guide will escort you to Shwe Man Taung Golf Club, a beautiful golf course overlooking at the magnificent Mandalay Hill as its backdrop. Take time to play golf in 18 holes. Then transfer to the hotel for check-in and enjoy a short break.
In the afternoon, start your Mandalay tour at Mahamuni Pagoda, the second most sacred pagoda next to the Shwedagon in Yangon. Take a chance to admire the most revered Buddha image in the pagoda and learn about Buddhism in the Mahamuni Museum. Along the way back from the pagoda, stop at a local workshop to gaze out at the golf leave making in Myanmar. Oh, if you wish, it is available to try hands-on making golf leave under the guidance of the local artisan. It would be a bit tired but so much fun!

Highlight your afternoon sightseeing at Shwenadaw Monastery (also widely-known as Golden Palace Monastery). The dramatic monastery noted for its intricated wood carving and architecture that featured on the walls and roof.
In the late afternoon, why don't take a chance to enjoy the majestic sunset from Mandalay Hill? It would be memorable after hiking up 1000 steps to reach a beautiful pagoda on the top of the hill.
Day 4: Yay Ta Gon Taung Golf Resort (B)
An amazing morning as you take a drive to Yay Ta Gon Taung Golf Resort, a breathtaking golf course situated on the foot of a magnificent hill. The serene mountain which dotted with stupas and monasteries backdrop creating a super marvelous golfing space. Play golf in 18 holes and then transfer to the hotel for a short break.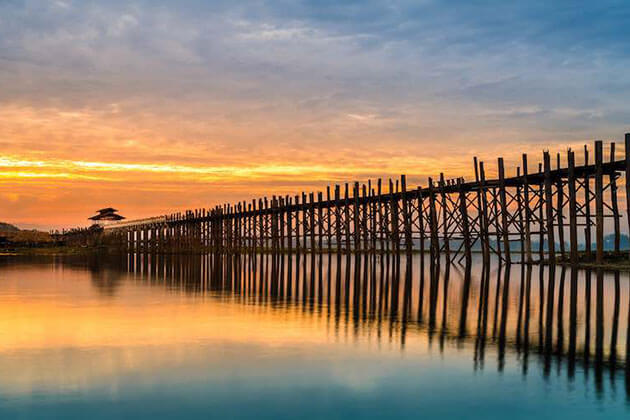 In the afternoon, spend the rest of the day to explore the city's attractions. Your sightseeing might include Kuthodaw Pagoda, a pagoda complex where is famous for the world's largest Buddhist book carved on 729 marble slabs. Leaving the pagoda, keep driving toward the southwest to Amarapura, where you will spend the last visit of the day at U Bein Bridge. It is the longest and oldest teak bridge in the world that once CNNGo mentioned it as one of the best places in the world to watch the sunset. Return to Mandalay in the evening.
Day 5: Mandalay – Yangon (Pun Hlaing Golf Resort) (B)
After breakfast at the hotel, say goodbye to Mandalay to take a domestic flight back to Yangon. Upon arrival, transfer to Pun Hlaing Golf Resort. Well-known for its 18 championship holes designed by Gary Player – one of the greatest golfer ever, Pun Hlaing Golf Resort is an ideal golf course for any players in Myanmar.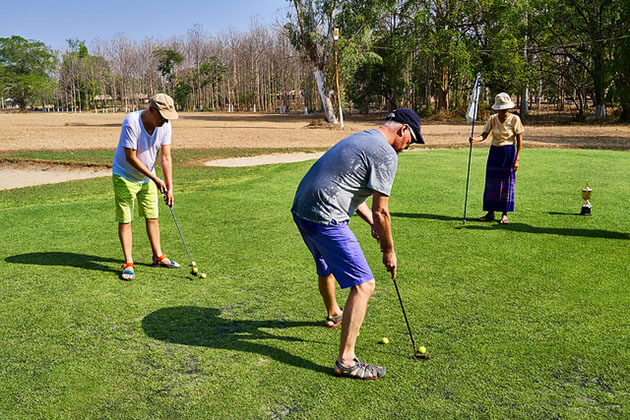 This afternoon, spend your whole time to gain more insight into Yangon. We spend a visit Bogyoke Market, the sprawling 75-year-old bazaar. It's where you can find a variety of interesting Burmese souvenirs, from lacquerware to gems and jewelry. If you are interested in buying some, feel free to tell your guide and he will assist you to bargain at a store.  (Note: the market is closed on Mondays and gazette holiday). It must be so much fun! After that, drive through the city and observe the influences of other cultures along the street.
Day 6: Yangon – Departure (B)
After breakfast, check-out at the hotel and then transfer to the airport to take an international flight to your departure. Trip ends. We hope that you would love the itinerary we offer for a 6-day golf tour package to Yangon and Mandalay.
Thank you for making your trip with Go Myanmar Tours!