Burmese trishaw is the best way to get around the city with cheap price. Once dropping yourself on this vehicle in a Myanmar tour, you will feel the hustle and bustle atmosphere of the city through each rotation of the wheel.
If you are familiar with the image of a trishaw which has 1 seat in front of the driver, you will find interesting with the Myanmar 3-wheel vehicle's design. It is very different from the others in Vietnam, Laos or Cambodia. This cyclo has seats for 2 passengers, back-to-back seats, on the left of the driver.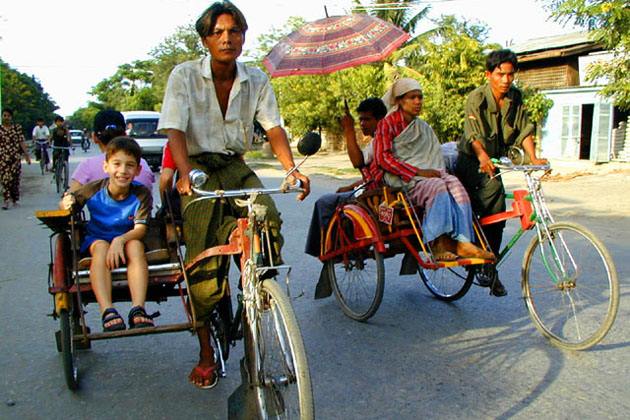 With around 10$-20$ (depends on how far you go), you can have a short-tour around the city. It is much about 2-3 times cheaper than going by taxi.
You can spend a half day for a city tour by cyclo. This is the easiest and most convenient means of transportation to go around the city.
Tips: if you book a cyclo tour, it's ok with the price because it includes a lot of services for you. However, if you go by yourself, check the kilometer from where you are and where you want to go first and make a bargain with the driver to get as much cheap cost as possible.