In an attempt to boost the development of the tourism industry, the Government of Myanmar has raised the need of exploring more untouched beaches with the first priority for Gaw Yan Gyi Island and Shwe Thaung Yan Beach.
Gaw Yan Gyi Island is a part of Bengal Bay situated in Ayeyarwady Region of Ngaputaw District in the southwest of Myanmar. Differ from popular beaches such as Ngapali beach, Ngwe Saung (Silver beach), Chuang Tha, and Kanthaya beach, Gaw Ya Gyi is the brand new name that captivates tourists to go for a Myanmar beach holiday by its unsung beauty with the coastline is full of white sand and excellent rocks with different shapes. For a long time, Gaw Ya Gyi has remained its heart-touched beauty that many people refer to it as the 'Paradise of Ayeyarwady'. Along with the rapid pace of tourism development in Myanmar, Gaw Yan Gyi beach is still lack of good facilities and accommodation so most visitors traveling here have to stay in the home of the villagers and cook the local dishes with the people. In addition to Gaw Yan Gyi is Shwe Thaung Yan beach. Previously, in order to reach the beach, tourists have to travel by boat to the Shwe Thaung Yan Township by boat. At present, the construction of a new concrete bridge has been completed to create more convenience for tourists to approach the island to behold the fascinating of the unspoiled beauty of the beach. Likewise, visitors transfer from Chaung Tha beach can access the Shwe Thaung Yan easily. Zaw Lin Tun, the Deputy Director of Hotel and Tourism department in Ayeyawady Region suggested that the Shwe Thaung Yan beach will keep pace with or even overwhelm the popularity of Chaung Tha beach in a near future.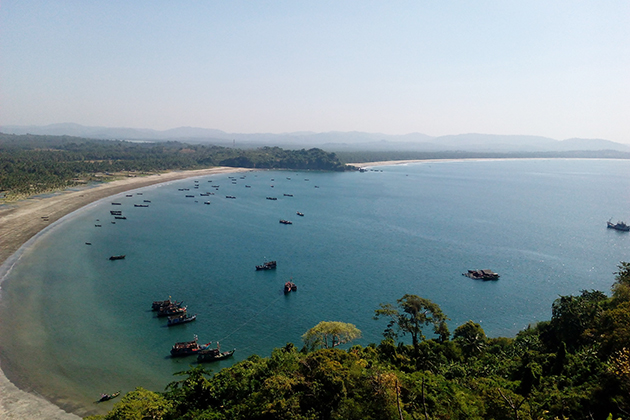 Despite the concentration, Gwa Yan Gyi and Shwe Thaung Yan are still in the shortage of electricity and high-quality hotels. The regional government is enhancing to built more roads to link with the mainland. To do so, electrification will come to the locality. To achieve the demands of pushing up the beaches in Ayeyarwady Region to the new tourist attraction in Myanmar, relevant ministers together with heads of the department has set the planned to carry out more development projects in the future.