Located in the southward of Yangon, Saint Mary's Cathedral is one of the beautiful tourist attractions in Myanmar that you should not miss in your Myanmar vacation. Here be mesmerized by the exotic architecture and stunning beauty of the largest church in Myanmar which was constructed hundred years ago. Once set your foot on this pretty destination, you will immediately fall in love with the impressive red-bricks and the unique Gothic architecture features inside out the church. With the real charm as well as dedication through time, a short trip to Saint Mary's Cathedral in your Yangon tour will never fall to fascinate your senses. Here is all the useful information of the church that will give you a basic understanding of the heritage site.
The Construction of Yangon Saint Mary's Cathedral
The construction of the church lasted for 4 years from the late of the 19th century in 1895 to November 19th, 1899 when Myanmar was under the rule of British colonialist. At that time, Myanmar was India's colony. Hence, the cathedral was built on land granted by the Government of India.
From the time of Bishop Paul Bigandet, Vicar Apostolic of Burma in 1892-1893, the old cathedral was too small so that he intended to plan a larger one for more space for Catholic members in the community. Unfortunately, he died just after the proposal of his project.
Inherited to Bishop Bigandet, Bishop Alexandre Cardot continued to carry out the project. After he got the executed and sighed deed, the cathedral was started to built from June 1895 to the 1st of January 1899. Nevertheless, as the Bishop requirement for the important changes, the cathedral was decided to continually extend and changed to the last version with the seat for 1500 people under the supervisor of Father Hendrick Janzen.
The outstanding architecture of Yangon Saint Mary's Cathedral
Initially, the cathedral was designed under the supervisor of Mr. H. Hoyne-Fox on a 15 acres land. Later, as the requirement of the Bishop, the cathedral was designed follows Gothic style features on the glass windows and typical dome architecture as the ancient Roma architecture. The uniqueness that makes the cathedral stand out is the twin spires head off the sky coupled with the red-bricks surround are incredible.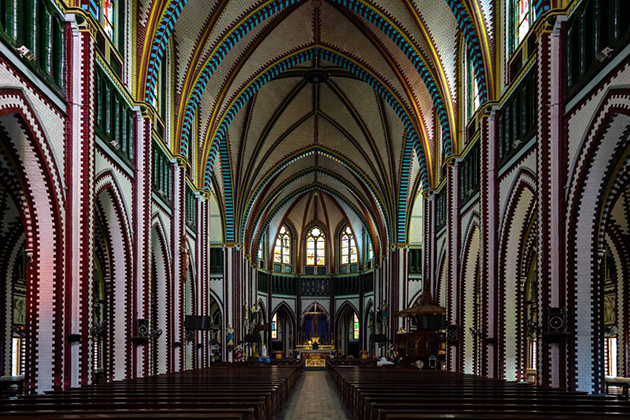 The annual event celebrated in Saint Mary's Cathedral
The Feast of the Immaculate Conception takes place annually in the cathedral on 8th of December in honor of the Blessed Virgin Mary. This is one of the grandest celebration of the worldwide Roman Catholic in general and Yangon in particular in which all the Christians are compulsory to gather into the church to attend the sacred ritual. The celebration is held after days of novena from 29th November to 7th of December.
Travel Tips to the Saint Mary's Cathedral 
Location: 372 Bo Aung Kyaw Street, Botahtaung Township, Yangon.
Opening Hours: 8 am – 12 pm in the morning and 2 pm – 5 pm in the afternoon
Entry Fee: free