Estimated early 13th century
Being well-known as the cave temple, Wetkyi In Gubyauk Gyi Temple is one of the beautiful attractions to visit in Bagan tours. 'Gubyauk' means a painted temple and this one has excellent paintings. Here the scenes from the 550 Jataka Tales were painted in small squares set in large panels. Wetkyi In is the village.
The images of 28 Buddhas that came before Buddha Gautama, the last and the one meant when the word Buddha is used, are painted inside a pavilion and shaded by various trees under which each of them attained enlightenment. The artists have taken great care to be realistic in painting the trees.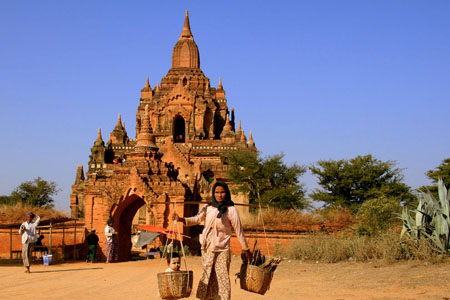 Murals in a tear-drop shape on either side of the main image show Mara the Evil One attacking the Buddha with his army of wild elephants, monstrous creatures and snakes.
A few men seem to be wearing robes and hats of snake skin, the artwork is somewhat different in style from the other scenes and very likely more than one master artist worked in this temple.
Digitally enhanced mural from Wetkyi In Gubyauk Gyi Temple