Unlike the first three months, Yangon weather in May sees a steady increase in temperatures. There is an expectation that daily highs will range downwards, i.e. (36°C to 31°C) throughout the period of the month. The highest temperature of this month can reach 39°C, but this is forecasted to happen in at least 1 of 10 days. The average temperature in Yangon in May is at 29.2 °C (84.56 °F). Specifically, average high temperature in afternoons is 33.4 °C (92.1 °F) and the temperatures at night are generally fairly warm with an average low of 25 °C (77 °F). The shortest days have 12 hours 43 minutes of daylight, and the longest day has a length of 13 hours 02 minutes with an average length of 12 hours and 53 minutes. You can no more enjoy the bright sunshine as the first three months because the sun will be covered by cloud or haze approximately 6:56 per day.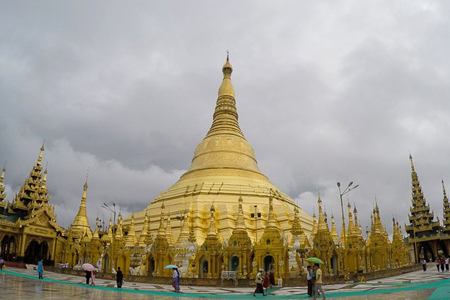 While 42% of the beginning days in May are predicted to receive rainfall; at last, 79% of ending days in May will be characterized by thunderstorms, drizzles and light rains. Yangon weather in May is reasonably soggy with rain every now and then. A substantial 303mm (11.9in) of water descends across an average of 14 days. The air becomes increasingly more humid as the month gets aging.
As the wet season has approached Yangon, wearing shoes while taking Yangon day tours is highly recommended at this time. Not only will it protect your feet from getting soaked, but you'll also avoid any nasty stubbed toes on the uneven pavements, of which there are many.