Mandalay is an incredible city of Myanmar, a charming destination in the heart of the country where you can truly find an unexpected experience. Contributed to the vibrant culture, Mandalay traditional foods make the city become a location that not to be missed while visiting Myanmar. In this article, we highlight the top 5 best Mandalay foods you must eat when you take your Myanmar tour to Mandalay and the best places to have them.
Top 5 Best Foods To Eat In Mandalay
Due to the geographic location, Burmese cuisine in general and Mandalay, in particular, have been influenced by Chinese, Indian and Thai cuisine and through the ups and downs of the historical journey, Burmese people have made up their own and unique recipes.
1. Kyay Oh (pork and egg noodle soup)
Kyay Oh is one of the best Mandalay foods that you should eat initially in your Mandalay tour as soon as arrival at the city. First invented by Chinese, it has been through a long time that has become a popular noodle soup of Burmese people traditionally made with pork and egg. In the modern recipe, sometimes people use chicken and fish to replace and it also makes a good taste. Kyay oh is made with rice noodles, the most common ingredient in the East and Southeast Asia and marinated minced meat. Other ingredients include ginger, pepper, and garlic. There are two types that you can choose for your Kyay oh are vermicelli or flat rice noodles, they are all taste great! The broth which is considered as the spirit of Kyay oh is made with pork and the chicken bone. In order to have the best broth, people often simmer the broth in 3-4 hours. For those tourists who prefer the 'dry' version, dry Kyay oh salad – noodle salad (or Kyay oh sigyet) is always available. It is served without broth and enjoys with sesame oil.
Where to Eat
Already popular, this restaurant was opened in 1995 and famous for both Kyay oh and Kyay oh salad. Regardless of its simple appearance, the restaurant always provides customers with the best Kyay oh.
Address: 66th Street (between 26th and 27th street)
Opening hours: 11 am-10 pm
2. Mandalay Mont Di (or Mont Ti) (Noodle salad)
Mont Di is the famous traditional food of Mandalay that people in Myanmar love very much and enjoy regularly for their breakfast. Mont di in Mandalay traditionally made with fresh thin rice noodles, meat or chicken curry, and onion. There are different sizes such as large, medium and small to choose from. Normally, Mont di is served with red chili paste and oil creating the yellow color.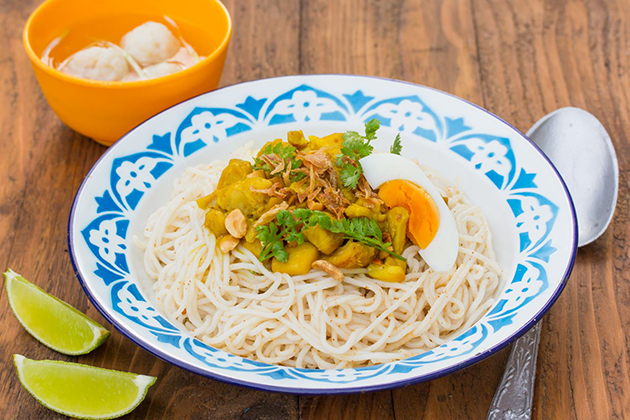 Where to Eat?
There are various teashops in Mandalay serve delicious Monti with tea after the meal at a reasonable price. Here 3 recommended teashops for you.
Shwe Pyi Moe
Address: 35th Street, Mandalay
Opening Hours: 6:00 am- 5:00 pm (from Monday to Sunday)
Min Thiha Restaurant
Address: corner of 72nd Street and 28th Street, Mandalay
Opening hours: 6:00 am-4: 00 pm (from Monday to Sunday)
Pan Tha Khin
Address: corner of 70th Street and 29th Street, Mandalay
Opening hours: 6:00am-6:00pm
3. Wat Thar Dote Htoe (pork stick)
Being a famous street food of Myanmar which is cooked with soy sauce, pork stick is what to eat next in Mandalay. You will get a bit surprised because the pork stick is not just included in meat but come from many internal organs of the pig such as lung, heart, intestine, kidney, tongue, etc. Some foreign tourists may have never tried that before; however, it is really scrumptious that you should try at least one time when traveling to Mandalay. As soon as you order, you will be served with different trays of pork stick, you are free to choose any sticks you like and eat it. The pork stick will come with delicious hot soup with vegetables, and even salad will be offered. By the end of the meal, the servers will count the number of sticks and you will be completely surprised by the price you have to pay! It is just k100 or K200 for each stick.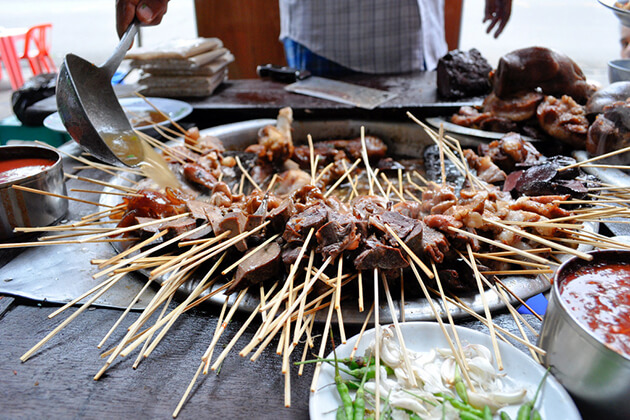 Where to Eat pork stick?
Among many stalls in Mandalay street, Tut Pi Stall is highly recommended for you to enjoy pork stick.
Address: 33rd Street
Opening hours: 11:00 am-7:00 pm
4. Lemon Fish
One more awesome food in Mandalay that you should order immediately! A fresh fish is steamed with garlic and tangy lime. It such an appetizing dish that totally satisfies even the most demanding one. The sweet, tangy, sour, and little spicy making it incredibly delicious.
Where to Eat
Tet Nay Win restaurant is an ideal place for you to savor lemon fish.
Address: 68th Street (between 34th and 35th Street)
Opening hours: 3:00 pm-9:30 pm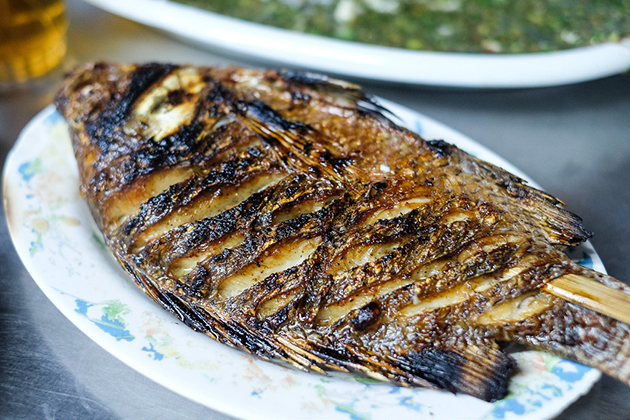 5. Bow See (Bun)
Bow See is mentioned in the list of must-try food in Mandalay. The sellers make fluffy and soft steamed buns and keep them fresh and neatly in the stalls impressive in front of the customers. Generally, it looks like a xiao long bao in Chinese cuisine. Owning the unique flavor and different sizes, Mandalay Bow See will fulfill your empty stomach!
Where to Eat Bow See
Man Myo Daw Bow See restaurant is where you to enjoy the best Bow See.
Address: 30th Street (between 77th and 78th street)
Opening hours: 4:00 am-10:00 pm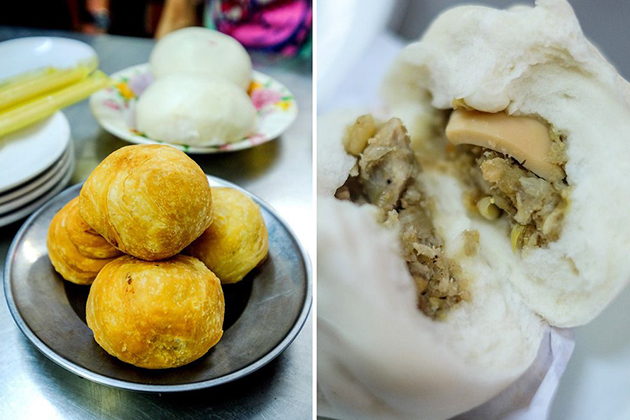 Recommended Mandalay Food to Eat
Mandalay Mee Shay
Mee Shay is a famous food in Mandalay made of rice noodles mixed with meat sauce. The sauce of Mee Shay includes coriander soya bean sauce, garlic, and chili oil. Like other Burmese noodles, Mee Shay is cook with the broth simmered from pig bone to create a strong perfume for the dish.
You will find various stalls sell mouthwatering Mee Shay at 80 street, 16th street, and Aung Taw Mu.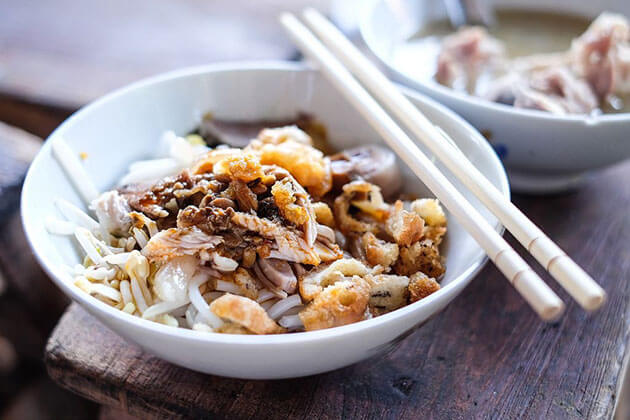 Fried Cricket
Perhaps you have never heard about this name before. Nevertheless, fried cricket is an amazing option for you whenever traveling to Mandalay. It may strange with many people but is one of the favorite seasonal food in Mandalay. The cricket is fried with mixed spices create an unforgettable flavor. However, it is served only in winter and rainy season.