Located on the banks of the Irrawaddy in Kachin State, Bhamo is a peaceful town which is a perfect stop for travelers on their journey between Mandalay, Katha, and Myitkyina. It is also the starting point for those who cruise via the Irrawaddy upper's reaches to Mandalay in their Myanmar vacation.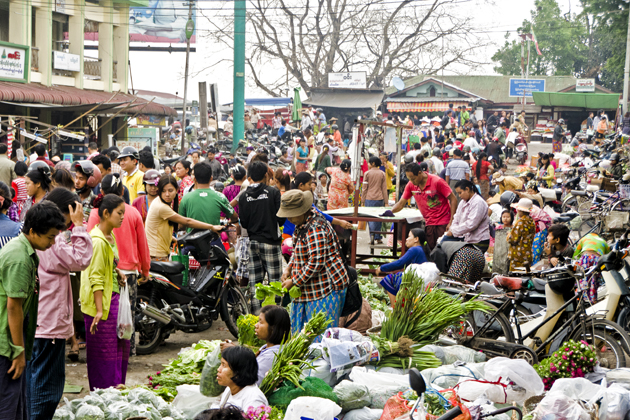 Bhamo History
From 1869 to 1879, Bhamo was the seat of British colonial Assistant political agent which subordinate with the King of Ava. Bhamo has been a trading center of Myanmar for many years and was an important meeting point on the way to China. In 1935, Bhamo situated at the highest point of the terminus for the good changing between India and Burma, by which jade was brought from China. Explore Bhamo, you will be overwhelmed with a quiet and pleasant atmosphere. However, you can still experience its hustle and bustle as it is home to a vibrant daily market. Also, Bhamo has become the hub of fir commerce and trade with China's Yunnan province.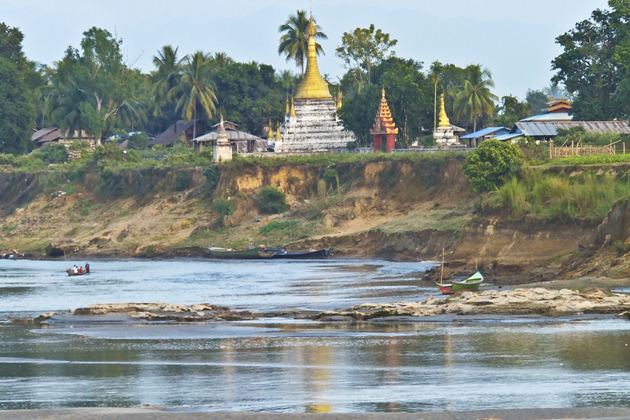 Bhamo Attractions & Best Things to Do 
Being one of the best Myanmar attractions, Bhamo offers an opportunity for tourists to indulge in the stunning view of natural scenery as well as discover interesting spots. Visiting well-known pagodas is an exciting experience that should not be missed on any trips to Bhamo. Theindawgyi and Shwe Kyinna Pagoda are the two most outstanding pagodas in Bhamo that tourists often visited most in the town.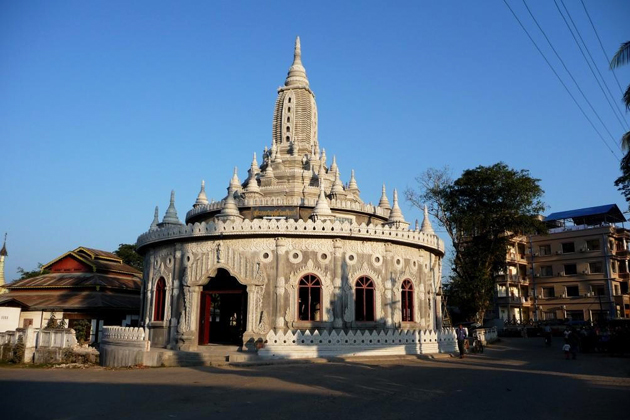 Theindawgyi Pagoda
Around 46 km from the town of Bhamo is the Thai-influence Theindawgyi pagoda which is said to be home to a tooth relic of the Buddha. It is supposed to be built in the 3rd century Bc by King Ashoka of India. The pagoda features a gilded stupa designed with an elongated bell-shape. Traveling to Theindawgyi Pagoda, you can gain a perfect view of old monk statues stand across a pond from the pagoda's southeast and a statue which is set among the lotus pond with its snake-shaped base.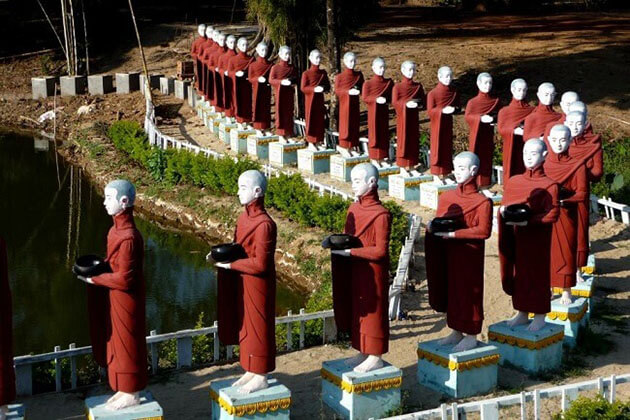 Shwe Kyina Pagoda
From Bhamo, keep going about 6 km toward the north, you will see Shwe Kyina Pagoda. the historical pagoda shapes two gold-topped stupas which mark the site of Sampanago, the 5th century Shan city. the section of the campus in the pagoda is when you can discover many things about golden pagodas in the country.
Crossing the Bamboo Bridge
For foreign visitors, walking across the bamboo bridge of Wa Thatar village in Bhamo can be a risky experience. But never worry about it, the bamboo bridge, along with the change of time and the destruction of flooding every year, still indestructible and become a masterpiece of the villagers. It is a dramatic 5470 meters long bamboo bridge that the local crossing every day. Come and enjoy the extremely peaceful aura and we sure you will love it!
Behold the Gorgeous Sunset at Bhamo Harbour
Like other sunsets in Myanmar, sunset from Bhamo Harbour is one of the most stunning things that you should not miss once visiting the country. Bhamo Habour is an ideal place in Bhamo town where you can sit back and enjoy the laid-back pace of life without worrying about the busy and stress anymore.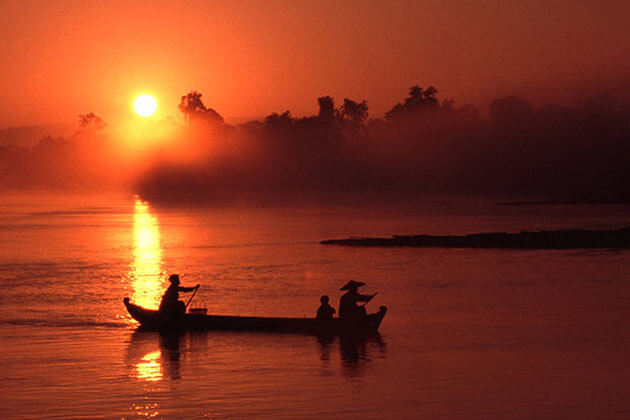 Enjoy the Excellent Curry & Homemade Tamarind Chutney at a Local Restaurant
If you are a food lover, there is nothing better than savoring the best food of Kachin food when visiting Bhamo. And even food is not your main reason for coming here, you also should not miss a chance to enjoy the fantastic curry and chutney of Kachin State in Bhamo. Shamie Restaurant and Sut Ngai are the two most famous restaurants in Bhamo for Kachin specialties such as lime-flavored pork served in banana leaf and Myanmar beer.
Bhamo Travel Guides
Bhamo Weather – Best Time to Visit Bhamo
Like other parts in Myanmar, Bhamo weather experiences three distinctive seasons. The cool, hot, and wet season. The best time to visit Bhamo is from November to mid-March when the weather is pleasant and the sky is clear. From May to September is the wet season in Bhamo. Nevertheless, you can still travel to Bhamo in other time of the year. Remember to prepare sunglasses, suncream, an umbrella to avoid the heat as well as the rain.
Getting to Bhamo
Bhamo can be reached by air. From Yangon, you can catch the airline named Asian Wings which departs at 11:00 am. If you are in Mandalay, Myanmar National Airlines offers flights to Bhamo. And if you are in Myithyina, you also catch flights operated by Myanmar National Airlines to get Bhamo.
Accommodation in Bhamo
Accommodations in Bhamo still exists in a limited number. There are two most famous hotels in Bhamo that you can contact prior to your journey to book in advance. Friendship Hotel located in 28, Bawde St., Mingone Qr, phone number are +95 74 50095, 50096, 50654, 50655. Grand Hotel situated in Post Office Rd, Mingone Qr, phone number are +95 74 50317, 50318, 53769.