At a height of 1320 meters high above sea level, Kalaw is a breathtaking hill station in Shan State with a laid back atmosphere and refreshing climate. It possesses a majestic mountain scenery, heart-touching natural beauty, and several fascinating attractions. Likewise, it has become one of the loveliest towns and also well-known as the trekking mecca of Myanmar. With that altitude, the weather in Kalaw is pleasant in all year round. With too many things to offers, Go Myanmar Tours would like to deliver everything you need to know about Kalaw history, famous places & what to do.
History of Kalaw
Located in Kalaw Township in Taunggyi District, Kalaw was founded as a hill station by the British during colonial rule. The remote village is the main setting of the famous novel "The Art of Hearing Heartbeats". For a long time, it has been home to numerous ethnic groups in Myanmar such as Pa-Oh, Palaung, Taungyo, Danu, and Ter O.
Kalaw Famous Attractions – Top Things to Do & See in Kalaw
Surrounded by mountain ranges, colorful tribe villages, rivers, pine forests, and bamboo groves. Kalaw is one of the charming tourist attractions in Myanmar to visit for a few days. Along with amazing trekking, Kalaw is also an untouched paradise that still waiting for tourist to discover. Let check it out!
Wandering Around the Peaceful Town
As soon as you get to Kalaw from your Myanmar trip, strolling around the antique town is the first thing that we highly recommend you to do. The high altitude is the main advantage helps the aura around the town cool and fresh in all year round. Take a walk through the beautiful town, you will be mesmerized by the unique British architecture features on colonial buildings, snaking road with full of colorful flowers, and some significant religious sites.
Get a Glimpse at the Life of the local in Kalaw Market
Along your walking journey around the town, do not miss your chance to hit the local Kalaw market. Along with social development, the market has been through a long time that becomes the best place offers the best view of the life of the area. Stay in the heart of Kalaw town, the market is where villagers from the surrounding areas come to sell their products. Every five days, the market of Kalaw is swelled by traders who descend from the hill villages outside the town. The market is where you witness a variety of hill tribes dressed in their traditional attires bartering for products in front of their colorful vendors.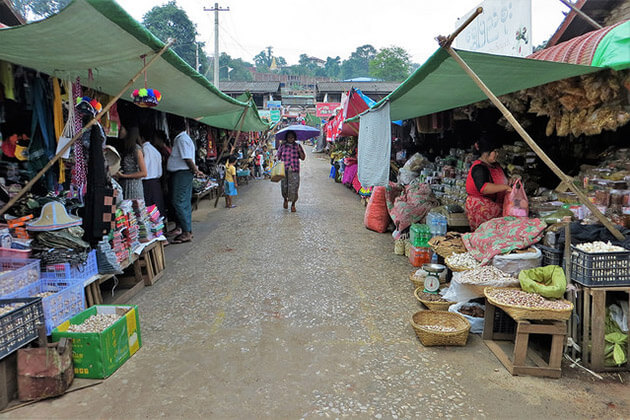 Marvel at Thousands of Buddha Images in Shwe U Min Pagoda
Nested in a magnificent limestone cave, Shwe U Min Pagoda is one of the best attractions in Kalaw. It attracts tourists' attention by its radiant Buddha statues, exotic stalactite, and serene aura. No one knows exactly how long has the pagoda existed. Probably it has gone through a very long time. Along with the rapid change of time, Shwe U Pagoda has become one of the most highly revered religious sites in the region. Inside the pagoda is where people often gather to pray and admire the golden images. Also, visitors traveling to the pagoda can enjoy a breathtaking ambiance that hardly can be found in anywhere else.
Enjoy the Tranquil Ambiance in Thein Taung Pagoda
Thein Taung Pagoda is another attraction in Kalaw for you to stay away from the crown. Just about 10-minute drive from the downtown Kalaw, Thein Taung Pagoda noted for an exotic Buddha statue made of bamboo. Together with visiting the pagoda, you can spend time to enjoy the fantastic scenery surrounding.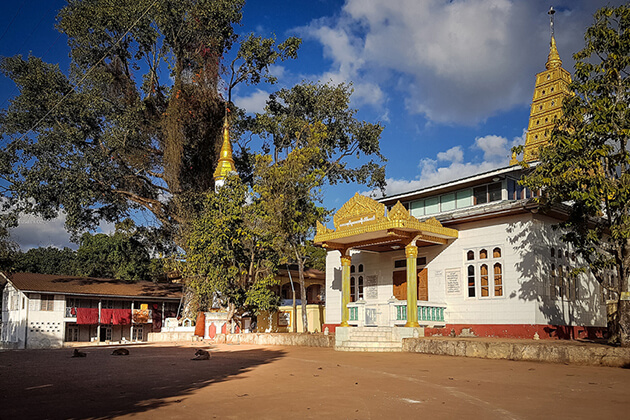 Trekking to Myin Ma Hti Village
Why can we ignore an interesting trek while visiting Kalaw? There are several destinations but Myin Ma Hti Village is the most wonderful trekking point in Kalaw. There is two way to reach the tranquil village, one by bike and one by trekking. But we recommend you spend time to walk through the breathtaking pine trees to get to the village. It's worth as you will have a chance to behold the pure natural beauty of Kalaw along the path.
Trekking from Kalaw to Inle
Last but not least, this is perhaps one of the most expected activities in Kalaw. The trekking route from Kalaw to Inle might not the most impressive route you have ever seen, but we bet that it will be the most memorable one in your life. A trekking tour from Kalaw to Inle will provide you a chance to meet some ethnic group live sparsely along the path and you cannot imagine how friendly they are. Furthermore, it also allows you to walk through the scenic plantation, visit an ethnic family and share a cup of tea in delight with them.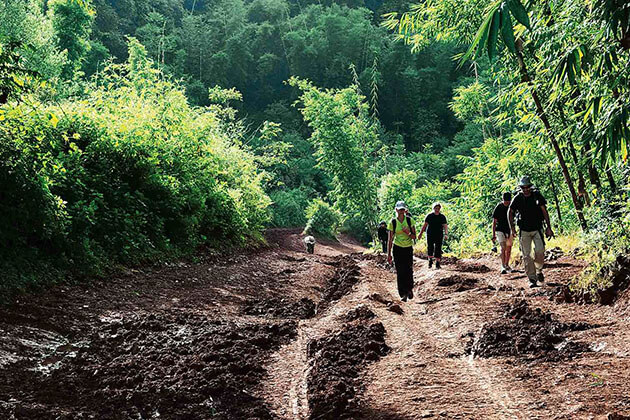 Kalaw Travel Guides
Kalaw Weather – the Best time to Travel to Kalaw
The best time to travel to Kalaw is… right now! Unlike other parts of Myanmar that often experience hot season from April to September, the weather in Kalaw is cool in all year round. It is very enjoyable with a very low chance of rain or snow. The average temperature of Kalaw is 22.6 °C. If you look for the warmest month to travel, April seems like the best time to go with the highest temperature can reach 30°C.
How to Get to Kalaw
About 26 kilometers from Heho International Airport toward the most south, Kalaw is easy to reach. There are scheduled flights from Yangon, Bagan, Mandalay, Kyaing Tong, Lashio, and Tachileik to Kalaw. Tickets are can be booked in advance or directly bought at the airport. The ticket price arranges from 100 – 135 USD.
Kalaw Accommodation – Top 6 Best Hotels in Kalaw
Hillock Villa
Top 1 review on Trip Advisor
Free wifi, private parking, bedroom
Bike & car rental is available
Address: No 10 Quarter, Damasatkyar Road
Kalaw Heritage Hotel
Top 2 review on Trip Advisor
Free wifi, parking, welcome drink
10 % discount at the hotel restaurant
Receive a certificate of excellent review on Trip Advisor in 2017, 2018
Address: University Road | No 3 Quarter, Kalaw 11101, Myanmar
Dream Mountain Resort
Top 3 best value on 59 best places to stay in Kalaw
Free wifi, parking
Address: Jo Pyay Yan Pyay Pagoda Street 10 Quarter, Kalaw, Myanmar
Thitaw Lay House B & B
Top 4 best value on 59 best places to stay in Kalaw rated by Trip Advisor
Quiet homestay with 2 bungalows in the gardens
Address: Forest Road, Ward 3, Kalaw, Myanmar
Amara Mountain Resort
Free wifi
Well-decorated rooms with garden views
Address: No.10, Thida Road, 10 Quarter, West Bogone, Kalaw, Myanmar
Kalaw Vista Bed & Breakfast
An ideal choice for backpackers
Free wifi
Fully equipped private bathroom with bidet and free toiletries
bicycle rental service is available
Address: Forest Road, Ward 3, Kalaw, Myanmar