November marks the beginning of the dry season in Mandalay. This month, the weather is lovely with dry and cool conditions.
Mandalay weather in December maintains the average daytime temperature around 27°C. The region receives 8 hours of bright sunshine each day. When the night falls, the city immerses in a cool atmosphere at 20 °C.
Clothes Tips for Traveling to Mandalay in November
Within the daytime, T-shirts and sandals are a good choice for you. November weather in Mandalay is perfect for you to take a sightseeing tour around the city and do outdoor activities. During the daytime, remember to bring sunglasses and sun cream to protect your skin from the sun.
Top Unusual Things to do in Mandalay in November
Attend Kaunghmudaw Pagoda Festival
Located on the Sagaing Hill, Kaunghmudaw Pagoda is one of the most venerated temples in Central Myanmar. Annually, the delightful festival takes place at the temple ground and Sagaing village across the Irrawaddy River. In 2019, it lasts for 8 days from November 4th to 12th. Attending the festival, you will witness the monks dressed in red robes praying to honor the pagoda. What's more, you can indulge in a vibrant atmosphere and colorful things around which is filled with products and handicraft goods.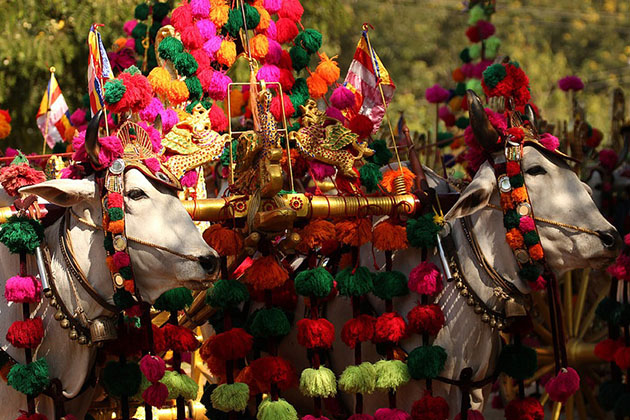 Marvel at the Majestic Sunset on U Bein Bridge
As one of the main tourist attractions in Mandalay, U Bein Bridge is one of the must-see destinations for any Myanmar tours. Stretching through 1.2 km across the Taungthaman Lake, the bridge looks like a silk ribbon which gently connects two banks of the lake. Visiting the bridge in November, the water level is low, the sky is clear and the sun is bright, making the scenery wonderful to catch stunning photos.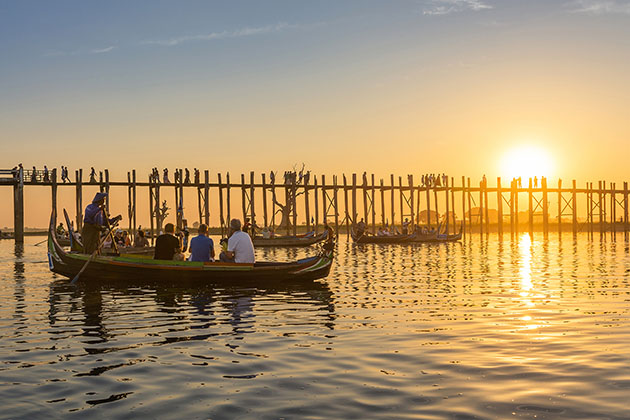 Enjoy a Breathtaking Boat Trip on Irrawaddy River
November in Mandalay is the best time for visitors to take a day boat from Mandalay to Bagan. The breathtaking scenery and simple daily life of the locals on the riverbanks will catch your attention and inspire in your photos.
Take a City Tour & Explore the Highlight of Mandalay
Well-known as the golden capital of Myanmar, there are so many things to see and taste in Mandalay. A city tour will introduce you with fantastic sites including Kuthodaw Pagoda – the largest book in the world, Mahamuni Pagoda – home to the highly revered Buddha image or Mandalay Hill – the viewpoint for a panoramic view to the city.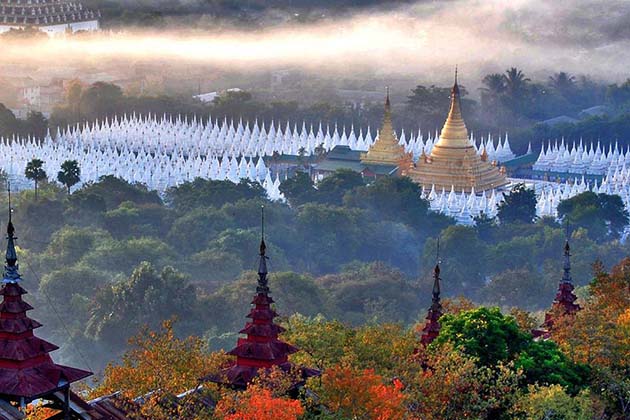 Recommended Tour to Mandalay in November
Myanmar Highlight Tour 10 Days
Charming Myanmar With Beach 13 Days
Colorful Myanmar 8 Days