December weather in Mandalay is still lovely characterized by cool and dry conditions. The average temperature is around 22°C in the morning and it gets warmer in the afternoon with an average of 28°C. As the night falls down, Mandalay experiences a relatively cool of 15°C.
There are usually 8 hours of bright sunshine each day in December and just 1 day of rain. Mandalay weather in December is perfect for visitors to take an excursion to explore the city and around.
Clothes Tips for December Weather in Mandalay
As it is warm during the daylight, light T-shirts and sandals or sneakers are the best choice for you. With the highest temperature at 28°C, sun cream, sunglasses, hat, and water are necessary to protect your skin from the Ultraviolet rays.
Mandalay weather in December experiences the lowest temperature at 15°C, so it can be a little cold at night if you want to hang out at night, remember to bring a coat.
Top Cool Things to Do in Mandalay in December
Take a Boat Trip on Irrawaddy River to Mingun
Located on the left side of the Irrawaddy River toward the northwest of Mandalay city, Mingun is a small but charming village for visitors to explore on a day trip from Mandalay. It is home to the world's largest unfinished Mingun pagoda, which is immensely large but was left to abandon after the earthquake. Next to the pagoda is Hsinbyume Pagoda, an elegant white-washed temple built by King Bagyidaw to express his love to his Queen Hsinbyume, who unfortunately lost her life while giving childbirth. From here you can take a leisure walk to Mingun Bell, the world's second-largest ringing bell where you will learn some interesting facts about how people bring it to the village.
Take a Bike Tour to Explore the Life of the People
Possessing a fertile and beautiful landscape, Mandalay no doubt offers tourists with tons of surprises. With so many things to see, there is no better way to see the true Mandalay on a bicycle. Mandalay weather in December is nice enough for you to do so. With the temperature is not too high during the day time, you can cycle through the lively street to the tranquil countryside to see the daily activities of the local people. If you want to gain more local insights, we highly recommend you to travel with a local guide who will lead you to off the tourist trail destination and introduce you little by little in each destination you pass. They will share with you from their first-hand experience to the profound knowledge about Mandalay.
Take an Excursion to Sagaing
Well-known as the Center of Religion in Myanmar, Sagaing Hill is a worth-seeing destination for Burma tours. On the top of Sagaing Hill is Soon U Ponya Shin Pagoda, one of the oldest temples on Sagaing Hill. Visiting the temple in December, you will have a clear view of the breathtaking view surrounding which is filled with countless stupas and pagoda. In addition, Kaungmudaw pagoda, U Minthonze pagoda, etc also worth you a visit.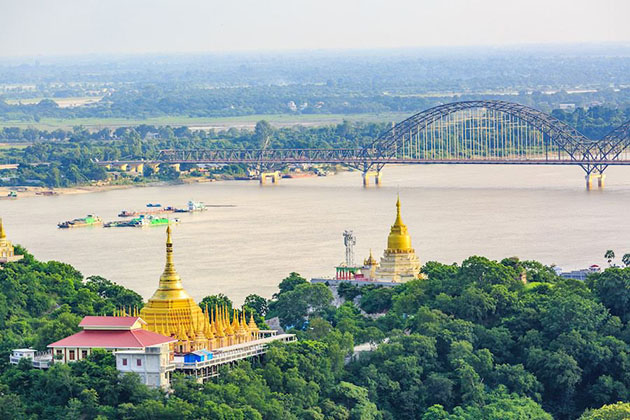 Recommended Tour to Mandalay in December
Charming Myanmar Tour with Beach – 13 Days
Highlights of Myanmar Tour – 8 Days