Together with sightseeing, Myanmar beer is one of the amazing things to try in your Burma tour. Nowadays, the domestic Myanmar beer market has been expanding and diversifying, it means that tourists have more chances to enjoy the best beer while traveling to the country. Since there are many types of beer in Myanmar with different tastes that somehow confuse our customers. In this article, we highlight the best Myanmar beer brands with detailed information, prices, and where to have it. Let's check it out!
Best Myanmar Beer To Try
1. Myanmar Beer
This is probably the most common beer brand in Myanmar that launched by Myanmar Brewery Limited Company, the biggest beer brand in the country. It is a clear light gold beer with a white head. The beer itself is relatively enjoyable and it offers a very pure taste. Myanmar Beer had a fantastic fragrance of jasmine and flowers. Sometimes, it can be mixed with a shot of local whiskey to give an extra kick. Once traveling to Myanmar, don't miss your chance to taste it.
Price: 850 Ks/ small can, 1200 Ks/ small bottle, 1350 Ks / big bottle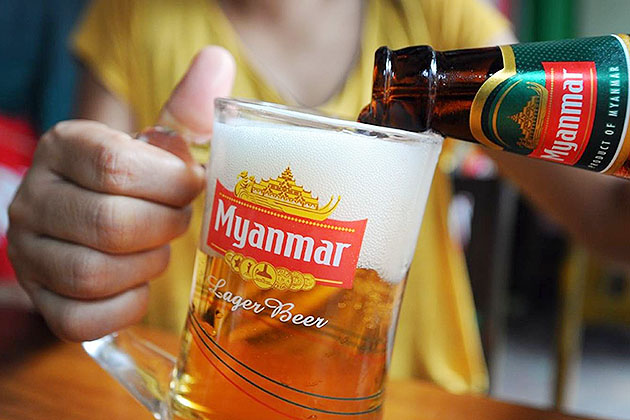 2. Dagon Lager Beer
Dagon Lager Beer of Myanmar was first launched into the market in 1998 by the Dagon beverages Company. To date, it has become one of the most popular beer brands in Myanmar. Like Myanmar beer, it has the golden color and housed in bottles but a bit smaller size. Totally, it is cheaper than Myanmar beer but tastes almost good with a light sweet aroma.
Price: 650 Ks/ small can, 800 Ks/big can, 1100 Ks/ big bottle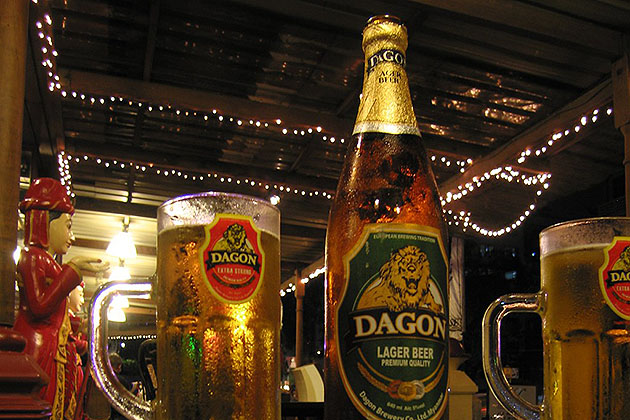 3. Black Shield Stout Beer
Unlike the two above kinds of beer, Black Shield Stout, right to its name, shows this hard-hitting 8% stout. This is a craft beer of Myanmar that received so much love from foreigner tourists for its nice foam head and a light aroma making you feel like a fragrance of coffee and a soothing aftertaste.
Price: 1550 Ks/ can, 2500Ks/ big bottle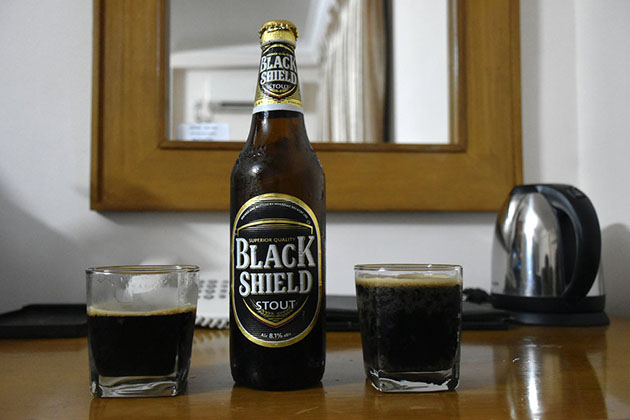 4. Mandalay Strong Beer
If you love to taste a kind of strong beer, this kind is right for you. As the name suggested, this kind of beer is brewed in Mandalay, the cultural city of Myanmar. Mandalay beer is a strong beer with 8 % stout. It is a golden color and little to no head. Once you try drinking it, the brew will give you the fresh and crisp taste of an extra kick!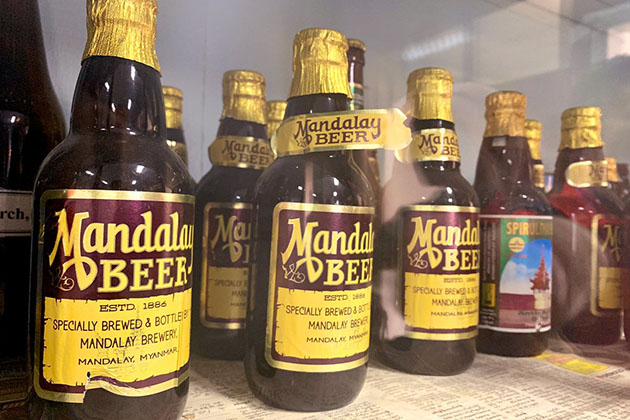 5. Andaman Gold & Gold Special
If you are the person who likes to nibble a little sweet and sour mix with bitter, then Andaman Gold beer is perfect for you. This kind of beer is relatively popular in Myanmar. It characterized by an aroma of light sour grain and typical macro pilsener. Andaman Gold Special, on the other hand, will strongly impress you with a strong ale taste. We cannot tell you exactly its flavor, just try to drink this unique beer and feel it on your own!
Price: Andaman Gold: 800 Ks/ small can, 1100/big can
Andaman Gold Special: 700 Ks/ small can, 1050 Ks big can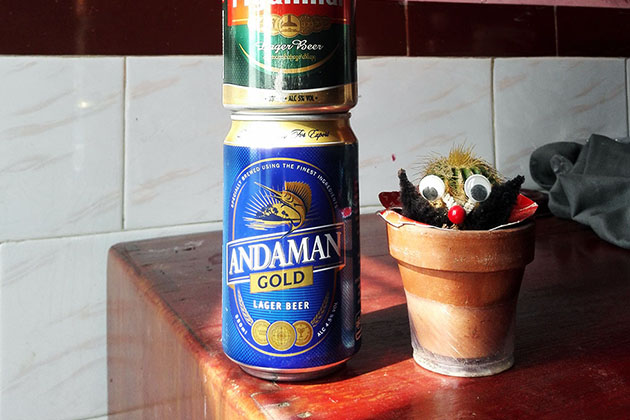 6. Regal Seven
Regal Seven beer is brew by the Alliance Brewery Company. It is the second brand of Heineken that has been used in the Myanmar market. It has the crystal clear pale golden amber with a bit white foam that diminishes quickly after pouring out. Regal Seven beer is a good choice for those people who love a fragrance of light sweet and malt.
Price: 750 Ks/ small can, 1050 Ks/ big can.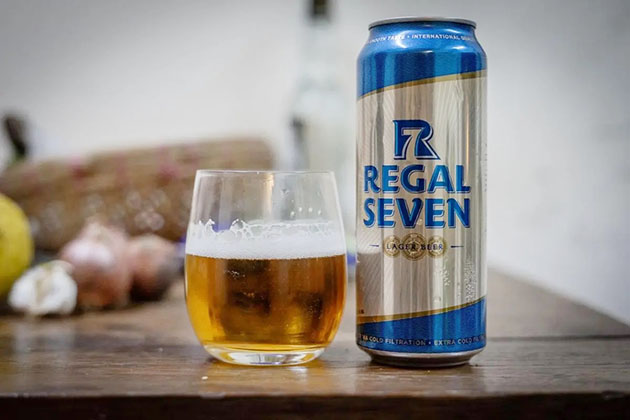 7. Burbrit Beer
If you are a big fan of microbrewed beer, you have to try Burbrit at least once when traveling to Myanmar. Burbrit is the best craft beer in Myanmar that was first launched in 2007. To date, the brewery offers 3 different kinds of beer:
Yangon Blonde: it gives you low and rolling bitterness with an earthy taste that offers a special refreshing clean and balance after drinking
German Weizene: Once receiving the Winner of Asia Beer Medal 2016 Silver Award, German Weizene delivers you a taste of low bitter, banana flavor, and vanilla.
Burma Pale Ale: If you are interested in strong malt and bitter with a medium body. Never miss your chance to try it!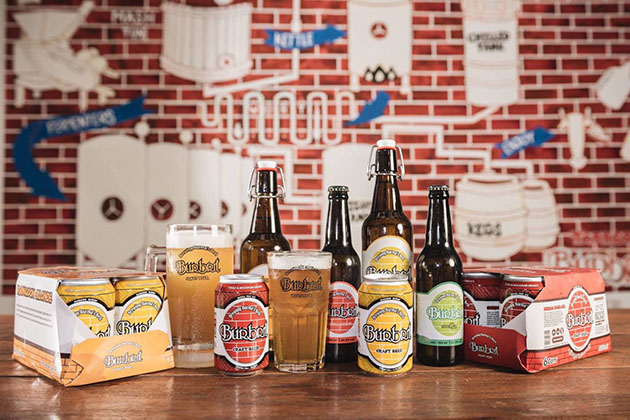 Myanmar Beer – Best Places To Buy
Almost beer in Myanmar is sold widely in the supermarket or other small shops. Below, we provide you with some of the most popular places to have a bottle of local beer.
Myanmar Beer Shops in Yangon
If you are enjoying your Yangon tour package, below are the best places to buy Myanmar beer:
Burbrit Brewery
Address: No. D 16, North Dagon Industrial Zone, 34 Quarter Extension, Yangon
Burbrit Taproom
Address: 74 MA Naw Hari St, Yangon, Myanmar
Paddy Murphy's Ice Bar
Address: 1 Kabar Aye Pagoda Road, Yangon, Myanmar
50th Street
Address: 50th Street, Yangon, Myanmar
Yangon Tea House
Ground Floor, 77-70 Pansodan Street, Yangon, Myanmar
Myanmar Beer Shops in Mandalay
Step aside from Yangon, Mandalay also a great place where you can get Myanmar beer:
Million Liquor House
9, 73rd Street, between 26th and 27th Street, Mandalay, Myanmar
Uncle Chan Beer Station
35th Street, 72/73, Mandalay, Myanmar