Food safety in Myanmar is one of the most important areas with any visitors to consider before planning for a Myanmar trip. Nowadays, together with social development, food safety is put on top priority not only to protect the public health of citizens but also to develop the sustainable tourism industry.
The importance of food safety and hygiene
First, food supplies nutrient source for the development of human beings, which help people keep healthy and prolong life. However, it is also the main culprit of the variety of diseases if there is no ensuring of food hygiene. It can be called a precious food if it is not completely safe for the body.
In the long term, food does not only contribute considerably to each person's health but also can affect the race of the whole country. People may suffer from acute poisoning with recognizable symptoms because of the usage of unsafe food, more seriously, the poisons would be gathered in an organ of the human body for a period of time, which causes some serious diseases for the future generations such as disability.
Effects of food safety and hygiene on the economy
Not only Myanmar but also some developing countries, food is a strategic product that helps increase the growth of economics and politics.
Thus, to compete in international markets, having a certificate of food hygiene and safety is a strong point. Food should not only need producing, processing or preserving to prevent contamination of some harmful microorganisms but also is not contained synthetic or natural chemicals beyond the prescribed level of the country and of the international organizations' rules.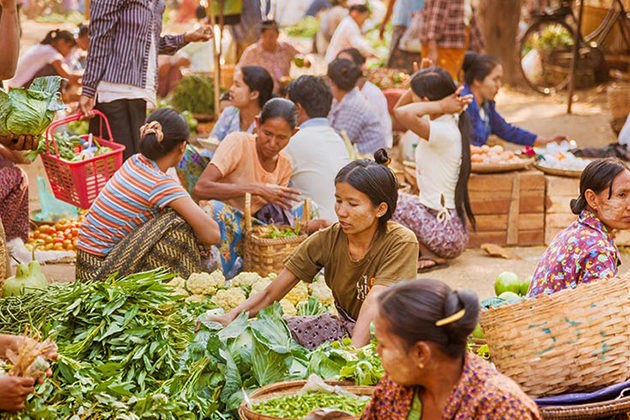 Current status of the safety of food hygiene in Myanmar
Because of the influence of food safety on the development of agribusiness, investment for it is significantly increased, which take about 38 percent of the gross domestic product and 23 percent of Myanmar's exports. Besides, the growth standard of food safety can create more jobs, boost tourism and the nation's economy.
However, when being assessed by international organizations, Myanmar is perceived as a country has poor food safety standards. Specifically, Myanmar has just been ranked at 71th out of 113 countries in quality and safety in the EIU Global Food Security Index 2017 while some Southeast Asian countries have much better positions, for example, Singapore (24), Malaysia (37), and Thailand (59). Furthermore, this emergency problem is even admitted by Myanmar's government.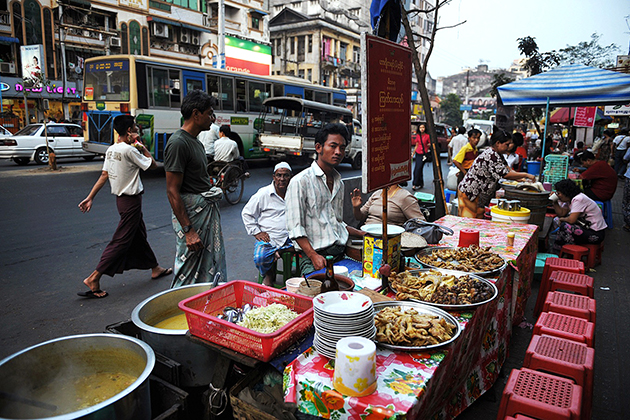 Reasons 
1. Water
The first basic reason is water quality which is supplied for drinking, daily activities of humans, and the food industry is not appreciated. In April of 2017, like statistics, 70 percent of Myanmar's bottled water brands failed the FDA testing, however, it is ignored that factories were still granted licenses to produce.
2. Food processing
Hygiene issues exist in any form of life, from raw ingredients to cooked food. These all have problems in food hygiene from methods of cleaning, storing, preparing to serve, which aims at meeting the requirement of people.
For instance, it can be seen at many small fast food stalls in crowded residential areas, in city centers or even in festivals. Food is mostly contained in small plastic bowls and plates which are frequently not cleaned in the right way. Indeed, there is not clean water enough to clean all the utensils and dish, even there is not enough place to put large pans which are usually left on the pavement, not only cooking utensils but also raw food.
Besides, reusing plastic spoons, paper plates, paper cups or pairs of the chopstick, which have been labeled "one only" is an unhygienic activity that has been witnessed by many tourists.
Therefore, hot and freshly prepared food is encouraged to eat, avoided prepared food which is put in open places without coverings or uncooked foods.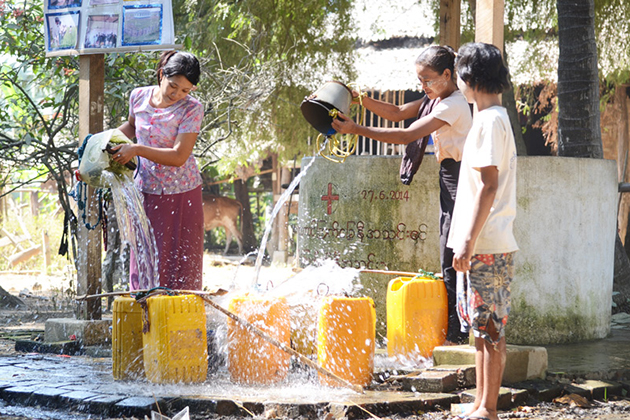 Some high-risk Foods in Myanmar
1. Street food
2. Uncooked vegetables
3. Unpeeled and unwashed fruits
4. Raw, cold meats
5. Unpasteurized dairy products
6. Cold sauces, like salad dressings,
7. mayonnaise, chutneys
8. Ice in drinks
9. Tap water
10. Fruit juice from open stalls
11. Uncovered foods with flies and in-
12. sects visible around them.
Some tips to prevent the risk of unhygienic food in Myanmar for visitors
Medicines
Before traveling, consult an experienced physician and ask for some kinds of medicine and their functions.
The top recommendation of doctors is antidiarrheal medicines which can help you cure diarrhea quickly. Another way if you do not have medicine is ginger – one of the oldest natural remedies to relieve stomach pain, reduce inflammation and also act as a natural antibiotic. Fresh ginger, ginger tea or ginger candy will bring surprising effects. Although it does not reverse the infection, it can help reduce pain symptoms while you wait for more effective remedies.
Choose street food carefully
Street food is not always hygienic but is very eye-catching and has an attractive flavor. It has to say that they are quite cheap but the cost of drugs, if you get poisoned, can be 10 times higher. So, choose hot and well-cooked dishes are the best.
Keep your hands clean
You should use soap and warm water, wash thoroughly and dry completely. Wash your hands more often when you travel. Or you can carry a hand sanitizer bottle without using water. Pathogens can enter the body when you touch your nose, mouth, eyes or ears. Therefore, try to keep your body away from your hands until they are cleaned. Evaluate whether the counter is clean and sanitary.