What partially makes your trip to new destinations remarkable is bringing back a souvenir to remind you of your trip. Locating in the rural area of Myanmar, Inle Lake doesn't feature malls, shopping centers or supermarket. This, therefore, catalyzes an unprecedented shopping experience for visitors at Inle Lake.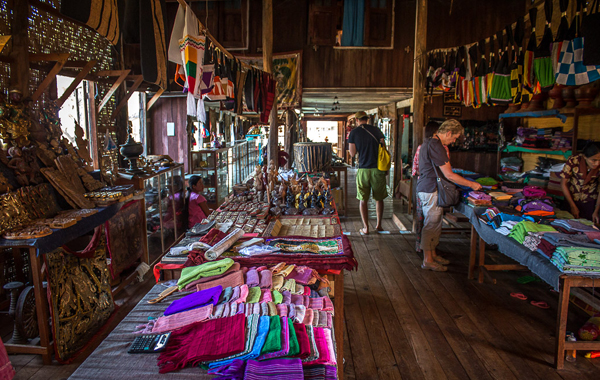 Inphaw Kone
Location: West of Nampan Village
Although Inphaw Khone is not a market, The Inphaw Khone, which is endowed with weaving workshops, is among must-go places in any Inle Lake tours. A short visit to this village will introduce how the skillful young weavers operate the looms made from bamboo and teak. Under the skillful hands of the people, the weaving is high-quality fabric; in fact, the village has long been well known for being the best place to purchase lotus-silk shawls. Due to the arduous process involved in the production, the shawls can be overpriced, but you pay for what you get.
Mingala Market
Location: Win Quarter, Nyaung Shwe Township, Inle
Your trip would be incomplete without visiting Miangala Market, an interesting shopping place for local produce. The market offers a variety of food, which may challenge visitors to sample. The most common delicacies sold here are 'kauq-sweh', or noodle soup and manung jet- around and flat rice scripts. Mingle with the vendors and dine on local savory delicacies, this blend combination makes your trip in Inle Lake remarkable.
Mine Thauk Market
Featuring a variety of merchandise for shoppers, the Mine Thauk Market is a large and bustling affair. Due to the fact that people from the hills sell their products in five different locations over a five-day period, the market is also called the 'five-day market'. The laughter and sounds of people in the market add vibrancy to the market. This market witnesses the presence of the Inthar people who purchase produce like tomatoes, eggplants, peppers and the like. There are also people selling Shan bags, Buddha statues and lacquerware.
Nampan Market
Location: Nampan Village
Mine Market and Nampan Market share a common feature in their schedule. This rotating schedule sometimes makes it a bit challenging to keep track of. Lively atmosphere, plenty of townsfolk selling colorful produce and an assortment of other products are what this local market offers. The highlight of a short visit to the market would be seeing the Pa-O tribal people from the hills come down in their traditional dress to trade in the village.
Ywama Floating Market
Location: Ywama Village
The biggest floating market in the region gives fame to Ywama Village. Local peasants' boats are moored here to barter regional items to the locals as well as pedlars selling souvenirs to tourists. The best time to explore the market is when the market is not crowded.  Therefore, it is advisable that one should get up early because the market is already full swing by 08:30.
Ko Than Hlaing: "Lotus Reed Scarf" Shop
Address: Inpawkhon, Inle Lake
Directions: In the southern part of the lake
Another contact: info@silkand lotusweaving.com
Tel: 095211891
Mya Hin Tha shop
Address: Taung Chaung Quarter, Heyaywama, Inlay
Tel: 081-29653