There is nothing quite like viewing the whole scenic landscape of this centuries-old land from a sky. Nowadays, hot air balloon ride in Myanmar, particularly in Pindaya, InLe Lake and Bagan has become more and more popular than ever. A visit to this land of faith, you can gain more amazing things you can imagine with this kind of transportation experience.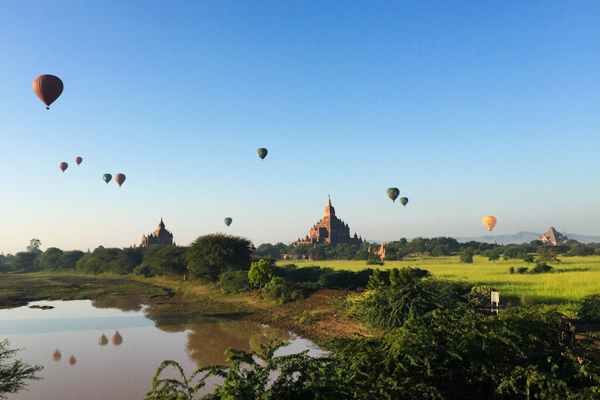 Sight-seeing by hot air balloon is incredibly fascinating. Make your way to Bagan – the land of breathtaking beauty, diversity of culture and architecture to experience hot air balloon ride and view ancient sites in Bagan from the sky. For sure, this will be a highlight of your Myanmar trip. There are loads of choices for travelers to try a hot air balloon. Whether it's peaceful Inle Lake's floating gardens, Mandalay's hustling, and bustling markets, Pindaya's hills or tropical forests from Ngapali beach, hot air balloon ride would offer satisfaction beyond your wildest dream.
In Pindaya, you can have an opportunity to fly along mountain valleys and pass top pagodas, then down to villages, whereas, hot air balloon experience in Mandalay offers a stunning view over temples, markets, and active river banks. If you have enough time, do not miss hot air balloon in Ngapali where you can watch exotic birds. Here, hot air balloon ride would allow you to get close access to top level over primeval jungles to watch beautiful birds. Actually, a hot air balloon ride is almost a journey floating into the sky; therefore, it would be a great experience that enables your trip in this country unforgettable.