Myanmar emerges as an awe-inspiring tourist hotspot, so it has become the norm that an increasing influx of visitors takes flights to Myanmar to explore the country. For those who are planning trips to Myanmar, here is the best brief guide to domestic airlines in Myanmar.
Myanmar has a number of domestic airlines which are comparable in quality, service, schedule as well as price.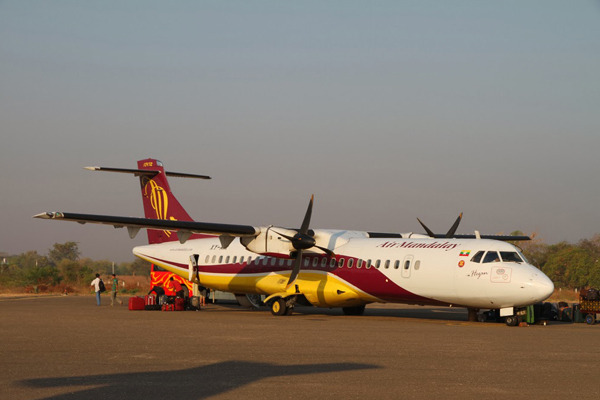 Air Bagan
Known as the 'Treasure of Myanmar' airline founded in 2004, Air Bagan operates flights to 20 destinations, encompassing some international places. Air Bagan has a total of 5 aircrafts, namely one Fokker-100, two ATR-42 turboprops and two ATR-72.
Air KBZ
KBZ is the abbreviation of Kanbawza Bank – a private bank with its own airline chain. This airline had its first operation in 2011 and it is operating flights to 15 domestic places.
Asian Wings Airways
Along with Air KBZ, Asian Wings Airways is another newbie in the domestic airline industry. Asian Wings Airways has been making a great attempt to complete its motto 'Fly Beyond your dreams' and offering its best services to passengers. With a considerable number of flights to 22 domestic destinations, Asian Wings Airway received an investment from Air Nippon in 2013 to strengthen its brand.
Air Mandalay
Air Mandalay is the first domestic airline of the country that was founded in 1994. When choosing the motto 'Safety, Reliability and Comfort', this oldest domestic airline comprises a fleet of two ATR-72-212s and one ATR 42-320 with a number of flights to 11 destinations.
Myanmar Airways
Founded in 1948, Myanmar Airways is the official state-owned airline with a fleet of 12 planes operating international routes.
Yangon Airways
With a fleet of only three ATR 212s operating flights to 11 destinations, Yangon Airway was founded in 1996 with the statement 'You're safe with us'.
Golden Myanmar Airlines
This is the newest founded airline in Myanmar. It first started in 2012, Golden Myanmar Airlines is a budget airline that operates with the statement 'Every day we do is for your satisfaction'. They operate more domestic routes between Mandalay and Yangon as well as fly internationally with two Airbus A320.