Illegal tour guides who have no license and get cheaper charges than the trained and licensed guides will be cracked down in Myanmar, according to Myanmar's Ministry of Hotels and Tourism.
The Burma Government also warning that these illegal tour guides could be in jail for three years.
The tourism ministry's director, U Myo Win Nyunt said that the ministry had received a lot of complaint post from travel companies and guide associations.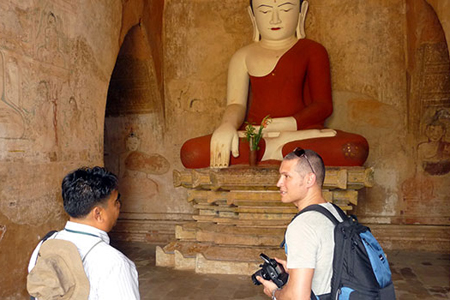 "We are implementing based on tourism law. Illegal tour guides will get a prison sentence for up to three years, or pay a fine of K50,000 (USD 43)" he added.
Legal guides in Myanmar need a license of a two-month training completion before hey work.
"More than 6,000 guide licenses were issued, but we don't know if this will be enough while tourist arrivals are increasing more. But illegal tour guides are troubling tourists and being hired by travel firms." he said.
According to Asian Development Bank, Myanmar tourism welcomed the arrivals of 4.7million tourists in 2015. The country targets to attract 6 million foreign visitors by the end of 2016.
It is not easy for a tourist to know who the licensed guides are. Since the opening door to the world, Myanmar tourism has been the top attractive destination to international tourists. In parallel with the industry's development, illegal Myanmar tour agencies as well as illegal tour guides are increasing.
To have a best experience, tourist should overlook and choose a well-known and reputable Myanmar tour company.