MANDALAY, 27 June 2016: Myanmar's Ministry of Hotels and Tourism states between January and May this year, there is a rise of 22%, approximately 160,000 international tourists visited the former royal capital of Mandalay, compared to the same period last year.
Global New Light of Myanmar also revealed that most tourists were from China, the second in Thailand, followed by the United States and the United Kingdom respectively.
Taking a Mandalay tour is just a part of a trip to Bagan or the river cruises, but it still leads to an increase in the number of tourists exploring the former capital. Better air together with more airlines offering direct services are chiefly responsible for this upward trend.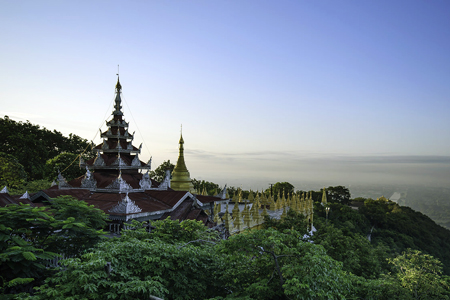 For breaking news, Myanmar Airways International announced that they are planned to begin a new service connecting Mandalay and Bangkok on September the first, with three weekly flights on Monday, Wednesday and Saturday using one Airbus A319.
It is really a waste of time arriving at Yangon and then traveling to Mandalay over land, or even by domestic airline. Thus, prompt efforts should be made to attract more and more international airlines in Asia area to provide tourists with direct flight to Mandalay.
In spite of congested improvements and expansion, that decision would take considerable pressure off Yangon.
The place of interest that draws most of the tourists' attention are Myanansankyaw Golden Palace, Mandalay Hill, Maha Myatmuni Pagoda, U Bein Bridge, the Golden Temple, and Ahtumashi Monastery.
Mandalay, the second-largest city and the former royal capital of Myanmar, located 716 km north of Yangon on the east bank of the Ayeyarwady River, attracts a great many visitors. Last year, Mandalay witnessed a remarkable growth in the number of visitors which is 306,432 tourist arrivals in comparison with 242,566 in 2014.