Mandalay weather in January is nice with cool and dry conditions. This is also the only month of the year when Mandalay enjoys the lowest temperature at 13°C. As January is one of the most pleasant times of the year, taking outdoor activities is highly recommended.
Clothes Tips for Mandalay Weather in January
Mandalay weather in January witnesses a big temperature difference between day and night time. While the temperature during the day time can be up to 30°C, the overnight temperature can drop down to 13°C. Therefore, long sleeves shirts, sneakers, and sun cream are essential for sightseeing by day and bring a jacket for the night.
Best Things to Do & See in Mandalay in January
Enjoy the Majestic Sunset from Mandalay Hill
At a height of 240 meters, Mandalay Hill offers a stunning view of the city. Visiting the hill in December, the sky is clear and thus you will have a chance to enjoy the majestic view of the beautiful city in sunset. Not just the scenery from the top, the way to Mandalay Hill is also a highlight. You will have a chance to challenge yourself on a pickup bus to pass through the snaking road lead up to the hill.
Discover Shwenandaw Monastery
Dating back to the 19th century, Shwenandaw Monastery is also well-known as the Golden Palace Monastery as it used to be a part of the king's royal apartments. It was built and finished in 1878 by King Thibaw Min to dedicate in memory of his father, King Mindon Min. Visiting the monastery from Myanmar tours, you will have a chance to marvel at the impressive teakwood carvings showing the Buddhist myths which adorn on the walls and roof.
Gain more Local Insights at Local Workshops
Mandalay weather in December is good to take a city tour to the local workshop to discover the production of the local people. What's a better way to know more about their life than witnessing the artisan doing their work and listen to your guide to know more about them. Hop on a city tour, you can visit the gold leaf, hand-weaving and wood carving workshops for a better understanding of Mandalay people.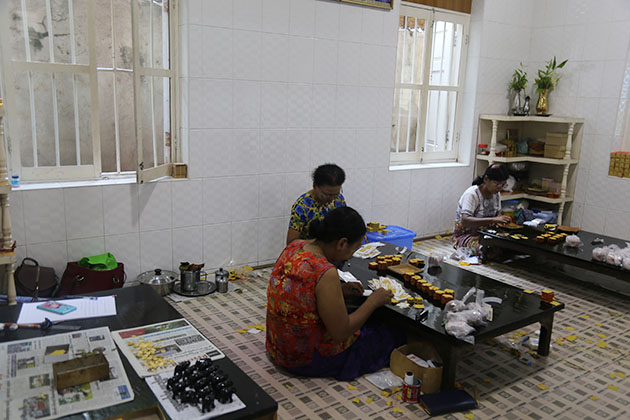 Recommended Tour to Mandalay in January