Closed for over half a century, just opened for visitors recently, Kayah State is one of Southeast Asia's last frontiers for inspiring and authentic travel. It's the treasure of Myanmar where you can step off the tourist trail and experience vibrant diversity of a country with 135 ethnic groups. Kayah State is home to several minorities of Myanmar including the Yinbaw, Bre, Kayin, especially the longneck Kayan people and the aappealing Loikaw capital. If you are planning to take a trip to Myanmar and looking for an off the beaten track destination, Kayah is no doubt a great choice. In this article, you will find out top attractions in Kayah State, the best time to visit, top things to do, and many more.
Kayah State Tourist Attractions
Situated in easternmost Myanmar which takes over a half day to travel by bus from Yangon or Mandalay, Kayah State bounded by Shan State on the north, Thailand's Mae Hong Son Province on the east, and Kayin State on the west. Traveling to Kayah, you will discover the mesmerizing Kayah hill scenery and a treasure trove of traditions and customs. If you are wondering about what to do and see in Kayah State, I would like to tell you some attractions in Kayah State that I once experienced and all were great to me.
Kayah State Cultural Museum

Located in Loikaw, the capital of Kayah State, the Cultural Museum exhibiting a collection which is closely associated with the daily life of people. Upon here, you will find an array of bronze drums used in wedding and funeral occasions and many objects including stone beads, householde utensils, traditional dresses, weapons, painting, musicial instruments of Kayah people, etc. There are nearly 13000 books and 405 individual objects will ensure to give you an overview to the culture of the region.
Taung Kwe Zayde
Perched dramatically on the craggy limestone of Mingalar Thiri Mountain, the Taung Kwe Zayde is one of the most famous interesting sites in Kayah State and the most venerated pagoda in the region that you must visit when you are in Loikaw. It's a complex of many small white and gold stupas which truly gives visitors an amazing combination of nature's creation and man-made masterpiece. The best time to visit the temple is either morning or twilight when you can view the breathtaking sunrise and sunset over the region
Naung Yar Lake
Just about 10-minute walk from the Loikaw Clock Tower, Naung Yar Lake is another worth sightseeing attraction in Kayah State. This is one of the natural landmarks of Loikaw where you can not only enjoy the beautiful natural beauty but also relax in the sound of bird singing and the swaying wind into the air.
Together with sightseeing, you can enjoy the traditional foods and chilled beers from hawker shops on the lake side. There will be no traffic and thus will bring you a wonderful moment.
Kayah Remote Villages
Step aside from the famous cultural heritage sites, the remote villages of Kayah is also amazing place where you can step back in time to head off the beaten track to learn about the local life, traditional handicraft and slowly watch the laid-back pace of life as the world goes by. Kayah culture and color will keep you interest by its simplicity, authenticility, and rich ethnicity.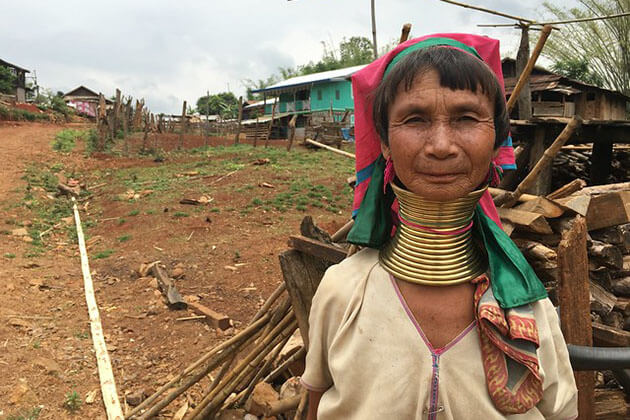 Kayah State Weather – Best Time to Visit Kayah
Kayah State weather features the typical weather of Myanmar which is warm in all year round. It can be visited during the year but the best time is from September to April when the region experiences a mediocre rainfall. This time, the average temperature arranges from 26 – 35 °C creating a great condition for ourdoor activities.
Kayah State Accommodation – Best Hotel in kayah State
Keinnara Loikaw aka Kayah Resort
#1 best value of 7 hotels in Kayah State rated on Trip Advisor
3 star hotel with Free wifi, parking
Breakfast included
Golf course, mini bar, restaurant, room service, landry service
Offering family rooms
Address: U Khun Li Street | Naung Yah Quarter, Loikaw 20101, Myanmar
Tel: +95 9 258 887 070
Gold Hotel
#2 best value of 7 hotels in Kayah State rated on Trip Advisor
3 star hotel with Free wifi, parking
Mini bar, restaurant, swimming pool, room service, landry service
Breakfast included
Adress: No. 86 Thiri Daw Street, Naung Yar (A) Quarter, Loikaw 11111 Myanmar
Tel: 083-2224207
Loikaw Lodge by the Lake
#3 best value of 7 hotels in Kayah State rated on Trip Advisor
A family own boutique hotel with 12 beautiful room with balcony overlooking at the tranquil lake. It features with:
Free wifi, parking
Bar, restaurant, room service, landry service
Address: 377 U Ni Street | Nyaung Ya Quarter, Loikaw, Myanmar
Tel: +(95) 8324 0161