Nestled on the Chindwin River's banks, Monywa is known as a dynamic region of central Myanmar with numerous industries surrounding the town. Monywa shares some similarities with its neighbor Mandalay in the way that there are myriad of amazing surrounding attractions.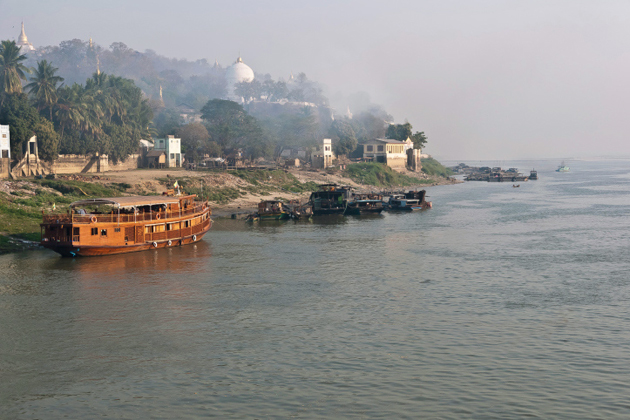 Monywa Attractions
Monywa is a perfect stop on a trip from Mandalay to Bagan. As a trade town, it is home to several hustle and bustle markets, countless food stalls, coupled with numerous beer stations surrounded by a vibrant atmosphere. As previously mentioned, Monywa has a collection of interesting attractions to visit.
Thanboddhay pagoda
Thanboddhay Pagoda is a great attraction in Monywa to admire the stunning and spectacular Thambuddhei Paya where 500,000 Buddha images, as well as golden spires, are located. Being constructed from June 1939 and completed in March 1952, Thanboddhay Pagoda captivates tourist's attractions by the unique shape and architecture design that can be seen nowhere in the country.
Once getting to the site, you will be overwhelmed by the subtle architecture style features on every part of the pagoda. The outside wall of Thanboddhay pagoda enchants tourists by it read, gold and mauve color. Following the shady corridors, you will pass through incredible tiny Buddha images, which is truly remarkable.
Don't be surprised by the surrounding buildings that lure your heart with a variety of pastel shades: orange, blue, green, pink with multi-layered roofs and spires which make you feel like a fairy-tale Buddhist chateau. Together with exploring the site, you can also catch an opportunity to explore the monastery site, offering a panoramic view of the pagoda and surrounding landscape.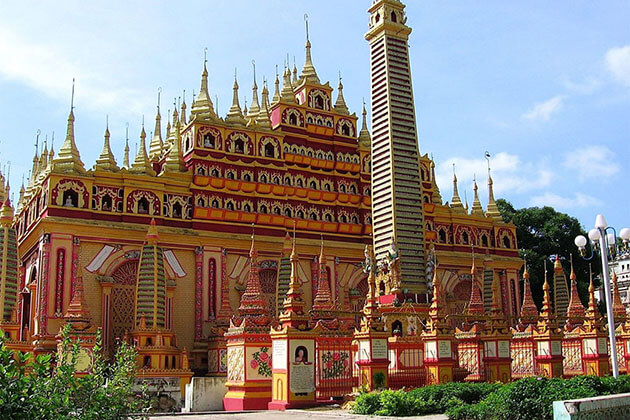 Bodhi Tataung Pagoda
Like Thanboddhay Pagoda, Bodhi Tataung Laykyun Sekkya standing Buddha is a fabulous attraction in Monywa that cannot be missed when visiting the town in your trip to Myanmar. Boddhi Tataung, which is translated as "1000 Buddhas". Situated on the east of town, Bodhi Tataung Buddha images can be seen from most of Monywa. The pagoda houses uncountable Bodhi trees, gardens, sitting Buddha's as well as a giant reclining Buddha.
Both giant Buddhas in Monywa face west, so the best time to visit the pagoda is in the afternoon when the golden light of the sun embraces the glittering Buddha and every Buddha statue in the garden.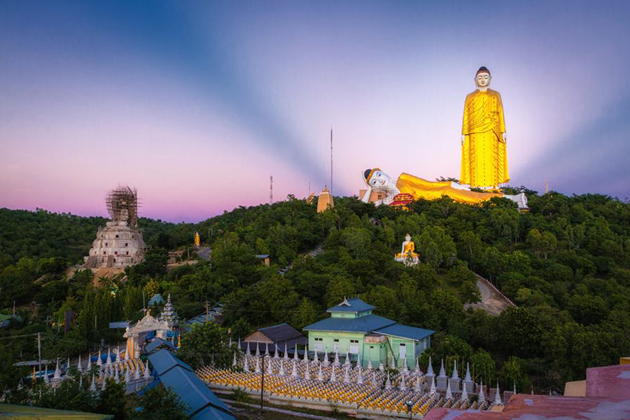 Pho Win Taung Caves
If your goal is to explore the nature, head to Pho Win Taung Caves – a wonderful attraction located 25 kilometers to the west of Monywa. Here, award yourself with an exploration of up to 947 caves, ornate mural paintings and Buddha statues of the complex. Walking inside the cave making you feel like getting lost in a mysterious world with hundreds of Buddha images and delicate mural paintings on the wall.
Monywa Travel Guides
Monywa weather – the best time to visit Monywa
Stay in the heart of Myanmar, Monywa weather characterized by the monsoon climate. It is humid and hot for most of the year with a very low chance of rain. Likewise, Monywa is good to visit in all year round. The average temperature is about 27oC. If you like the warmth of Myanmar, visit Monywa in April, May, and June. This time, the highest temperature can climb up to 38oC. From December to February will be the coolest time of the year with the average temperature at 24oC.
Monywa Accommodation
Shwe Taung Tan Hotel
3-star hotel
Free internet, breakfast included
Fitness center with gym, bar/lounge
Laundry service
Swimming pool
Address: Kanpat Street, Aungchanthar Quarter, Monywa, Sagaing Division
Win Unity Resort Hotel
4-star hotel
Free wifi, parking, room service, restaurant
Spa, fitness center, outdoor pool, bungalow
Adress: Kantharyar, Monywa
Hotel Ba Thaung Monywa
3-star hotel
Free wifi, parking & bike rental
Bar & restaurant
24-hour front desk and room service
Buffet breakfast is available
Address: Tharzi Road, near Tharzi market, Yandanarbon Quarter, Monywa