While Shwedagon Pagoda is world-renowned for its significant status in Burmese society and considered as one of three most sacred pagodas in Myanmar, the bright and cheerful Koe Htat Gyi is another impressive Buddhist sites that worth a visit in a day trip from Yangon. Located on Bargayar Road in the Sanchaung Township of Yangon is well known nationwide for its huge Buddha Image. This religious monument is also known locally as the nine-story (or -tiered due to the CGI sheet roof) pagoda and the sitting Buddha image is also called the Atula Dipatti Maha Muni Thetkya Image.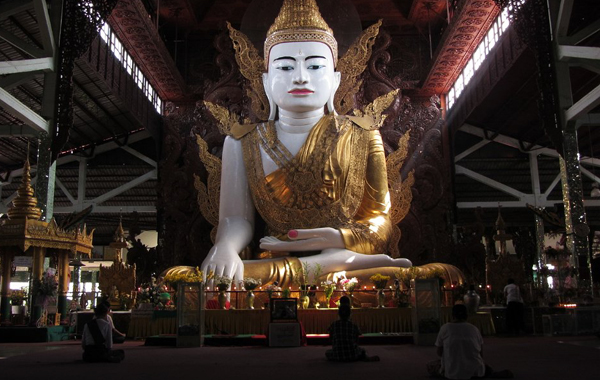 History of Koe Htat Gyi Pagoda
The year 1905 saw the construction of this gigantic Buddha image on the 14 acres of the Bargayar Monastery. The Image measures 72-feet tall and bounded by many smaller Buddha statues configured in all sorts of meditative positions. Although this site is an attractive place for both locals and international tourists, few have in-depth knowledge of this hidden gem of Myanmar's largest city and former capital.
Structure of Koe Htat Gyi Pagoda
The compound of the pagoda covers the area of 14 acres. The hall was in the iron structure with CGI sheet roof. The pavilion has a nine-tiered roof which explains why this pagoda is generally referred to as the nine-storey pagoda.
On each side of the entrance to the prayer hall is placed is a frog and a snake. Legend has it said that the giant frog ate the snake, which symbolizes for victory. As a symbol, these two statues are kept. There are small shops selling Buddha images made of wood and bronze. There are also some palmist and astrologer.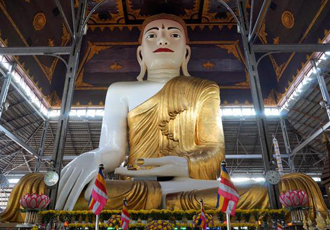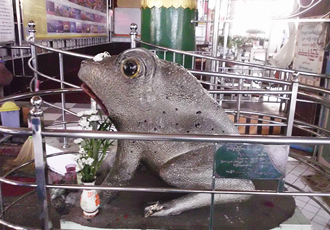 Koe Htat Gyi Pagoda Travel Tips
Opening Hours – 6:00 am to 8:00 pm
Admission Fees – US$2 per person
Location – Bargayar Road. Sanchaung Township, 20 minutes drive from downtown Yangon. About 15 minutes walk from Myanigone Junction.