Name: Ms. Chula Sirimathie Krieg-Dutschmann & Group
Nationality: Sri Lanka, UK & German
Pax: 15
Travel date: Nov 11 – 23, 2017
Dear Hedy,
I would like to personally thank you for your excellent service. You were there when we needed, listened to our concerns with a great deal of patience and sorted out problems. Your team worked hard and made sure that we received the best value for money. Your tour guides are knowledgeable, kind and patient. Working with 15 individual is not an easy task.
We will give you group feedback very soon.
Again heartfelt thank you.
With kind regards,
Chula
*********************************
Dear Hedy,
As one of the group member, I wish to give my opinion about our recent Myanmar vacation.
Overall its excellent. Your company had organized it very well. All the tour guides were great but Jojo is the best. Aaww also was exceptional. As a whole everyone was friendly n good. Uuu did not talk much.
All the buses used were great. All the drivers n the assistants were great too. But again, the pair we had in Yangon was the best. Unfortunately, we can't remember their names.
Our internal transport was well arranged. Tour guides took care of us at domestic airports. Arrangements of boats were fantastic.
Apart from the Smart Hotel, all other accommodations were great. We really loved our stays at Inlay n Pindaya. Grand United also was excellent. We really appreciate the alternative accommodation that you provided us at Magic Mandalay, which must have cost you extra money. We are sorry about it.
Myanmar was a great country. People were great too. Their calm, quiet n gentle Buddhist upbringing stole our hearts.
It was nice to see golden temples n pagodas everywhere.
We enjoyed their food at the beginning but lately, we became actually tired of eating the same type of food for nearly 2 weeks.
Overall, I want to rate your company as excellent n I definitely will recommend you for anyone. I hope you do operate in other Asian countries too. What about Vietnam, Laos n Cambodia in future? We hope to see you again.
All the best.
Shiranthi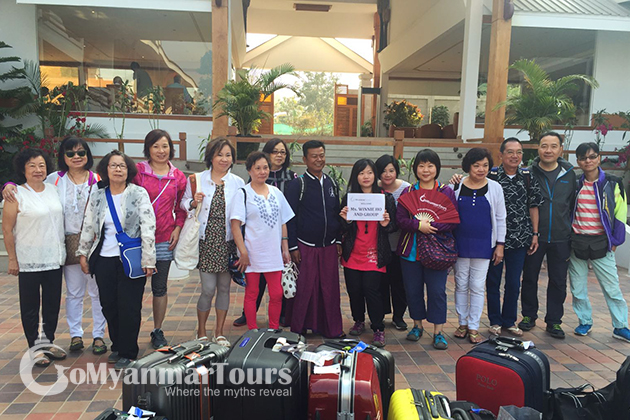 ***********************************
Dear Ms Hedi,
Hope you are ok. We all have safely arrived in London and in SriLanka.
I just wanted to say a big thank you for the wonderful experience you and your amazing team provided us.
I went to your website to see where I can put up a review but I couldn't find the option. Therefore please be kind enough to use this review on the website if you prefer.
First of all hats off to you Ms Hedy for responding to all our complicated inquiries in a promptly manner and grasping all the demands/requirements and instructions in an extremely efficient manner. I know that we weren't the easiest group of people to please and there were lot of us..😂
Ms. Hedy, you managed to deliver excellence in all your services by catering for different age groups, different backgrounds and to a monk.
We were quite sceptical of the monk joining the group, as we thought we would not be able to enjoy the trip due to the special requirements concerning the monk. But the tour guides were absolutely superb and looked after all of us and made sure that everybody enjoyed themselves.
The vehicles provided for our group is absolutely superb and they were very comfortable.
I am still wondering how you pulled it off. You are a star. Imagine 15 people demanding various things and you delivering/pleasing everyone?
Especially when two groups joining into the same trip from London and from SriLanka with different arrival times and when one gets stuck in SriLanka due to an expired passport and joining the trip three days after in Bagan? I mean that's hell of lot.. you have managed to make all this chaos as smooth as possible and allowed everyone to enjoy this. We are still young and we will travel more but for my mom and Dilini's mom, this trip was special as they might not be able to travel any longer due to their old age. So thank you so much for making it such a special one for all of us.
Your customer service standard exceeds the five star Ritz hotel service…I think.
You are a remarkable young woman and I hope your company knows how valuable you are to there service.
We were provided with enough water and all the vehicles were air-conditioned.
We were 15 in the group and the buses provided by you were huge and we all had enough space to move around and enjoy our selves.
JO JO, AUN , UI and Nine ( sorry if the spellings are incorrect) Our four guides were superb. Especially JO JO and UI our guides in Rangoon and Mandalay were remarkably attentive and I have never seen two people who were extremely good at their jobs… they were top notch!!
And I should say how great that you guys managed to change our hotels when we did not like it in Mandalay. We have never expected you to be so understanding and caring. I cannot thank you enough for putting us in magic Mandalay hotel as soon as we requested for a better alternative. Magic Mandalay had exceeded our expectations and many thanks for it. It was a really nice experience. We had massages and enjoyed the rooftop pool.. what a bonus!!
I thought this trip was going to be pilligranmy as the majority of our group were over 50 who were keen on visiting temples but boy I was wrong. Because of the mixture of places you have planned in our itinerary and the luxury hotels you have booked for us it was a trip to remember. I loved the local people we met and all the nice oil therapy massages we had in these lovely hotels.
We visited Yangon, Bagan, Mandalay and Inle Lake. However, My star destinations were Bagan and Inle Lake.
Oh ! I have fallen in love with Bagan.
It's so beautiful and the puppets were amazing…
I am planning to visit Bagan and Inle lake soon with my husband and my cousin.. hope I can use your expert service again…
Bagan has its own tune to the city. The wind sang to me and the puppets talked to me. I loved it and I will cherish the memories forever. The old ruins had beautiful stories of its own and broken pagodas were standing up proudly everywhere you look around, owing to its rich history. I absolutely loved it. If my WiFi permits I will send you some Vedios and photos I captured and you can use them for marketing purposes if you like.
Inle lake… the words cannot describe its beauty. And the hotel we stayed was absolutely beautiful. I loved it…
I hope I can visit your beautiful country again. I have to show it to my husband … and to my lovely cousin Reka and niece jas (Chula's daughter and granddaughter).
Therefore I won't say goodbye. I hope I can meet you one day and give you a tight hug to say thank you so much for the wonderful memories of a lifetime…
Worth every penny…
Thank you so much
Regards
Praveena (Ruwani)
P.S
Do you do tours in Vietnam and Cambodia? Please inbox me. Thank you. I will also be recommending you to all my friends at work. Hopefully more business for you…😊