June marks the start of monsoon season at Inle Lake. It rains often more than May. The temperature maintains at an average of 27℃. Although there still be a bit different from the temperature of day and night, Inle Lake weather in June is warm most of the time making it pretty good for outdoorsy activities.
With an average of 7.2 hours of sunshine per day, traveling to Inle Lake in June, T-shirts are all you need for touring during the day. As the night falls, long-sleeves might be needed.
Things to Do at Inle Lake in June
Thanks to the great weather condition, June is one of the good months to visit Inle Lake and do some interesting activities such as touring around the lake and explore some off the beaten track destinations. Keep scrolling up to unlock the top things to do to have a best Inle Lake tour.
Take a boat trip to Sagar
Located in the far south of Inle Lake, Sagar is a beautiful village where still witnesses very few tourists. That makes the scenery very untouched with the mountain backdrop and exotic "sunken" stupas. The way to Sagar takes around 2 to 3 hours offering fantastic views and a window to many bird species. Not just sightseeing, a trip to Sagar from Inle Lake also give you a chance to learn about the local crafts at Sae Khaung Pottery Village.
Visit Shwe Yanghwe Kyaung Monastery
Just about 10-minute drive from the town of Nyaungshwe, Shwe Yanghwe Kyaung Monastery is one of the most photographed destinations in Inle Lake noted for its exquisite wooden architecture and several Buddha statues. At around 11 o'clock, all monks in the monastery will gather to meditate. So if you are there that moment, you are able to sit down and enjoy the meditation with them. There is a big yard outside the temple where you will have an interesting meet with the monks and learn about their daily life.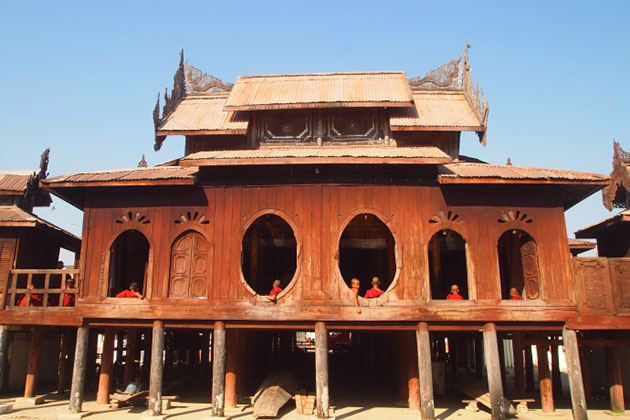 Join in a Cooking Class
If the mesmerizing attractions have brought a feast for your eyes, then a cooking class will truly fulfill your stomach and give you interesting facts about the local culture and cuisine. What's a better way to get to know the local than taking a trip to the market, purchasing fresh ingredients, and picking the seasonal vegetable in the organic garden. The cooking class lasts for 3 to 4 hours will not only give you a meaningful moment but truly unique experience.
Recommended Tours Inle Lake in June
A Glimpse of Myanmar – 6 Days
Myanmar Classic Tours – 8 Days
Short Excursion in Myanmar – 4 Days
Inle Lake – Sagar Boat Tour – 1 Day