Together with the historic pagodas, Yangon local markets are an allure of the hectic city where you can expect to see the culture of Myanmar comes to life. It's where everything is sold from tropical fruit to other beautiful products. And below are the top Yangon markets that are most amazing to explore on Myanmar trips.
Bogyoke Aung San Market
Located in the heart of Yangon, Bogyoke Aung San Market, also known as Scott Market is the best market in Yangon. It is a 70-year-old market sprawls over a couple of levels along Bogyoke Aung San Road. Arguably, it is the most renowned tourist market and pleasant shopping experience. Your Yangon city tour will be delightful because it will give you a great chance to shop for handicrafts, food, and jewelry while chatting with locals. You can also bargain for the best prices if you spot something you like. There are some 2,000 shops here selling anything from souvenirs to their famed lacquerware, Shan shoulder bags, puppets, slippers, and gems.
Theingyi Zay (Market), Latha Township
Theingyi Zay (Zay or Zei is the Myanmar word for Market), a sprawling market in Latha township is one of Yangon's most gorgeous quarters and arguably one of the most unique markets in Asia. The Theingyi Zay should not be missed on your itinerary in Yangon. Not only is the food outstanding but the local architecture and charming locals you meet. The market was first built in 1905 and is the biggest local market in Yangon. There are more than 1000 shops and stalls constitute the traditional wet and dry market that sells a bunch of local products from fishery products to dry commodities and textiles. Rice, fish paste, clothing, cosmetics, raw herbal medicines, beeswax, and toys can be found in the shops inside the existing building as well as the blocks and streets around.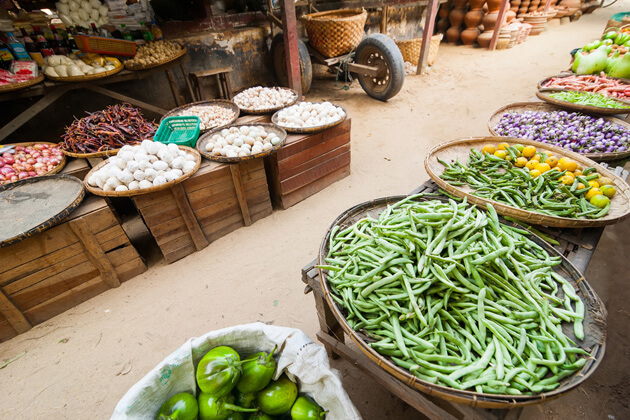 Anawrahta Road Night Market
Yangoon by night is charmingly gorgeous by the sparkling night markets especially Anawrahta Road Night Market. This central night market in Yangon is one of the most renowned tourist attractions due to poor lighting that could range from dim fluorescent lights to a few candles. While you might not exactly be able to see clearly what you're buying, it's a fun place to shop. The market starts before sunset as people return home. Fish, chicken, and pork are sold right on the roadside, by colorful piles of vegetables, fruit, and flowers.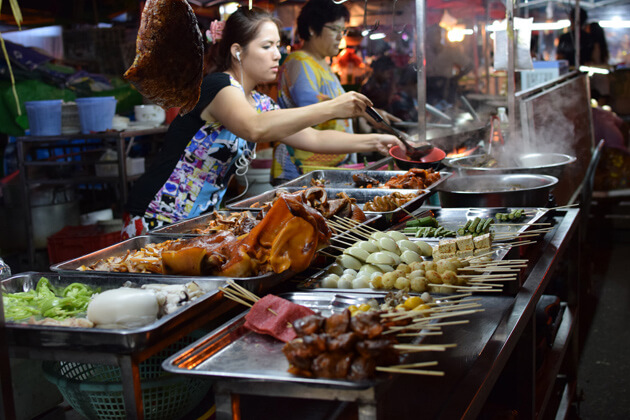 Chinatown
The Chinatown market one of the busiest markets in Yangon is located to the west of Sule Pagoda in the downtown part of the city. It takes in 18th Street through to 24th and is streaming with traffic, pedestrians, shops, and markets. Street food is the most popular product as most roadside stalls serve snacks. There are also a bunch of local products such as gold and jewelry stores, cyber cafes, restaurants, temples, and fruit vendors. The narrow streets leading off the main roads are a warren featuring baskets, paper goods, crafts, flowers, and even songbirds.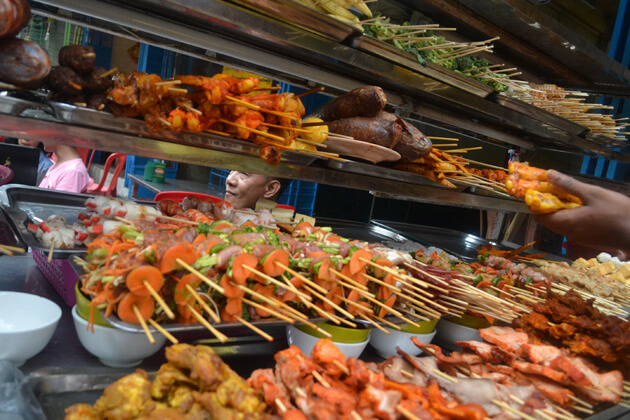 Thiri Mingalar Market
Located outside the center of Yangon, Thiri Mingalar Market is the biggest farmer market in Yangon. It is a great chance for you to encounter the chaotic, smelly and lively market. You might stumble across mounds of cabbages, racks of bananas, trays of watermelons or piles of flowers. Crowds of trucks, tuk-tuks, bicycles, laborers, and shoppers create an energetic bustle around Thiri Mingala. It's a must-see for tourists and a great place to capture some colorful pictures.