When taking Mandalay tours, there is no doubt that you will want to wander the shopping areas to buy something for yourself and souvenirs for your family or friends at home or even just do a window shopping as that makes you feel relax and happy. With the recommendations in the following, you will know where to go shopping in Mandalay and have a good time during your trip to Mandalay.
Gems & Precious Stones in Mandalay
Once being considered as the city of gems, therefore, precious stones and jewelry items are among the most outstanding and interesting products available for purchase in Mandalay. However, please note that you should not buy precious or jewels if the shop owners cannot offer certificates of verification and do not forget to bargain if you want to get a good price. Additionally, diamonds are really scarce in Myanmar, so please be cautious of sellers offering diamonds with low prices.
Jade Market
Coming to Jade Market, you will have a great opportunity to experience the lively gemstone scene in Mandalay. You will be required to pay a small entrance fee then you can observe the selling, buying activities and carving stones inside hundreds of small shops.
You may not find many gorgeous and outstanding gemstones here, but you will get more knowledge about jade – a hallowed material in Myanmar and many other Asian countries.
Gem Palace
Gem Palace is one of the best places to find distinctive gems in Mandalay. You will be happy to discover many products made from gems including jewelry, eyewear, etc.
Mahar Aung Myay Gem Dealers' Market
Mahar Aung Myay Gems Dealers' Market present an extensive array of precious gemstones. Many dealers sell their wares wholesale so you will get the chance to buy a wide range of products at reasonable prices.
MOE Gems
MOE Gems and Jewelry is a time-honored gem shop which worth paying a visit if you are looking for valuable stones and jewelry while being in Mandalay tours.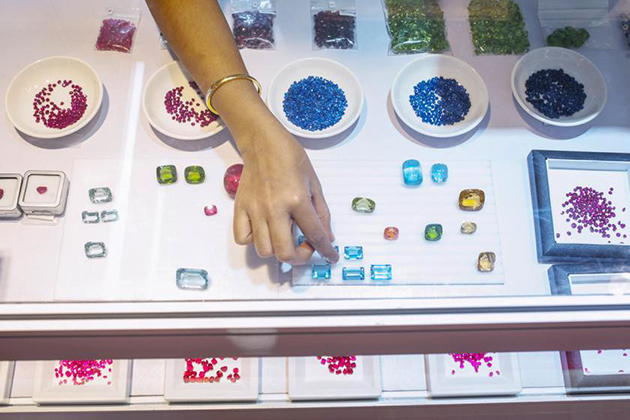 Local Markets in Mandalay
Zegyo Market
Many said that if you are taking Mandalay tours but not stopping over the Zegyo Market, then you have not been to Mandalay at all. Situated in a historical, 25-story edifice, this market is a fascinating and bright-colored shopping destination and is where hundreds of vendors selling many types of wares inside their stalls.
You will experience local culture and get the spirit of the city here. Zegyo Market also offers a wide range of domestic and imported souvenirs, food, handicraft, etc that is the reason why Zegyo Market should be put on the list of the best places to go shopping in Mandalay.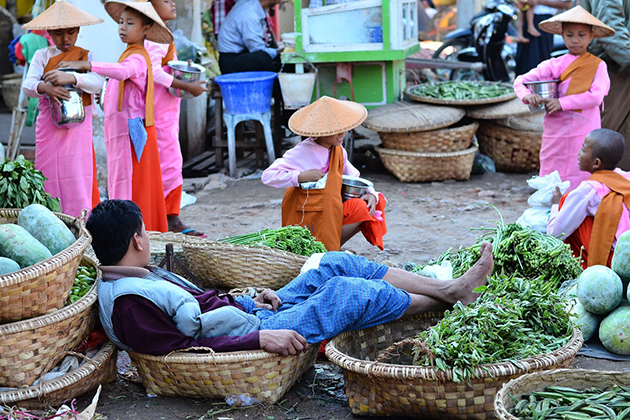 Yadanarbon Market
Yadanarbon Market is a large one situated in the Skywalk Shopping Mall. It includes 1,500 shops on the ground floor with a variety of products such as fabrics, home items, and clothes at bargain prices.
Kai Tan Market
Kai Tan Market has opened since 1997 and is the shelter of more than 300 stores spreading across five levels. This shopping spot is a perfect place for those who are looking for fresh produce, fish products, and other local snacks.
Thiri Mandalar Market
If you want to go shopping in Mandalay to buy some local products, Thiri Mandalar Market would be one of the best choices. Thiri Mandalar Market extends throughout 10 edifices and is a trading center of agricultural products in rural areas. You can find here the fresh, clean and authentic products coming from many regions in Mandalay.
Souvenir Shops in Mandalay
Gold-Leaf Workshops
King Galon Gold-Leaf Workshop is a refined gold-leaf workshop where you can gain more knowledge about the unique process of gold-pounding. You will get the opportunity to observe how gold pieces are pressed into thin sheets and used for many purposes of decoration.
Once you go shopping in Mandalay, you should not miss the Golden Rose Workshop which is another place where you can learn more about gold-leaf production while taking a look at the fascinating hand-made articles.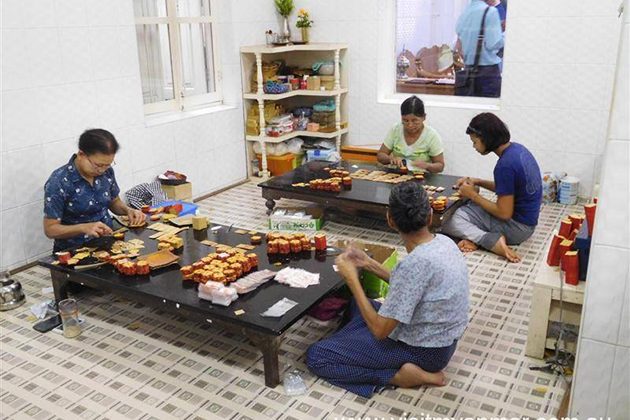 More Local Handicrafts
In Mandalay tours, Buddhist sculptures and paintings are one of the most favorite souvenirs for travelers. If you admire the Buddhist artwork, Amar Waddy is an ideal place for you to choose from the beautiful and delicate Buddhist statues.
Aung Nan Myanmar is also an ideal place for those who are searching for locally hand-made crafts including woodcarvings, traditional puppets, and home-décor items.
A small, delightful gallery to contemplate traditional artwork which is worth a visit is Sein Myint. It is a shopping destination which sells a large number of embroidered pictures and paintings for you to choose from.
One of the best handicraft stores to go shopping in Mandalay is Rocky, which includes a series of tapestries, precious stones, and woodcarving.