Recently, the Ministry of Hotel and Tourism has published the tourism report. According to the report, Myanmar is planning to attract 7-5 million arrivals in 2020. To reach the goal, the ministry
introduced a seven-year plan since 2013 including transforming policies and organizations, amending the Tourism Law, preserving natural resources and culture, expanding infrastructure, preserving tourist attractions in Myanmar and developing human resources.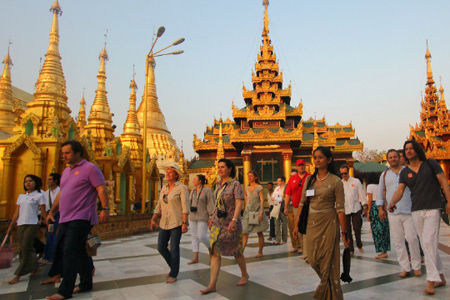 The master plan is carried out by the ministry co-operating with Norwegian government and its partner organizations. With the plan, the ministry expects a potential growth of foreign tourists in Myanmar, more than 20 million visitors from 2013 to 2020.
It was also predicted that Myanmar would top a list measuring tourism development between 2015 and 2025, according to the World Travel and Tourism Council.
The council studied tourist income and the proportion of GDP made by the industry, the growth rate of the industry, the creation of career opportunities, investment and exports compared with 180 countries. It said Myanmar would top the list by 2025.