The Ministry of Hotels and Tourism of Myanmar expects the increasing number of arrivals during 2016.
According to the statistic of the ministry, the number of visitors to Myanmar reached more than 4.2 million at the end of November in 2015, anticipated to rise to 5 million by April 2016.
The country sees the increasing number of tourists heading to thereby cruise ships. The ministry estimates that more visitors and more cruise ships will dock in Myanmar in January and February. Last year, the country welcomed 25 luxury cruise ships with 26,000 guests.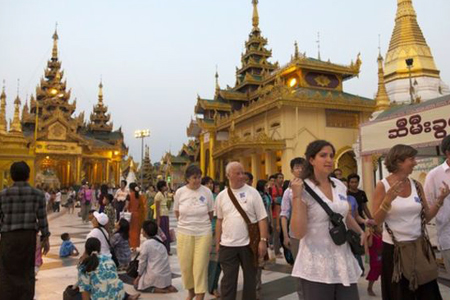 The tourism sector in Myanmar develops partly due to increasing foreign investment in 47 projects in
the hotel. In the previous year, Singapore was in the first rank of investment in the sector with 1.47 billion dollars, followed by Vietnam with 440 million dollars.
New visa regulations including 22 types of entry visa and three types of re-entry visa also boost the development of Myanmar tourism next year.
Visas-on-arrival is also available for tourists taking Myanmar trips at three Myanmar international airports — Yangon, Mandalay and Nay Pyi Taw for business, workshop, crew and transit purposes.