Myanmar Saing Waing, a kind of musical ensemble, owes its equivalence to a Western orchestra. With its own unique characteristics, this Myanmar music type is often performed indoors with professional and formal scenes.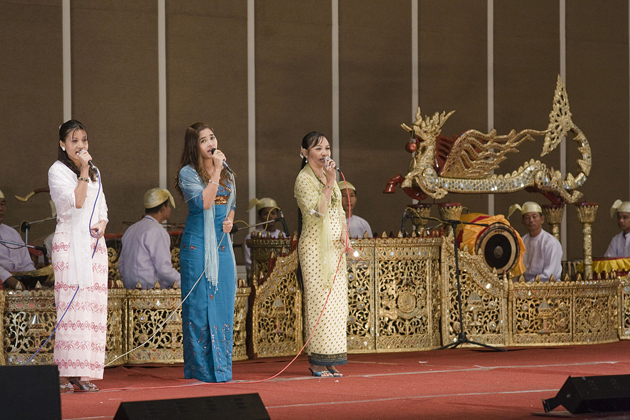 Composed of circles of drums, brass, and frame of gongs, bass drums, and clappers, the Sing Wing consists a collection of 21 drums in the drum circle and 19 brass gongs in the brass circle, not to mention 18 bronze gongs in the gong frame. Main components of Myanmar orchestra are variable, including a circular series of drums, circular series of gongs, gongs, oboe, bamboo clappers, timing bells, bamboo, short drum, six drum set, and 11 great drums.
As a circle of 21 drums functions as the heart of a Saing Waing, the leaders of the drums who are in charge of direct the drum music will sit at the center of the 21 drums and function as the central player.
Besides the above-mentioned instruments, there are also other kinds of instruments including a group of six drumlets, one oboe and one flute, a pair of timing instruments, and small clappers. All in all, there are 31 drums varying in sizes.