According to the Ministry of Hotels and Tourism, in 2015, about 4.68 million tourists visited Myanmar, increasing 52% in comparison with 2014. The number of arrivals sharply increased from 800,000 in 2011 to 3.08 million in 2014. The Ministry of Hotels and Tourism set a goal to welcome from 4.5 to 5 million arrivals in 2015.
The official statistics show that more than 800,000 tourists visited Myanmar by air or ship in 2015; and the majority of travellers to Myanmar cross overland from Thailand.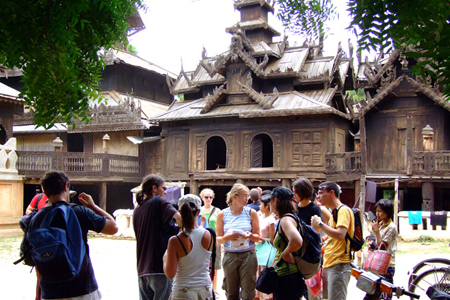 For arrivals by air, Thai travellers occupied the largest proportion of the total tourist arrivals with over 200,000 tourists, followed by Chinese and Japanese nationals.
The ministry claimed that the sector generated US$1.78 billion in revenue in 2014.
New immigration regulations with 12 types of single-entry visa and three types of multiple-entry visa contributed to promote the number of tourists in Myanmar.