Estimated 10th century
This is a very early type of pagodas in Bagan, if not the earliest in Bagan similar to the Pyu design of the Bu Paya. It was very likely erected by remnants of the Pyu community that settled in Bagan. The spire is 44 ft high and 82 ft in circumference, covered with green-glazed bricks. The official title is lost; the name only means 'earring of Nga Kywe' obviously after its shape but nothing is known of the man 'Nga Kywe'. The top was restored in the 1990s.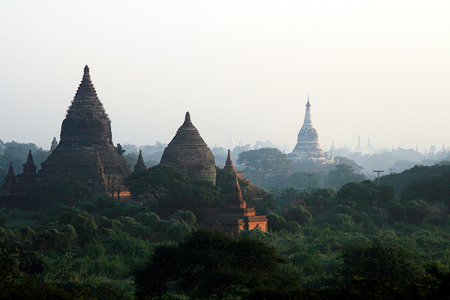 In Chinese records, the old Pyu Kingdom of Srikhetera was described as having city walls of green-glaze bricks but none was seen in the mostly-intact old wall. Perhaps an earlier wall or section of a wall had been of green-glaze bricks since it is obvious by this spire that the Pyu did have the skills required for producing green colored glaze.
7th century Pyu era inscriptions also mentioned Kalasa Pura, 'City of Pots' that only recently scholars identified as Twante, the pottery center near present-day Yangon, where hundreds of old Celedon kilns have been found. It was not impossible that bricks could be ordered from there, as the red bricks of Bagan were obviously bought from far-flung places as testified by the names of the towns incised on some.