Situated between the two giant cultures of China and India, that is the reason why Myanmar culture and religion are affected by them and the cuisine is not an exception. During the colonial period, the culture of China and India had a great impact on Myanmar's traditional gastronomy; as a consequence, the food in Myanmar e has the delicately creative mix but the uniqueness of it still remains.
Eating table
Eating tables have the shape and height according to the international standard so that they can be used in every household and restaurant, moreover, it exists a variety of table sizes to facilitate the eating of people. The most popular table which is used in Myanmar is short and round and you need to sit on the floor or mat to enjoy the meals.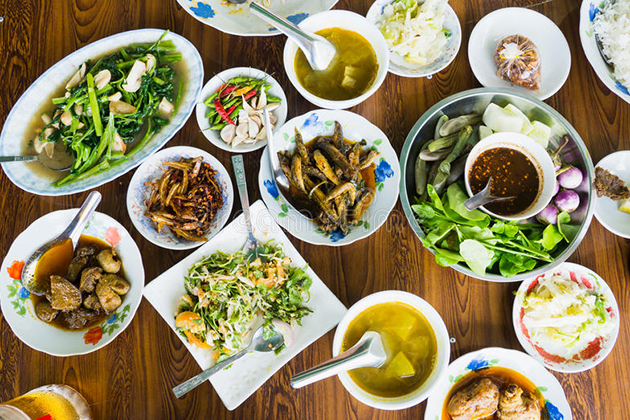 Distinctive cuisine culture
Without the desserts and wine which means the lack of hospitality and what people wait for is the drinks, juices or a cup of green tea. Normally, Burmese eats with their bare hands but the spoons are still be shown up to keep the left hand always clean during the meal. The soup is contained in a big mutual bowl and shared among people.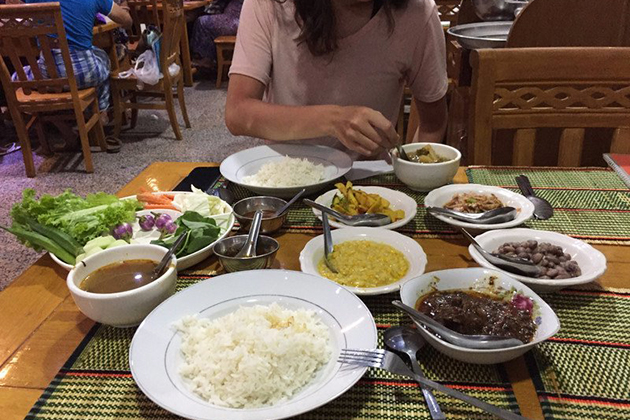 Special dinner
The dinner is a highlight in which after enjoying the meal if you have a chance to have dinner with Burmese people in your Myanmar tour, you will see that the Burmese always leave a small amount of rice as a sign of the well-off. Rice is always accompanied by curry and the desserts are a cup of green tea or fruit juices mixed with Palmyra sugar.
You will fall in love with the cuisine of Myanmar immediately because of its simpleness combined with delicacy.