Shite-thaung was built in 1535 by King Min Bin as a commemoration of a military campaign's success. It's wonderful, in fact, is a fortress looks like a temple. After 5 centuries, the temple has become one of the most impressive monuments in Mrauk U. The name 'Shite-thaung' means 'temple of the 80,000 images of the Buddha' referring to the number of Buddha images contained in it.
Shite-thaung has a unique architecture thanks to its location on a hill and its bunker-like construction. Thick solid walls surround the temple from three sides while the East one adjoins the hill. A great number of stupas are found on both the temple's surface and outside of the temple's walls. An impressive 26-meter-high bell stands proudly at the center of the temple, surrounded by four small stupas at the corners.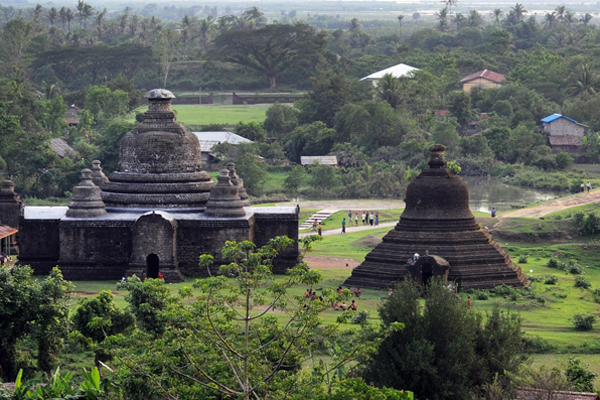 Hundreds of Buddha statues are located in the central prayer hall which can be easily accessed. From here, you are lead to the highlight of Shite-thaung – the three layers of maze-like corridors that encircle the main hall. The passageway contains countless Hindu figures, Buddhas images, scenes from the Jakatas tales and sculptures of King of Spiritual abodes, Arakanese culture and animals and guardian spirits. Besides, there is also a statue of King Min and his queens and a 3-meter-high golden Buddha image called 'Earth to witness'. Therefore, visitors coming here on a Myanmar tour would emerge into considerable knowledge of archaeology, Buddhism, cultures, lifestyles, and architecture of the ancient Burmese.