Early 13th century
Merit of King Narathiha Pati (r. 1254-1287)
The temple had a formal title, long lost under the donor's infamy of fleeing from the Chinese, 'Tayoke Pyay'. It is elegant, tall, and graceful that really worth a visit from Bagan day trips.
Two stairs set into the thick walls lead to the upper storey of this large temple. The terraces are decorated with white-glazed rondos. Ornate and lovely stucco work can be seen on the walls and arch pediments. There are also glazed sandstone and terracotta plaques and some beautiful wall paintings.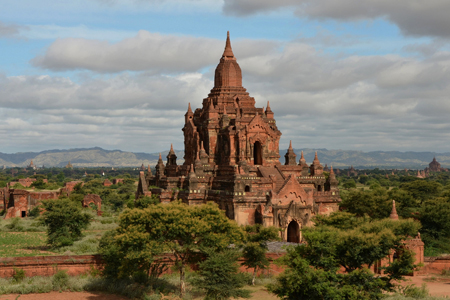 It was in 1287, during the reign of Narathiha Pati that the Mongols invaded. Fearing for his life he fled down the Ayeyarwaddy River with his court, earning the name 'He Who Fled from the Chinese'. On the way, he was killed by his own son Thiha Thu, a closer enemy. Thiha Thu was in turn killed by his half-brother Kyaw Swar who then took the throne of Bagan with the support of Kublai Khan. He was removed within a year and replaced by his son Saw Hnit.