A surreal Myanmar with thousands of ancient pagodas fascinates tourists by its enchanting appearance.  People can be lost in the gorgeous scenery of Inle Lake, or attracted by a Myanmar tour from rural to urban areas. However, the situation of traffic jams is a problem for both tourists and the locals.
Before 1948, Myanmar applied traffic laws of England – moving in the left side of the path. After independence, Myanmar applies the law of the common world – moving in the right side of the path. However, both vehicles with the steering wheel in the left and right are permitted to circulate in Myanmar.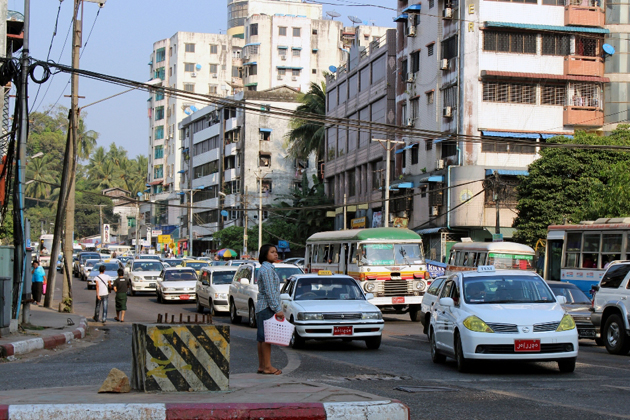 Traffic laws are complied seriously by the Burmese people without the presence of traffic police. Traffic police only appear when traffic lights are malfunctioned or traffic accident happen.
The crowd and busy road or a long line of cars are so familiar with anyone in a big city and Yangon is also a city like that. Myanmar has prohibited motorbikes since 2009 to reduce congestion but the Burmese still witness cars lining along the road every day.
At the first time, Yangon didn't face with congestion due to the high import duties on cars. In 2011, the Myanmar government had relaxed the restrictions on imported cars and implemented trade policy, then lead to new trouble.
It can be easy to see that one of the reasons for Yangon traffic jams is imperfect traffic rules. Many pavement stalls or street vendors on roads and randomly parking cars make the streets more crowded. Although these images can be considered as a picture of hustle and bustle life, it leads to trouble for everyone.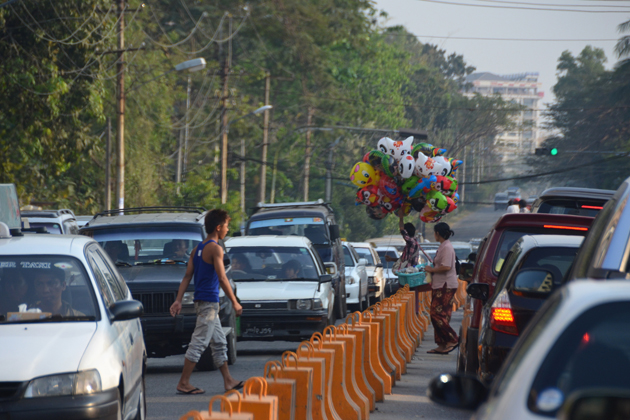 The lack of zebra crossings means that pedestrians have to cross the road by their instinct. The government also upgrades the infrastructure and builds crossing bridges but it seems everything is settled down.
One interesting thing in the transportation system of Myanmar is motorbike isn't banned completely. People still catch the image of the motor taxi or even simple vehicles such as trishaws or horses and carts in the suburbs. Even in the tourism destination like Mandalay or Bagan where life is covered by the atmosphere of Buddhism, people can see the Burmese cyclo on the roads. And the situation of traffic jams here is much better than in Yangon.