Train travel in Myanmar might not be as convenient and fast as bus travel. However, it is still a good means of transportation in Myanmar to get around the country. Fill your trip to Myanmar with this travel experience and enjoy the very best time with train travel in Myanmar.
First of all, let's take a look at the train network in Myanmar:
First introduced in 1877 by the British, there are now up to 550 train stations with a rail network of 3357 miles, including the 386-mile trip stretching from Yangon to Mandalay, through Bago, Nay Pyi Taw and Thazi. Compared with bus travel in terms of the same journey, train often takes a long time and there are quite many frequent stops on longer trips. Among train routes, the route between Yangon and Mandalay is the most popular frequently known and used by foreign visitors to Myanmar.
In addition to Yangon and Mandalay route, Myanmar's railway system also offers the following routes, namely Bagan to Yangon through Taungoo and Kyaukpadaung; Mandalay to Lashio; Yangon to Mawlamyine through Bago, Kyaiktiyo and Mottawa; Pyinmana to Kyaukpadaung; Thazi to Shwenyaung and Yangon to Pyay.
Myanmar Train types and classifications
– Train types: Myanmar's trains are classified into express (yellow engine) and Local (blue engine).
– Class options: There are five class options for train travel, including ordinary class, first-class, upper class, upper class, standard sleeper, and special sleeper. The ordinary class offers wooden seats and those trains are often busy with crowded passengers; whereas, the first-class provides better train quality with wooden seats, coupled with cushioned bottoms. Another distinction between the two types lies in the fact that ordinary class is always available on all trains while the latter is only available on certain trains. If you have a looser budget, you can choose the upper class which offers large comfortable seats. However, you may encounter a lack of cleaning and those trains are available on all trains. As regards standard sleepers, those trains belonging to this class consist of four-berth and two-berth compartments. With standard sleepers, each sleep carriage includes both washbasin and toilets at the end of each. Moreover, the standard class is available on routes from Yangon to Mandalay, Yangon to Bagan and Mandalay to Myitkyina. The last class special sleeper comprises self-contained compartments with separate toilets, sitting as well as sleeping areas.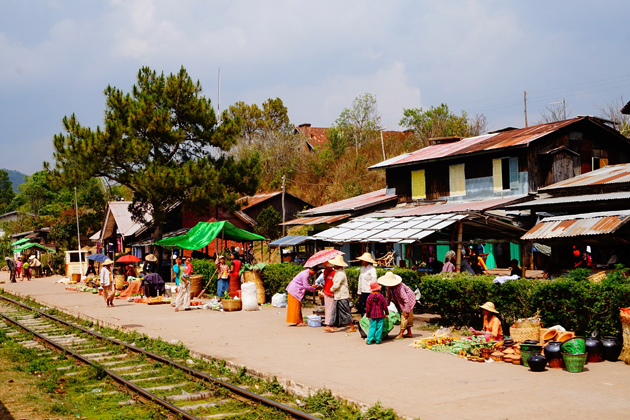 Notes on Train Travel in Myanmar 
– Tickets are available at every train stations and you are required to present your passport to buy tickets.
– Be prepared yourself as basic toilets can be dirty.
– Prepare warm clothes as traveling by train at night can be cold.
– Tickets can be purchased by only US dollars.
– Don't worry much about the language barrier as stationmasters have the ability to speak English.
– If you desire to purchase tickets for the upper class, remember that booking opens 3 days in advance. On the contrary, ordinary class tickets open 1 day in advance.