Bagan, also known as Pagan, located on the eastern bank of the Ayeyarwady River 190 km away from Mandalay in the south. In the 11th century, this area is well-known with the name as Pukam. By the 14th century, people started to call the area with the name Bagan. This call can be a form of Pukam or Pyugan.
According to the unearthed relics here, since 800s AD, the area was a wealthy city. in 870 AD, the king Pyunbya moved the capital from Tampawaddy (now Pwasato) to Bagan and become the der of the city of Bagan today.
The next years, King Thaiktaing continued to strengthen and build up the capital of Bagan. However, after some time, due to the conflict of power, there were two capitals in this area. One was Thiripyusaya of the seventh king – Thelegyaung. Second capital called Paukkan of the king Thamudrit built in 108 AD.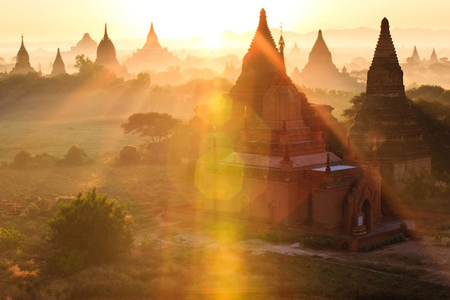 Bagan became the capital of the feudal dynasties of Burmese with thousands magnificent temples from the 11th century to the 13th century. In 1044, King Annwrahta – talented king of Burma – is a faithful Buddhist. He was determined to build Bagan became the "capital" of the temple. After the Mon king Manuha Tharton refused to grant Tripitaka (Theravada scripture), he led the army to conquer Tharton in 1057.
He brought the Theravada scripture to Bagan and started to build hundreds of temples, palaces, houses according to Buddhist architecture such as Shwezigon temple – the typical architectural style of the le in Burma, the next is Pitaka Taik – storage libraries of scriptures and Shwesandaw temples with unique architecture and elegant. Bagan became the capital of the temples and Buddhist destinations in Southeast Asia at that time.
The successors as Kyanzitha, Alaungsithu and Napatisithu could not inherit this, though Bagan was still in the peak period of development. By the end of the 13th century, the al empire in Burmese first perished before the invasion of the Mongols (1287). Taking advantage of this opportunity, the Shan from plateau proceeded down this area to expand the territory. In the meantime, the Mon in the south also broke the rule of the Burmese empire and established their kingdom.
Today, Bagan is a tourist city famous spiritual Myanmar with more than 4000 temples, monasteries which have been restored and preserved. Together with sightseeing at the thousand-year-old temples, tourists from Bagan tour will also have a chance to discover many traditional villages to learn about their life as well as their tradition and customs.