Located in lower land of Burma, Yangon bordered with Bago region in the northeast, about 19 miles from the bay Mottama (30km) in the south and adjacent to Ayeyarwady delta in the west.
In the 6th century AD, the Mon dominated the whole lower land of Burma, named the area Dagon. At that time, Dagon was just a small fishing village with Shwe Dagon pagoda in the center. In 1755, King Alaungpaya conquered Dagon and renamed to Yangonvoi with the hope that this land would be the end of the war. He has built many houses and temples in this area.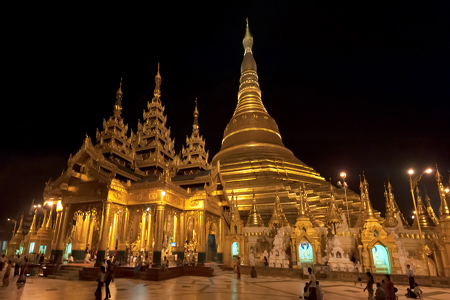 Since 1842-1826, the British colonial made the first war between England – Burmese, controlled Yangon. After the war, Yangon returned to Burma. In 1841, Yangon destroyed by a huge fire.
In 1852, after the second war Britain – Burmese, the new British colonial official ruled the entire area of Yangon and lower land of Burma, turned Yangon into a center of trade and politics of the British in the lower land of Burma region. The British restructured Yangon according to their architecture. Yangon was extended from the east to Pazungdauung valley, the south and west to Yangon River.
In 1885, after British colonial occupied the entire upper land of Burma during the third war Britain – Burmese, Yangon officially became Britain's capital across Burma with the name the Rangoon. Until the 1890s, the infrastructures such as hospitals, schools, railway stations, amusement parks, and the modern high-rise buildings were also constructed.
The early years of the 20th century, the city of Yangon with large green parks and modern buildings, combined with a traditional architecture known as the "city of trees" of the East and on the same important position with London.
After independence, Yangontieps further developed and expanded. In the 1950s, many satellite cities built around Yangon as Thaketa, North Okkalapa, NamOkkalapa. In 1980, the other satellite cities such as Hlaingthaya, Shwepyitha, and South Dagon are formed. In 1989, Yangon officially became the capital city of Myanmar. Since Myanmar opened its country to the outside world, Yangon has become one of the most exciting places to visit in the country. A Yangon tour package will deliver you not only the sight, sound, and flavor but also the essence of a fascinating city has gone through the ups and downs of the historical journey now has expanded its area to cover satellite cities with a total area of 6283 km2.