It is no difficult to pamper yourself in spas and beauty salons in Yangon. In big cities like Yangon, the stunning blend of ancient and modern values is shown clearly. Have a look at the list of best beauty salon and spas below to pick up the best one to experience in your Burma tours.
Top Spas & Wellness Centers in Yangon 
Sapel Traditional Burmese Foot Spa
Sapel Traditional Burmese Foot Spa allows the customers to enjoy Myanmar's friendly environment in a homely atmosphere and relax with foot reflexology. They offer a wide range of services like Head to Toe Spa Retreat, Energy boosting Foot Spa or Sapel Royal Spa. In the Sapel Royal Spa, tourists can be pampered like a Burmese Royal. Starting with feet exfoliation to remove dead skin and they apply eye and foot masks for detoxification and using their signature Tanaka cream to relieve your pain.
Address: 16th Street | No.78, Middle Block, Ground Floor, Yangon (Rangoon), Myanmar
Tel: +(95)9253988995
Health Blessing Massage and Spa
Health Blessing Massage & Spa is the first spa and wellness center in Myanmar to have received the TripAdvisor Certificate of Excellence 2016. Coming to the third year, Health Blessing Massage & Spa witnesses increase in the number of great traveler reviews on TripAdvisor over the past year for the health service. If you are enjoying a Yangon tour, having the service here is completely a great choice. The welcoming staff at Health Blessing Massage & Spa have been specifically trained in the ancient techniques of traditional Thai massage and reflexology foot massage. In addition, we provide oil aromatherapy, Thai herbal, head and shoulder, and body scrub massages. Manicures and pedicures are also available.
Address: No. 63 & 58, 19th Street, Yangon (Rangoon)11131, Myanmar
Tel: +95 9 42502 8756
Inya Day Spa
This pleasant spa facility located on the leafy Inya Road offers a vast range of great services including Foot Massage, Classic Thai Massage, Aromatherapy and 2 or 4-hand Hot Stone Massage. There are a lot of other services too as well as an on-site smoothie bar, offering some of the best flavors in town. If you get an opportunity, say hello to the friendly owner Damian, who is very knowledgeable about the spa and beauty industry. Full body massage available from 18,000Ks.
Address: 16/2 Inya Road, Yangon (Rangoon), Myanmar
Tel: +95-1-537907
Email: [email protected]
Thaya Day Spa
Owned by the same people behind Inya, Thaya Day Spa is a slightly more contemporary spa center located next to the very modern Junction Square. Full body massage available for upwards of 18,000Ks.
Address: Building #17 3rd floor | Junction Square Shopping Center, Yangon (Rangoon), Myanmar
Tel: +95 9 731 73979
Genky Spa
Genky is not a spa but a physiotherapy clinic which offers massages. The massage rooms are clean and simple. All the masseurs are blind and it is a concept which comes from Japan. The place was established as a Japan-Myanmar Clinic (they also sell the Meso soap there, on which I wrote in a previous post) in order to provide training and employment for the blind community of the city. At the entrance, you have a picture of each one of the staff, each having a number (a bit strange), with a short CV. The therapists are all very well trained, and you will get a professional massage for a very convenient price.
Address: 285, Bo Aung Kyaw Road (Middle Block), Kyauktada Tsp, Yangon, Yangon (Rangoon), Myanmar
Tel: 0986-15036
Yangon Sanctuary Spa
In the most standardized environment, we provide a wide range of body treatments, to make sure the best therapeutic benefits and deep relaxation for your both mental and physical part. We also bring the solution-led Dermalogica facials, beginning with face mapping to analyze skin conditions, thereby follow the customers' expectation to create an optimum facial by our well-trained therapist. Feel spoilt for choices with over 300 OPI colors to choose from. Other services include hair wash, hair spa, scalp spa, and waxing. Awaken your senses and feel rejuvenated at Yangon Sanctuary Spa.
Address: 45, Pyay Road | Level-3, Unit 4023, Taw Win Centre, Yangon (Rangoon), Myanmar
Tel: +95 931551844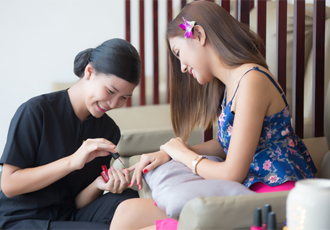 La Source Spa
Inside this charming Dutch colonial style villa, you will find complete spa and beauty salon and hairdressing services. Full body massages for 50,000Ks, manicures for 15,000Ks. They also have a salon in the Sedona Hotel.
Address: 12-E, Inya Road | Kamayut Township, Yangon (Rangoon), Myanmar
Recommended Spas & Beauty Salons in Yangon 
SPa My Way
Add: 80-A. Inya Rd, Yangon, Myanmar
Tel: 512 380
Eros
Add: SR 22/1, Kaba Aye Pagoda Road, Bahan Township, Yangon
Tel: 544297
The Salon
Add: No.28.Kokine Swimming Pool St, Bahan, Yangon
Tel: 546633
Hana
Add: No.110, Natmauk Yeiktha Street, Kaba Aye Pagoda Road, Yangon
Tel: 555612
Fancy House
Add: No.56(B), Kabaaye Pagoda St, Thazin Myaing, YKN, Yangon
Tel: 662636
Image Beauty Saloon
Add: Rm-004.603.604.272.Pyay Rd, DNH Tower, Sanchaung, Yangon
Tel: 708334
Banyan Executive Reflexology
Add: No.94/A, Shwe Taung Kyar, Bahan, Yangon
Tel: 536027
La Coiffer Beauty Spa
Add: No.83, Kabaaye Pagoda Rd, YKN, Yangon
Tel: 65-0566
Seri Beauty & Health
Add: No.118, Dhama Zedi Rd, Bahan, Yangon
Tel: 527382
Spice Girls
Add: 39.Moe Kaung Rd, YKN, Yangon
Tel: 572701
Emerald Fashion & Beauty Spa
Add: No.007/008, Shwe Gon Daing Rd, Yuzana Tower, Bahan, Yangon
Tel: 558549
Narumi
Add: No.A1, Kan Street, Hlaing Township, Yangon
Tel: 525330
Ko Ko Beauty Salon
Add: No.126, Kabaraye Pagoda Road, New World Home Mart, Baha, Yangon
Tel: 0973043662
G-Six Hair & Beauty Spa
Add: G/Flr.Pearl Condo, Kabaaye Pagoda Rd, Cor of Saya San Rd, Bahan, Yangon
Tel: 723933
Eureka
Add: No.5. Kanbae Main Road, Yankin Township, Yangon
Tel: 578835
Konomi
Add: No.10. Sanchaung Street, South Padonmar Stadium, Sanchaung Township, Yangon
Tel: 0951 08028
Silver Oak
Add: No.83/91, Bo Aung Kyaw Street (Lower Block), Kyauktada Township, Yangon
Tel: 256930
Sure
Add: No.4. Pyay Road, 6 Mile, Mayangone Township, Yangon
Tel: 535024