Every land you set foot on will not only enchant your heart by its stunning beauty but also leave you a memory that lasts forever with the special items there. A journey fulfilling with special things in the destination you visit will be more perfect. With this article, we provide you a tip for top best things to buy and where to buy on Myanmar vacation. Explore Myanmar's best traditional values and national identity in a single look.
Top 10 Best Things to Buy in Myanmar
1. Sand Paintings
Burmese culture lovers would really die for a couple of sand paintings with untold stories of lifestyles, people, and Buddhism in the Golden Land. Gazing these sand paintings with veneration, you may even be able to learn astrology of the Burmese, in which your figurine animal is in correspondence with the day of the week you were born, for example, the people born in Monday have the intelligent and intuitive traits relating to the tiger, their animal sign. Surrounding antique pagodas in Bagan, tourists are able to pick up one of these decent gifts for an extremely low price.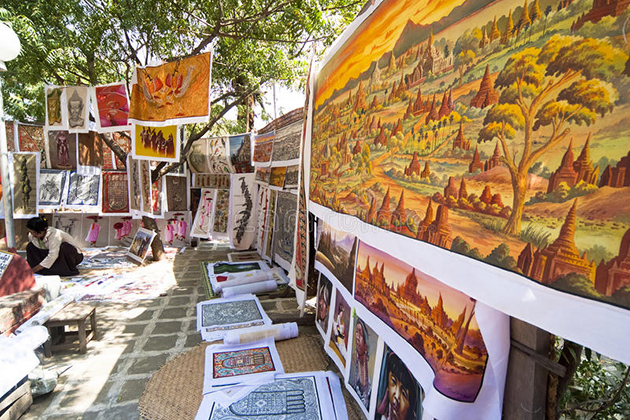 2. Lacquerware
Whether ravishing lacquerware in Burma is originated from China or takes its roots of Thailand is regarded as unknown. What sets Burmese lacquerware apart from others is the myriad of designs which are relief molded (Thayoe Pan Yun), incised (Ka Nyit Yun), and real gold leaf used (Shwe Zawa Yun). Traveling to Myanmar, tourists can easily grab some lacquerware items in which the finest ones to bring home would be a few stylish lacquerware bowls of everyday meals or ornamentation. Tourists are not likely to find superior-quality lacquerware anywhere else in Myanmar, other than Bagan. Spend some time go on a Bagan tour, then you are able to pick up the best bargains in Myanmar.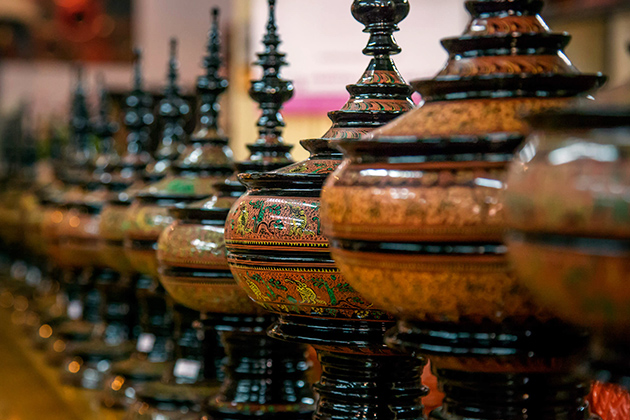 3. Marionettes
Setting foot in Myanmar, tourists would regret if missing the so-called traditional art form of 'Ay Myint Thabin' created and operated by colorful mythical marionettes centuries ago. Those who appreciate this unique cultural element may consider paying a visit to the National Museum in Yangon or Bagan or Inle Lake for a live puppetry shows and a prince or princess-like Marinette shopping.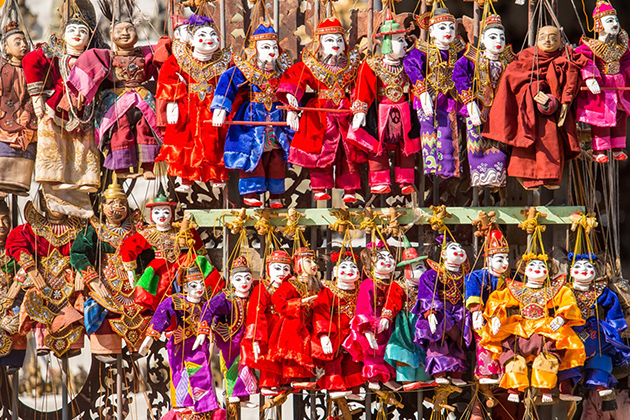 4. Silverware
Silverware is ranked 2nd after lacquerware in The best selling craft items in Myanmar. People hear silverware, they immediately go to embellished rings, necklaces, bracelets, and even pots. Some elegant napkin rings and sophisticated pots would definitely complement flair to your dinner table. Note that it is needed to ask for an official certificate of jewel from silversmiths to avoid any possible imitation, especially from street vendors; it is also advisable to purchase from reliable sources. Consider visiting Inle Lake, Yangon and Mandalay for a jewelry shopping.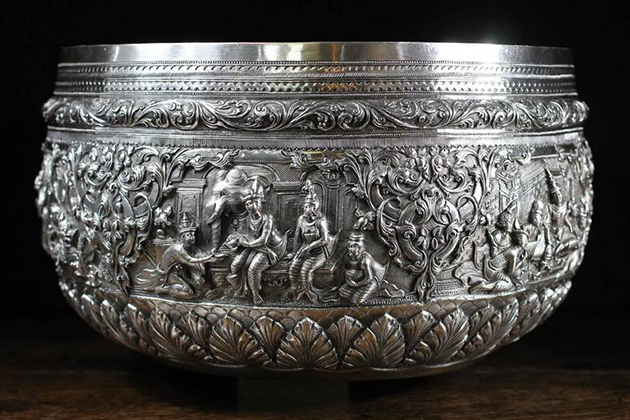 5. Bells and gongs
Keepsakes carrying rich sonority of Burmese culture are just bells and gongs. Bells and gongs are visible when attracting attention for religious ceremonies and surprisingly, getting family members involved in meals. Cute bells in different sizes are utilized for decoration purposes of historical or archeological areas. Visitors can easily find bongs and bells in multiple sizes in most temples and pagodas swallowed by floodwater. However, travelers to Myanmar should never skip the Golden Pagoda spot. Plus, be aware that there is a blanket ban on gongs and bells trafficking.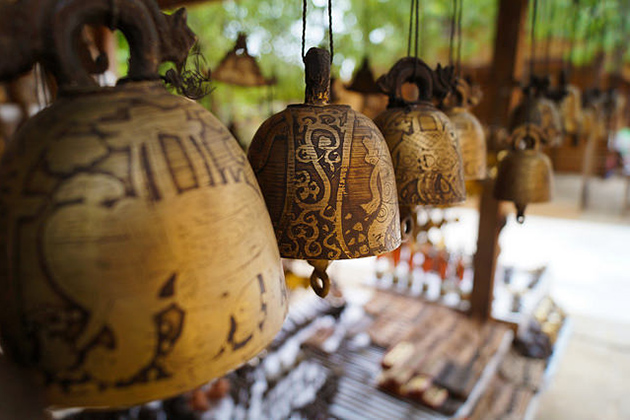 6. Longyi
Just a wrap of the traditional dress of Myanmar – longyi around the bottom, then tourists to Myanmar will be a native Burmese. Longyi is a unisex attire that is called a Pasu when it is donned by a man and a Htamein if it is worn by a woman. Longyi offers a wide selection of materials, designs, and payments. Just less than one minute putting on a sheet of longyi, tourists, especially westerners, are free to contemplating holy shrines till sunset. Longyi catches on so fast that it is now available online. The favorite areas for purchasing these adorable longyis are Yangon and Mandalay; however, the best traditional silk and cotton woven longyis are found in Amarapura, well-known for the U Bein Bridge, the oldest and longest teak bridge of the world.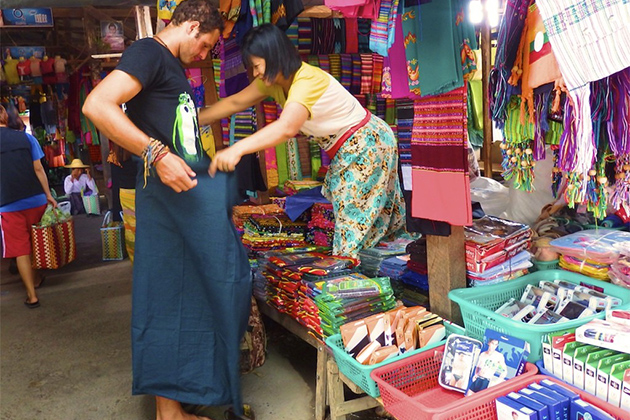 7. Textiles
Being naturally dyed, ornamented with various kinds of beads and sells, not to mentioned distinctive silk made from lotus root under the finest touch of gifted tailors and seamstresses would make an iconic gift for your lightweight suitcase. Inle Lake is the ideal place to buy beautiful and high-quality sheets with a wide range of choices and affordable prices. And if looking for some fashionable and elegant tapestry handbag, do not hesitate to stop by Mandalay.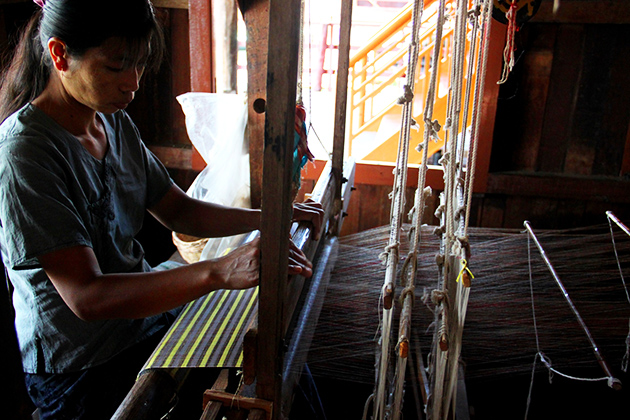 8. Pathein Umbrella
It is no longer needed for backpacking travelers to Myanmar to know the weather in Myanmar to find the best time to travel if carrying those paper made and bamboo framed parasols in numerous color and size. An excursion from an Inle Lake tour offers a pleasant visit to the paper factory where tourists are able to learn the umbrella hand making the process and get one as the commemoration of the vacation to Myanmar.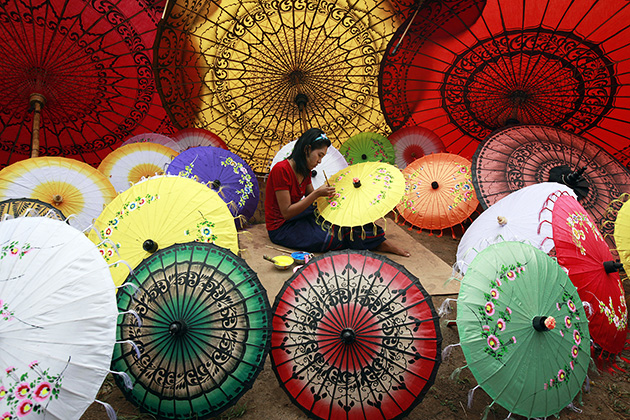 9. Gemstone Painting
One of the most intriguing things to buy in Myanmar is painting made from gemstones. Distinctive making process makes gemstone painting an exceptional souvenir. Gemstones crushed till tiny and then painting powdered in numerous colors prepare for a fabulously beautiful painting. Conduct a tour to Mandalay, Yangon, Bogyomarket and any shopping malls in Myanmar for a one of a kind gemstone painting.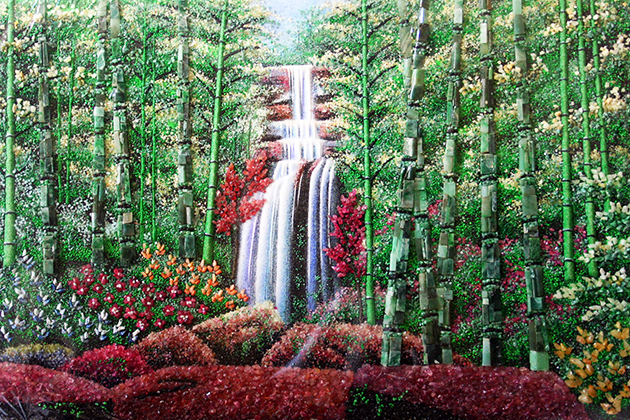 10. Cigars
Cigars are unique souvenirs in Myanmar. Cigars in Myanmar are well-known for a warm and pleasant aroma. Visitors can just try a cigar and observe the process of making cigars of the women in Myanmar. In addition, the cigars of Myanmar fully packed as well as made from the natural materials.
Cozy fragrance and natural components make cigars in Myanmar a renowned and unique present. Hand-rolled cigars combination of tobacco, stems, wood chips and spices are definitely worth a trip to Shan state. A Myanmar-standard cigar costs a very little at every market in Myanmar. Such a decent unique gift for such an inexpensive price!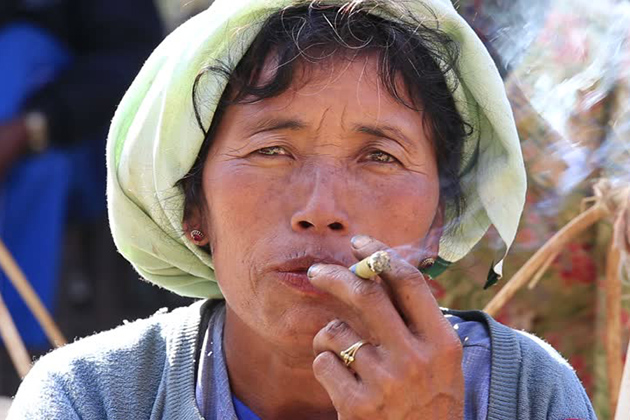 Recommended Souvenirs to Buy in Myanmar
The Statues
In a Buddhist country like Myanmar, visitors can find a lot of Buddha statues sold at many shops all over Myanmar.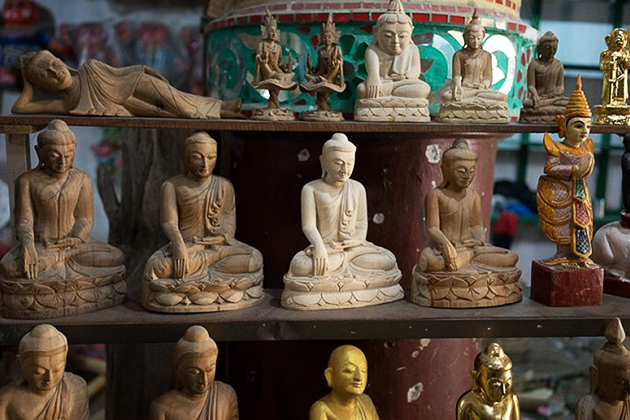 Wood Carved Souvenirs
Stuck on ideas for a great housewarming gift for your friends back in your home country? Look no further, a wood carved item is yours. If fed up with religious figures, you can pick and choose dozens of those with animals or floral designs. People all over the world are craving for wood carving made from teak wood in nimble fingers of artisans in Myanmar. Why not tailor a Mandalay tour and get some yourselves?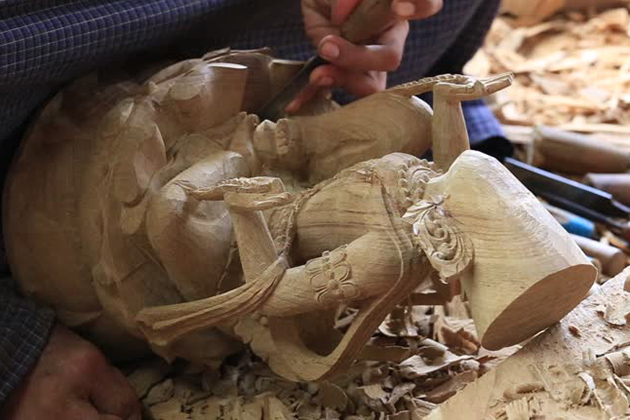 Tamarind Flakes
That tamarind flakes are sugary and sour enough to please both those who have a sweet tooth and those who do not make those a must-buy. This is a specialty in Bagan only. Expect to pay a dollar for a bag of 6-7 pieces of flour-sprinkled thin round discs if having a chance to visit Bagan. With this suggestion for what to buy during Myanmar tour, have a pleasant shopping trip in Myanmar.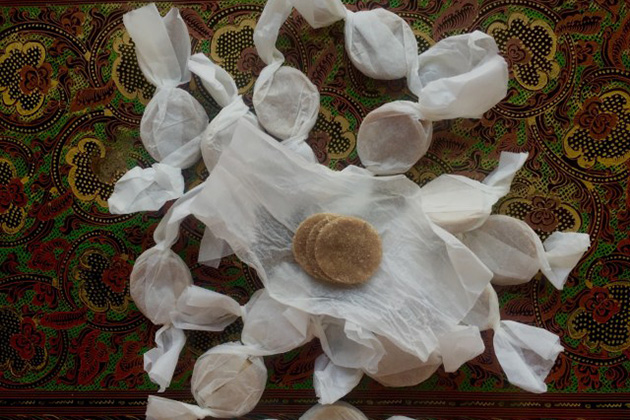 Marble Carving Souvenirs
Myanmar is a nation with rich history, culture, and materials including silver, gemstones, and marble as well. Combining with the development of Buddhism, statues carved right from Saqyin Hill are prevalent among Burmese people as a religious item and quite common as a must-buy souvenir among foreign visitors. A marble carved statue makes a good addition to the collection of your loved ones in the home country.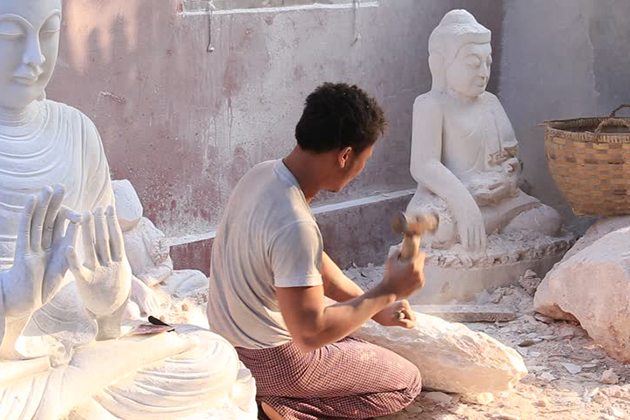 Gold Leaves
Lacquerware and Buddhist stupas in Myanmar are adorned with multipurpose gilded leaves. These golden leaves can be rubbed on the Buddha statue as offerings, mixed with other ingredients to make traditional medicines or combined with Thanakha, a wood paste for makeup, to apply on women's faces. Tailoring a trip to Mandalay and stopping at King Galon, visitors are capable of having an eyeful of time-consuming hand-made golden leaves manufacturing procedures from coin-shaped finest gold piece 6 hours beaten with a hammer by men and then cut and packed by women. Another tip for shopping in Myanmar is to be mindful that the transaction is completed only when you agree with the price, thereby never hesitate to haggle these lavish souvenirs.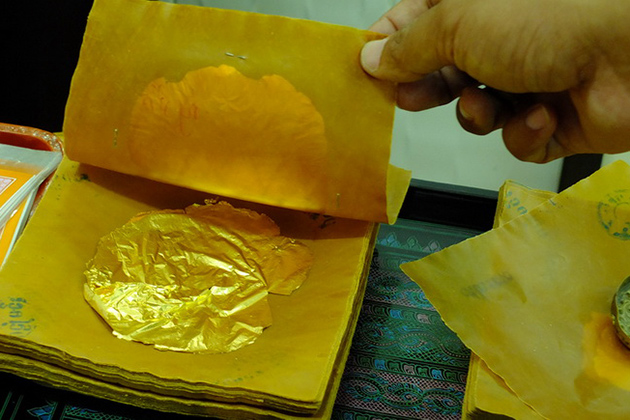 Where to Buy Myanmar Souvenirs
J's Irrawaddy Dream
If you are seeking for locally made & dyed silk fabrics, J's Irrawaddy Dream must be a great place to visit. Here, you can find a good selection of clothes, handicrafts, lacquer ware, Buddhist statues, jewelry, books… Also, both new and old items are sold here.
Opening hours: 8:00 AM – 6:00 PM
Address: 92 Strand Road – 2nd floor Strand Hotel
Phone: +951-392471/ 243377
Treasure Land Gems & Jewelry Souvenirs
You can find a stunning selection handicrafts, Myanmar souvenirs, precious stones & gems (rubies. Sapphires, and jade) tapestry, jewelry… Since it was established in 1996, the shop is a reliable source of good-quality gemstones & fine jewelry. Truly a nice place, truly tourist oriented.
Opening hours: 9:00 AM – 6:00 PM
Address: 11 Ma Kyee Kyee Street – Sanchaung Township
Phone: +951-526286/ 539241
Yangon Markets – Where to Shop in Myanmar
Bogyoke Aung San Market
The market has a former name as Scott Market that was named after Municipal Commissioner C. Scott. Bogyoke Aung San Market is a prevalent & famous local market in Yangon. It is a large colonial building constructed in 1926. It is now a home to some 1641 shops that sell everything of Myanmar souvenirs, consisting of lacquer ware, handicrafts, wood and ivory carvings…
Opening hours: 9:00 AM – 5:00 PM
Address: Bogyoke Aung San Road – between Shwe Dagon Pagoda Rd. & Shwe Bontha St. – Latha Township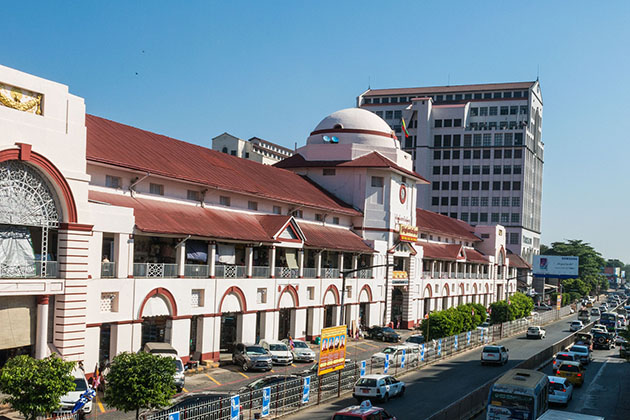 Yuzana Plaza
Another prevalent shopping place in Yangon, Myanmar for dwellers. Yuzana Plaza more than a traditional market, it is likely an old shopping mall. You can find a host of wholesale outlets selling food and beverages or even pets… On the upper floors, they offer locally made products, household appliances, fashions.
Opening hours: 8:30 AM – 5:00 PM
Address: Banyar Dala Street – Mingalar Taung Nyunt Township