Situated on Shwe Gon Taing Road, Tamwe Township, Yangon, Chauk Htat Gyi pagoda is one of the main tourist attractions in Yangon that attract a huge number of tourists every year. It appeals tourists by its 6-story-high Buddha Image.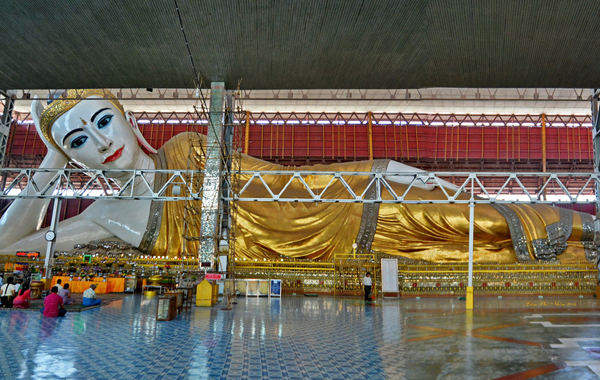 History of Chauk Htat Gyi Pagoda
Chauk Htat Gyi pagoda was built in the 20th century (about 1966) to replace the old image built in 1907 by Sir Hpo Thar. It is home to many Buddha images, in which one huge 6-storey image. The huge image is housed in an iron structure. Many locals and foreigners contribute donations to rebuild the pagoda.
Chauk Htat Gyi Pagoda Structure
The striking feature of Chauk Htat Gyi pagoda is the 6-storey Buddha image which is larger than the image of the Reclining Buddha in Shwe Thar Hlyaung Pagoda.
The statue is surrounded by a huge number of small shrines devoted to Buddha. Visitors and pilgrims will pay homage to the main Buddha, offer flowers and candles.
This pagoda is the home to more than 600 monks studying Buddhist Scriptures from senior monks.
Chauk Htat Gyi Pagoda Travel Tips
Opening Hours: 6.00-20.00 daily
Admission Fees: Free
Location: Shwe Gon Taing Road. Tamwe Township
Chauk Htat Gyi Pagoda Nearby Attractions
Across the street is reach Ngar Htat Gyi Pagoda which houses a large seated Buddha and unique artwork of the Buddha in three-dimensional form. Moreover, the Excel Tower Shopping Mall right next to the Shwe Gon Taing Junction is also an interesting place to visit in Yangon tours