Go bicycling can be regarded as a trip for ones who long to leisurely ride through peaceful villages, spectacular mountains as well as the national cultural heritage of Myanmar. The chance of experiencing fun, active, safe, scenic and carefree vacation matches well with the opportunity to get an insight into Myanmar ways of life.
Popular places of interest for Burma cycling holidays are Taunggyi, Bagan, Mandalay, Inle Lake, river crossing and mountain crossing also.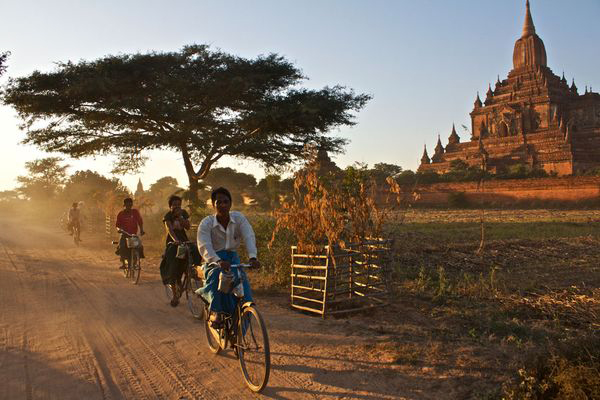 On the way cycling round Myanmar, there are memorable moments of crossing quiet back-roads between rice fields, temples, and scenic countryside; passing through distinguished small villages where inhabitants are friendly, polite, and you may find curious. Tour participants will share the roads with other cyclists, excited kids, and people riding in ox carts. Most rides are on far less crowded country lanes, compared to those in the city.
Every query about transportation, accommodation, bicycling necessaries or even the detailed Myanmar tour plan is dealt with by the tour operator. If you need help, feel free to contact us to get a free quotation!