Scuba Diving, Skin Diving & Snorkeling in Myanmar
Be endowed with a superb coastal scenery in the west and share a border with the Andaman Sea, Myanmar is completely a paradise for diving. Seeking for the memorable experience and joyful moment for your vacations is now possible by diving in Myanmar seas.
A variety of Diving Trips are served by different Myanmar tour operators who offer from dive instructions, professional divemaster, snorkeling sets to all the necessary equipment for observing marine lives, diversity of deep water creatures such as sea fish and coral reef.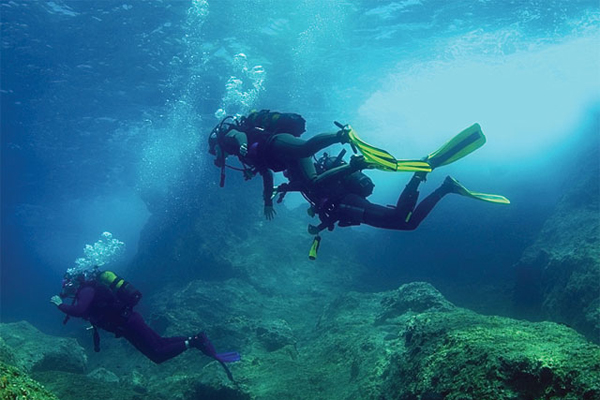 Diving at Ngwe Saung Beach
A diving trip in Myanmar beach holiday lasts at least about 4 days, for instance at Ngwe Saung Beach, which is about 7 hours driving from Yangon. On the coast of the Bay of Bengal is located Ngwe Saung Beach which is scattered with coconut palm trees and breathtaking scenes. Rooms at International Resorts and local hotels are available. From the hotels, the chartered boat is the only way to reach the jetty. The diving master instructor with his team will be professional in exploring the deep sea.
A diversity of sea fishes, marine plants and also the coral reef can be observed here at Ngwe Saung Beach. Underwater caves and rare species like Sea Urchin or the Iron Trap could absolutely draw divers' attention.
Birds Island and White Rock Island are two popular diving sites in Ngwe Saung.
Diving at Myeik – Mergui Archipelagos
The Myeik Archipelago, also known as the Mergui Archipelago, which consists of over 800 remote islands in the Andaman Sea, is a wonderful destination for tourists living in nature and take exotic dives in their Myanmar trips.
Situated in the southern part of Myanmar in the Tanintharyi Division, all the islands account for a total of 3600 square kilometers. Many islands have yet been explored till today. The only people who can survive in this region live in the sea and on boats are the Salone people or the Sea Gypsies of the Moken. Different from the Salones, there are still many reefs remaining untouched to explore in the seas of Myanmar.
Diving sites in Myeik Archipelago are Black Rock, Burma Bank, Western Rocky, North Twin Island, Three Islet and Shark Cave. The water is aqua blue and very clear. A great number of crabs, shrimps, spindle cowries, filament wrasse, moray eels, Sharks, Rays and nudibranchs live here.
Dive Training
Tour managers make arrangements for a program to assist people in taking diving trips in Myanmar. To people who want to have a perfect preparation for any dive in Myanmar, there are Diving Training Programs are available. A wide range of diving courses from Introduction dives to final dives with the assistance of emergency response instructors and other staff instructors are offered as well. One notice is that only the older-than-12 have permission to participate in this training program. The courses take about a week for beginners.
Snorkeling and Skin Diving Program
The Snorkelling and Diving Program are open for people who want to explore the splendid scenes deep underwater with mask snorkel and fin only. They have to learn how to clear water from the snorkel and swim with fins, and how to hyperventilation technique when breath-holding dive.
Scuba Diving
People who have never tried but want to safely experience the thrill of scuba diving can take part in scuba programs in the pool
Precautions & Preparations for Diving in Myanmar 
Some precautions and preparations should be taken before diving for all

Never go diving too soon after or before flying. The change in atmospheric pressure can cause problems to the divers

Never dive after a heavy meal. The blood flows to the stomach to aid digestion and may cause cramp

Never consume alcohol before diving

Always follow safety procedures as advised by the instructor

Never go diving alone

If a diver has experience but has not been diving for a while. One should take a quick refresher course on procedures safety and practices

Read as much as possible about the destination and place you are going to dive