Bat Cave, one of the must-see destination in Hpa An, the home of an endless stream of over 100,000s of bats, will sure give adventurous visitors immense satisfaction.
Just 9 km away from the city, near Thanlyin river, Hpa-an, Kayin state, Bat Cave is a small cave that cannot be entered. Nevertheless, tourists can absolutely go there when hundreds of thousands of bats flying out of their cave at sunset. When the bats start flying out, they start beating drums so that the bats make interesting patterns in flight not only for five minutes but at least 40 minutes. What a wonderful nature thing!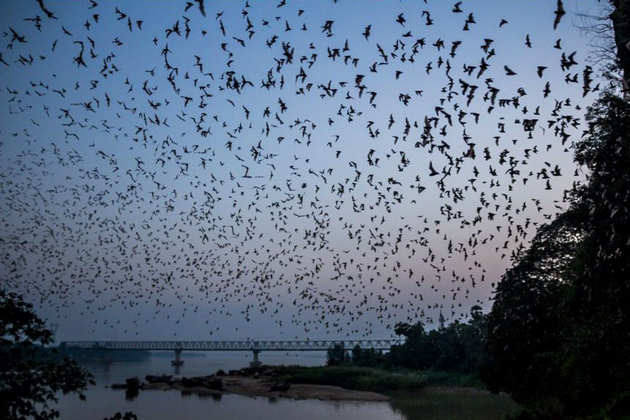 Especially, in addition to bat watching, Bat Cave has a promontory that offers a spectacular view of the twisty, slow-moving river and an immense meadow. Although the climb is not long, it is quite risky as the ladder and steps are not well done.
So how to get Bat Cave? Which is the best time to go? What do you need to prepare for a perfect bat watching ?… Here are some useful tips for you.
1. Bat Cave is only about a 20-30′ motorbike ride from Hpa-an. It is highly recommended that you should rent a bike or join a tour arranged by Soe Brothers Guest House or Galaxy Motel. Besides, it is about 5,000 kyat for a taxi to get there and back from Hpa-an.
2. As perhaps it takes at least 30 minutes to climb up the nearby hill in front of the cave with a pagoda on top where you can have a panoramic view of thousands of bats flying, you should be there before sunset (at 5-5:30 p.m.) as well as have a stunning view of the romantic river and picturesque countryside.
3. Please remember to bring a torch and especially careful when driving back in the dark.
Although Hpa An is well-known for natural marvels of several limestone caves, the unique beauty of scenes around Bat Cave as well as a breathtaking view of thousands of bats shooting out of a cave below the pagoda platform would definitely give you a real sense of fulfillment. Therefore, it is highly recommended that you book a 4-day Myanmar tour (Yangon – Golden Rock – Hpa An – Bago Tour ) right now in order not to miss one of must-see s in Hpa An.