Kan Thar Yar Lake, lying just on the south side of Hpa An, is absolutely an ideal destination for those who are eager to keep away from an urban life that makes you feel suffocated in order to look for a little change of scenery.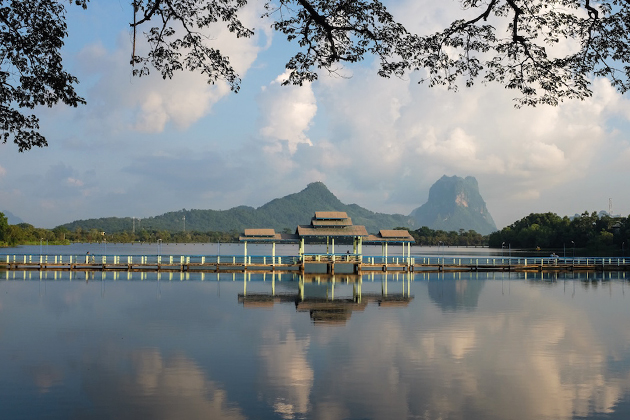 The peaceful Kan Thar Yar Lake with crystal clear water will definitely make you feel refreshed and vigorous enough to resist any pressure. Especially, at this end of the lake is a nice wooden footbridge with a roofed seating area in the middle. All things make breathtaking scenery like the superb artwork of a master painter. One more fascinating is that tourists can feed the already well-fed resident catfish population as local residents often sell bags of bread at the end of the bridge.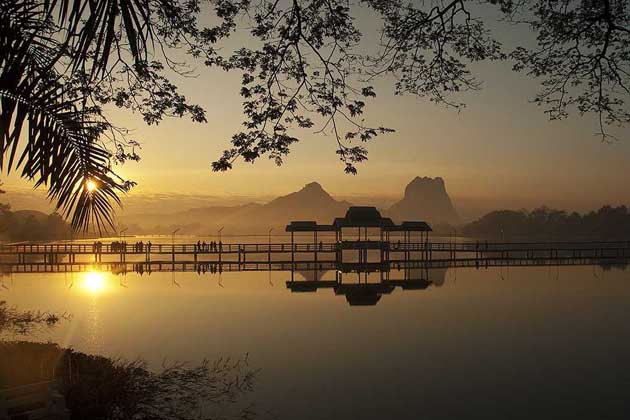 A pleasant stroll around town can take you from the central market past the Clock Tower to the lake. Heading south around the lakeside leads you to the pedal boat for hire. It is 500 kyat per person or 1,000 per boat for a 40-minute paddle in a fiberglass duck. A fascinating thing is that a nice lakeshore cafe with strategically placed tables, chairs, cold beers, and extremely delicious and cheap Thai cuisine is run on these hired boats. It is truly an enthralling experience as you can immerse yourself into the fresh air, and peaceful scene while sipping on a cup of coffee alive, vital, potent. Therefore, in order not to miss one of the must-have experiences in Hpa An, it is highly recommended that you book a 4-day Myanmar tour (Yangon – Golden Rock – Hpa An – Bago Tour) right now. We hope to share you distinctive experiences about the mesmerizing landscape.