The Kyaikkalo and the Kyaikkalei are other must-sees on day trips from Yangon. The prime location of these two pagodas on the left side of the highway running from Yangon to Bago makes them an ideal gateway for those who travel to Yangon. These two monuments can be easily observed from afar as its location is quite near the highway. On paper, the pagodas are beautifully nestled in Mingaladon Township, Yangon. In the local language, Kyaik means pagoda. Of these two sacred sites, Kyaikkalo is much larger and more prominent pagoda, which overlooks the surrounding terrain.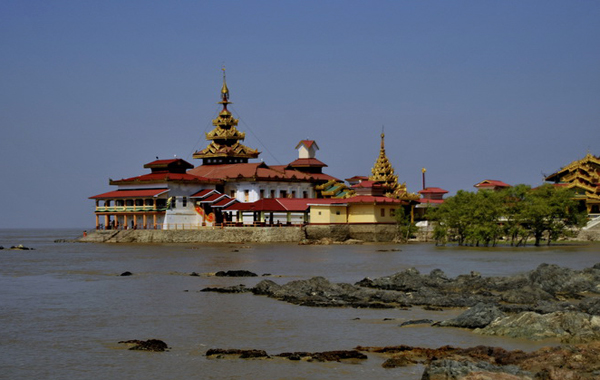 STRUCTURE
The Kyaikkalo Pagoda has been deeply devoted to the Burmese people throughout Myanmar history. Under the reigns of Mon and Bamar kings, the site has undergone a process of repair and renovation. The year of 747 of the Myanmar Era (A.D. 1385) saw a remarkable transition of this site when the Mon king Banyanwe (A.D. 1385 – 1423) better known as Yazadarit (Rajadhiraja) restored and embellished it.
The influence of the Mon architectural design can be easily realized through the octagonal shape of the plinth. It was originally built entirely of massive blocks of laterite stone. It is a pagoda with a solid stupa. Each side of the octagonal plinth measures 35 cubits in length and 5 cubits in height. The main pagoda stands on the uppermost terrace and it is surrounded by 25 minor stupas. The northern, western and southern sides feature stairs leading up to the uppermost terrace. As there are deep precipices on the western and northern sides, massive retaining walls fortify the precinct.
FESTIVAL
The yearly pagodas' festival is held for three days. During Tabodwe (January/February), a long line of visitors coming from the towns of Yangon and Bago. They come here not only for pilgrimage but also for enjoying the festival. People around come to pay their homage and offer flowers, food, and fruit.
TRAVEL TIPS
Opening Hours – 6:00 am to 9:00 pm.
Location – Located on the road from Yangon to Bago. A little farther from Yangon International Airport. Accessible by car.