Located at the corner of Pyay Road and Mindhama Road and on Minhama Hill, Mingalardon Township, Yangon; Kyauktawgyi Pagoda is one of the top attractions to visit in day trips from Yangon due to its well-known giant Sitting Buddha Image.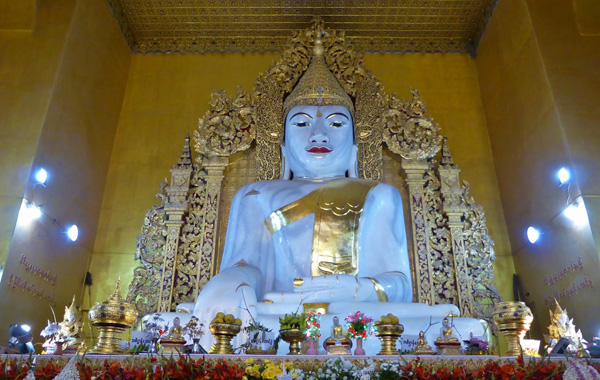 Kyauktawgyi Pagoda means the Pagoda of the Great Marble Image. It is also known as Maha Thetkya Marazain Pagoda. The site was mounted at the foot of Mandalay Hill and its construction emerged under the reign of King Mindon stands at the foot of Mandalay Hill. The Image was carved out of a huge single block of marble. It took three years from 1863 to 1865. This flawless and high-quality marble rock measuring 37 feet long, 24 feet wide and 11 feet thick was found at Sakyin Hill, Madaya Township, Mandalay Division. The current location of huge Image is now at Mindhamma Hill, Insein Township, Yangon Division.
In 2003, the huge marble alms bowl was carved out of a monolithic sagyin marble and transferred to Yangon and mounted on Minn Dhamma Hill.
Within the walking distance from Minn Dhamma Hill, another must-see is Elephant house which accommodates the three white elephants. Like other Asian countries, Myanmar considers white elephant a supreme royal ornament.
Kyauktawgyi Pagoda Travel Tips
Opening Hours – 6:00 am to 8:00 pm. Corner of Pyay Road and Mindhama Road.
Location – Located on Mindhama Hill, Mingalardon Township, Yangon
Kyauktawgyi Pagoda Nearby Attractions
Ah Lane Nga Sint
Located on the precincts of the pagoda, Ah-Lane-Nga Sint is the five-storey tower, which symbolizes for the five stages of the ethereal worlds. After a 10- minute drive from the airport, tourists taking tours Myanmar would get the possibilities to absorb the stunning view of the surrounding areas from the tall tower. Women are excluded from climbing up this tower. The construction of the pagoda was deeply imprinted by modern architecture and the abbot who initiated the project has passed away. Although this sacred monument has experienced a very long time with many ups and downs, the body still remains preserved and original.